Samsung Galaxy Note 8 review: A second opinion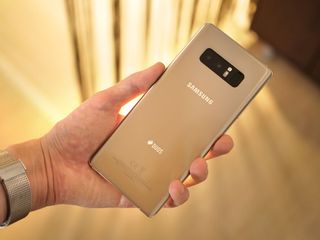 Until recently, the last Galaxy Note I could actually buy in the UK was a model released almost three years ago. 2015's Note 5 never reached European shores, and the Note 7 was canned just before the official Euro release could begin. It's been a rough couple of years for the series that brought big phones to the mainstream — and, for better or worse, introduced "phablet" into the smartphone lexicon.
Aside from just being released and not catching on fire, the Galaxy Note 8 needed to remind buyers — particularly in the European market, where the series was met with such tremendous early success — what was important about the Note brand. When everyone has a pretty good, pretty big phone, why choose the biggest and most expensive?
For the Note 8, the answer is part high technology, and part fan service for the Note series' dedicated core following.
The existence of the Galaxy S8+ required Samsung to go really, really big with the Note 8. As in years past, the Note 8 takes the design fundamentals of the current Galaxy S model, and blows it up into a larger size, with a more angular aesthetic.
I didn't spend much time with the ill-fated Note 7, but the sheer size difference in this year's model is striking. (Remember that the Note had stuck at the 5.7-inch mark for three years at that point.) You already know this is a big phone, on account of that 6.3-inch display size, but now it's a big, tall phone, in a way that dwarfs even the S8 Plus, on account of its slightly chunkier forehead and chin, and the less curvaceous chassis.
Using it with one hand is problematic, even if you're used to traditionally large handsets; you'll want to become acquainted with the optional one-handed mode, enabled in the Settings app, pretty quickly.
Nevertheless, you can't deny that the Note 8 is a beautiful phone, almost because it's such an unapologetically huge chunk of technology. The minimal side bezels and tall 18.5:9 aspect ratio convey a phone that means business, while the relatively chunky 8.6mm depth measurement give it more heft than thinner, lighter phones like the LG V30.
Image 1 of 3
Aside from the sheer size of this handset, the Note 8 is an aesthetic marvel for the same reasons as the GS8. The latest evolution of Samsung's metal-and-glass design language brings us a classy, symmetrical chassis that looks phenomenal in lighter colors like gold and blue.
If you're after something ergonomic and easy to wrangle without bringing a second hand into play, that is not this phone. But then you're reading a Galaxy Note review, so you probably already knew that.
The Galaxy S8's.... unfortunate... biometric situation returns, with a rear-mounted fingerprint scanner you'll have a hard time reaching, an iris scanner that doesn't work in bright daylight, and a face-scanning system that fails in low light. I've been using Smart Lock in conjunction with my Huawei Watch, which has served as a workaround.
That said, I (surprisingly) don't hate the fingerprint placement quite as much as I did on the S8+. It's still unreasonably high up. (One competitor tells me Samsung likely made that decision to free up space for the battery.) But the added clearance provided by having the heart rate sensor and other biometric gubbins between the fingerprint sensor and the cameras means I'm less paranoid about gunking up the lens, and I'm free to reach to the scanner at a more natural angle.
Don't get me wrong, it's still bad. Just not as bad as it might've been.
Image 1 of 4
On the inside, it's a repeat performance of the Galaxy S8 on almost all counts, save for a bump in RAM (to 6GB) and a slight battery hit (3,300mAh, down from 3,500) compared to the S8 Plus. Besides that, you know the score: Snapdragon 835, 64GB storage, microSD expandability.
The full loadout of extra niceties we've come to expect from Samsung phones is also included — wireless charging, adaptive fast charging (think Qualcomm Quick Charge 2), IP68 water resistance, and the increasingly endangered 3.5mm headphone jack.
More: Samsung Galaxy Note 8 specs
I'm a little disappointed to see another year pass without a significant bump in wired charging speeds. (Samsung has stuck with the same flavor of 9V/1.67A quick charging for the past three years.) Nevertheless, the added convenience of wireless charging goes some way towards compensating.
Even with a smaller battery than the S8+ — that S Pen take up valuable internal space, remember — the Note 8 still performs satisfactorily in day-to-day use. Even while roaming, and using my unit's dual SIM functionality, the phone gives me between three and four hours of screen on time, with between 14 and 16 hours of time per charge on LTE, with the Always-On Display feature enabled.
That's a far cry from multi-day longevity, but broadly in line with competitors like the LG V30 and (OG) Google Pixel XL. What's more, the aforementioned wireless charging makes opportunistic top-ups throughout the day less of a chore.
For a phone with such an enormous, beautiful, bright display, such endurance from a run-of-the-mill battery capacity represents a solid performance.
The Note 8 builds on the impressive AMOLED screen of the S8, with even brighter pixels capable of reaching a staggering 1200 nits in daylight mode. In the UK in early autumn, that's not a feature you'll rely on with much frequency. But having used the Note 8 in Hong Kong, Shenzhen and Taipei over the past couple of weeks, the guarantee of being able to see the display, even in the brightest daylight conditions, is a plus.
Samsung continues to push curved AMOLED through its Edge Display, which gives the Note 8 a symmetrical profile, while allowing for slim bezels. The curve is less pronounced than in Notes past, but there's still some slight color shift around the edges. It's easy to ignore, but undeniably present.
However, the only part of the display I've been disappointed in is its susceptibility to smudges and gunk. The oleophobic coating on my unit has started to wear very visibly, particularly around the home key, after just a couple of weeks. (I saw a similar trend on my S8 Plus, only after several months.) All phones will eventually succumb to this, as the smudge-resistant layer wears off. But the fact that I'm seeing it after less than a month is troubling.
I'm also not blown away by the Note 8's built-in, bottom-firing speaker. Little progress seems to have been made since the S8, and while the speaker is reasonably loud, it's also fairly tinny. That seems like a missed opportunity in a phone with such an awesome display.
The major differentiator of the Note series, now that many phones can match Samsung on display size and camera quality, and beat it on battery life, is the S Pen. We've reached the point where nobody is even trying to compete with Samsung when it comes to stylus input on a smartphone, leaving the company uncontested in this space.
Of course, there are technical improvements to the pen: Pressure sensitivity has doubled compared to the Note 7.
And Samsung has a wealth of S Pen software features arranged around the Air Command menu — the little radial dial that appears when you undock. These range from useful to pure gimmickry. (There's no reason, for instance, why recording a section of the screen as a GIF should require the use of an S Pen.)
Aside from the added precision that the pen gives me compared to a stubby finger — in effect, allowing me to pinpoint areas of the UI the same way I do with a mouse on a PC — the most useful S Pen features I've found focus on multitasking and quick information retrieval.
Smart Select, for instance, lets you pin captured areas of the display to the top of your screen for reference. Meanwhile "Glance" mode gives you a quick shortcut button which you can hover over to refer back to a particular application.
And yes, note-taking is still a thing on the Note, with up to 100 pages of doodles or grocery lists now supported in Samsung's Screen-Off memo feature. Pull out the pen with the screen off, take a note, then save it to the Samsung Notes app, or pin it to the Always-On Display for quick reference.
The only problem with all this is that the sheer quantity of features can be overwhelming. Were I not in this job, I probably would've sidestepped most of the S Pen features entirely. I have to question how many Note 8 owners will really want to go digging in the S Pen and Air Command menus to find things like Direct Input, which lets you write directly into text fields in any app.
Outside of the S Pen, the Note 8's software experience is practically identical to that of the GS8. You've got some new animated "Infinity Wallpapers," with visually impressive star fields that scroll into view as you power on and pan through home screens. And we're now up to Samsung Experience 8.5, which combined with the extra 2GB of RAM allows for a more fluid UI, and fewer app reloads than Samsung's other flagships.
Samsung's current UI remains one among my favorites, with a slick sci-fi aesthetic that's fully differentiated from vanilla Android, and highly polished.
Bixby Voice is now available, letting you replace touch input with voice commands in the handful of supported apps. Outside of the fact that you can now disable the Bixby Button for Bixby Home (finally), my position on Bixby hasn't really changed since using the Note 8. The potential is huge, but the execution is just nowhere near fully baked.
Bixby isn't an assistant per se, but interacting with the service so often feels like being lumbered with a personal helper with the IQ of a toddler. Bixby Voice struggles to understand many commands, gets far too many things wrong, and that's in the few apps it actually supports at present.
Image 1 of 16
The Note series has often boasted new camera features ahead of other Samsung phones, and this year's model the honor of sporting the first dual camera setup in a Galaxy handset.
The primary camera is essentially identical to the Galaxy S8, which is both a known quantity and a very good smartphone camera. Samsung no longer has a monopoly on the best phone cameras, but it didn't really need to push the boat out beyond the S8 for regular photos, and I'm just fine with the company recreating the same f/1.7, 12-megapixel shooter around the back of the Note.
For more on the identical camera module as we've been using it on the Galaxy S8 series, check out our review of that phone. Six months on, it stands up really well.
The secondary telephoto camera is where things get interesting. It's an optically stabilized 12-megapixel sensor behind an f/2.4 lens, and the OIS gives this camera an edge over the likes of the OnePlus 5, and most iPhone models in low-light shots. The result is the that Note 8 can capture zoomed-in shots with more fine detail than either the previous-gen iPhone or the OnePlus 5, despite the latter's higher-resolution 20-megapixel sensor.
Personally, I still prefer LG's approach to a dual-camera setup, where the wide-angle lens used in the G6 and V30 let me instantly capture a wider, more dramatic field of view. But there's no denying the Note's telephoto lens introduces some unique creative possibilities as well — and the main one is Live Focus.
Live Focus could be described as Samsung's take on Apple's Portrait Mode. And on current firmware it does a serviceable job at keeping your subject in focus, while artistically defocusing the background. (Things seem to have improved in that regard since Andrew first reviewed the Note 8 on Samsung's initial firmware, which is to be expected.) But you can also use it to introduce added depth into just about any shot, provided there's enough light. Food shots, architecture and landmarks, with a little creativity, can be captured in a way that doesn't immediately scream "shot on a phone."
Does Live Focus trip up from time to time? Absolutely. The standard stumbling blocks like hair, glass and liquids can confuse Samsung's depth-sensing algorithms, and Live Focus still fails a little too often for my liking. But at least when it does fall flat, you still get regular photos captured with both the standard and telephoto lenses.
Is the Note 8's camera the best? No. Is any single camera the best, in the age of highly differentiated software features, computational photography, telephoto-versus-wide-angle and other unique things that ultimately boil down to personal taste? I'd argue no.
Regardless, pick up a Note 8 and you're getting two phenomenal cameras all the same.
The Galaxy Note 8 isn't the best at everything it does. Big battery life? Look at the Huawei Mate 9, or possibly the soon-to-be-launched Mate 10, depending on how the specs shake out. Quick updates and superior HDR+ cameras? Look to Google's new Pixels. A big screen in a manageable size? Local rival LG is hoping you'll consider its V30.
That said, Samsung has stayed true to the essence of what made the Note special when it first appeared six years ago: The biggest, best screen you can reasonably fit in a smartphone-sized device. Solid fundamentals. Great cameras. And unique, unmatched S Pen features.
The main areas where this Note falls behind is battery life, at least compared to rivals putting bigger cells in smaller phones. Samsung's hesitance to push capacities too far after last year's battery debacle is understandable, but eventually it'll have to address this area. That's probably my biggest criticism of a phone which, while great, plays it relatively safe, and has only a few surprises up its sleeve.
Nevertheless, Samsung has a fantastic contender in the Note 8. Whether any phone is worth almost $1000 is a question for another time. But if that's the kind of cash you want to splash on a telephone, Samsung has a device worthy of your attention.
Sign up for Black Friday email alerts!
Get the hottest deals available in your inbox plus news, reviews, opinion, analysis and more from the Android Central team.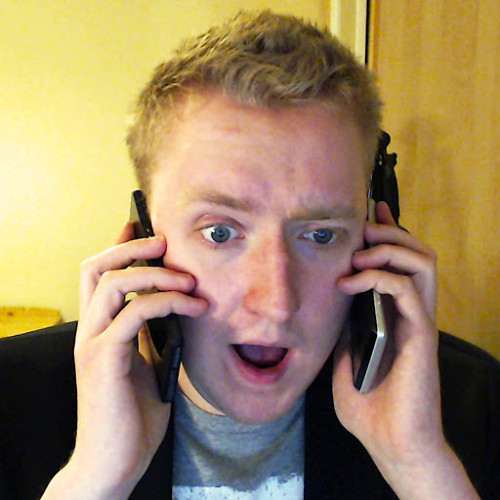 Alex was with Android Central for over a decade, producing written and video content for the site, and served as global Executive Editor from 2016 to 2022.