Samsung Galaxy Note 8 cameras: Everything you need to know!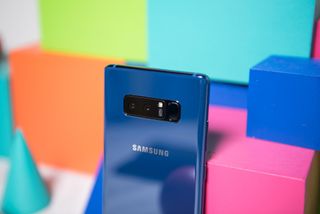 While the Note 8 resembles the Galaxy S8 in many ways, the camera setup is pretty different.
That's because, for the first time on a Samsung phone, there are two cameras instead of one, which offer a number of new features that you're going to want to know about. Interested? Let's dive right in.
What's the camera hardware?
Like the Galaxy S8, the main camera on the Note 8 is a 12MP sensor with an optically-stabilized f/1.7 lens with a field of view roughly 28mm. On the Note 8, Samsung is calling this primary shooter its "wide-angle camera" to differentiate it from the second sensor, as well as perhaps to convince people that it's akin to LG's actual wide-angle sensor, which comes standard on devices like the G6 and V20.
Instead, Samsung's secondary sensor is also 12MP but it comes paired with an optically-stabilized f/2.4 "telephoto" lens, which is also optically-stabilized. Samsung claims that, like Apple and OnePlus, its focal distance is twice that of its main lens, but we don't know the exact millimeter equivalent.
All this is to say that on the Note 8, you can now zoom up to 2x with no discernible loss in quality, and up to 10x with much less degradation than traditional single lens shooters.
What are the benefits of having this setup?
From the outset, we can see three advantages to having a second sensor with a zoom lens:
You can take clearer photos of subjects further away.
You can combine the information from both cameras to take photos with enhanced depth of field, similar to the Portrait Mode on the iPhone 7 Plus and the OnePlus 5.
You can take a photo with both cameras at once, resulting in both standard-distance and telephoto shots from a single snap.
What is Samsung calling its Portrait Mode feature?
Live Focus is the name of Samsung's artificial background blurring feature, often called Portrait Mode. But unlike Apple's implementation (at least right now — it's coming in iOS 11) is the ability to change the severity of the blur in real time, as well as after the photo is taken. That depth data is maintained with every photo, so it can be altered after the fact and saved as a new photo. Very useful.
Live Focus also provides guidance on how to take a great photo — the camera app will tell you whether you need to move forward or back a little to optimize the subject in the foreground to get the ideal depth of field.
How does the Note 8's second sensor work with the first?
Good question. When you take a regular photo — open the camera app and just snap something quickly — the second camera isn't being used at all. Unlike other dual camera implementations from companies like Huawei and Motorola, Samsung's second sensor doesn't kick in unless it's asked to — by changing to the Live Focus feature.
There is one exception to this, though: remember when Samsung made the shutter button into a sliding zoom on the Galaxy S8? We thought it was great then, even with one camera on board, and now it's even more useful; gesturing north while tapping the shutter key effortlessly zooms into a subject, and this time when that zoom level reaches 2x, the Note 8 seamlessly switches over to that second camera sensor — as long as there's enough light to do so.
Why did Samsung copy Apple instead of LG or Huawei with its second sensor?
I can't answer that question, but it's a good one. Here's a supposition, though: Samsung is moving the Galaxy line ever more into a lifestyle brand, and it believes that Live Focus, the keystone feature of its second sensor and telephoto lens, is a better play for a wider audience — think marketing and billboards and TV ads— over the harder-to-explain monochrome "helper" sensor of the Huawei P10 or the more niche ultra-wide angle lens of the G6.
Personally, I love LG's decision to go with a wide-angle lens on its latest phones. It makes taking landscape photos so much more versatile, and the results are frequently outstanding. But Samsung wants you to take photos of people with the Note 8, and Live Focus, which blurs out the background, just makes portraits look so good.
Of course, there will be detractors, and that's fine — Samsung can't expect to win over everyone with this move. But what's more interesting is whether it will continue to pursue this same strategy in all of its future flagships.
Right, does this mean that the Galaxy S9 will have the same style dual camera setup?
Obviously, we can only speculate, but given that Samsung refers to the standard sensor on the Note 8 as "wide-angle," it would be a safe bet to assume that it will likely maintain this bifurcation in future phones. It would be very unlikely for Samsung to stick with a single camera setup in the upcoming Galaxy S9 series, and it would be even stranger to assume any strategic changes in the type of dual camera setup itself.
In other words, don't expect Samsung to go from an Apple or OnePlus-style dual camera setup to something more akin to LG or Huawei.
Will optical image stabilization on the second sensor help in low light?
It should! One of the typical limitations with second camera sensors on phones has heretofore been their narrower aperture — they let in less light — which prevents high-quality low-light photos. Samsung intends to alleviate some of that — it's still physically hampered by an f/2.4 lens — by affixing a stabilization module to the second lens, which should compensate for hand shake and let the shutter stay open longer without introducing blur.
I say should because this won't stop moving subjects — kids, pets, cars — from blurring in lower-light situations, but it's almost certainly going to perform better than the competition, and that's a start.
What about the app itself?
The Samsung camera app is a lot better than it was just a couple years ago. Starting with Marshmallow, the company simplified a lot of the previously overwrought toggles, switches, and modes, and with Nougat and the Galaxy S8 it got even better.
There are still numerous ways to customize the camera app, for sure, but much of the excess has been hidden away. Samsung also lets you download additional features through the Galaxy Apps store — there's still a dedicated Food mode, for instance — but you don't need them to enjoy the experience.
Finally, Samsung's manual settings, called Pro mode, are easy to use and feature lots of ways to improve your shots.
What else should I know?
The Note 8's camera app has received another little spit shine compared to the Galaxy S8, though most things are as you remember them. Live stickers and face filters have made their return, for better or worse (mostly worse, let's be honest), while features like Bixby Vision are still in the app.
In fact, Bixby Vision has added a new AR element that overlays map elements on the screen, so you can easily find and walk towards landmarks like restaurants, museums and other points of interest. This isn't new — Yelp debuted something similar in its mobile app years ago — but it's neat.
Is it worth upgrading to the Note 8 just for the camera?
Probably not. As impressive as the Live Focus feature is, there is no appreciable improvement in the quality of the photos from the primary camera over either the Galaxy S7 or the S8. This is, for all intents and purposes, the identical main camera as the one that launched earlier this year. That's a great camera, no doubt, but it's no longer considered the best in the business.
On the other hand, you're getting one of the best primary cameras on the market and a fantastic, optically-stabilized secondary camera, too. To me, that's worth the price of admission — even if admission borders on $1000.
Android Central Newsletter
Get instant access to breaking news, the hottest reviews, great deals and helpful tips
Daniel Bader was a former Android Central Editor-in-Chief and Executive Editor for iMore and Windows Central.
Nice article with some good information. Thanks in particular for the mm equiv of the main camera (28). I generally consider 24 or lower to be wide angle and do prefer LG's implementation. Very interested to see what you think of the output from the V30's camera once it's released.

If other sites are correct the sensor size of the 2nd sensor is only 1/3.6 instead of 1/2.55 for the main sensor. That means that the 2nd camera is not quite 2x optically from the 1st. It is a combination of optical and crop that gives it the 2x equivalent focal length. That also means the noise characteristics of the 2nd camera at higher ISO's (low light) will be a bit behind the main camera

Thanks for the focal length info. Called Samsung and their call center people had no idea. Also, does anyone know if Sam has adjusted the algorithm for the RAW dng files to reduce the excessive noise levels?

A notable benefit of having a telephoto lens that I feel you've omitted is the "perspective" that comes with a longer focal length. Even if you totally ignore the post processing bokeh, a long lens let's you take far more flattering portraits just by the virtue of the milder perspective it provides. As much as I like LG's wide angle lenses, most people are going to want to take photos of other people. The secondary camera on the Note8 is going to be superior to all other Android cameras in this regard for the moment. Maybe more phones will start offering a telephoto lens. Otherwise, Samsung and Apple will be standing alone with a huge advantage over the competition.

Panaroma works well for landscape. I prefer what Samsung is doing with the dual camera set up, gives less need to crop and more detail of subjects you can't stand next to. Should help with video zoom as well. LG wide angle is cool, but less useful daily for me.

In the article, it says it's no longer the best in the business. What is? Or is it just the debate over the Pixel and S8?

The HTC U11 beat it in the DxO Mark test.

If would have loved the combination to be a wide angle and a 1.5x telephoto, with some software tricks which can bring a 28mm or 35mm equivalent. I see lot of use for wide angle shots and panorama doesn't fit the bill. Maybe it's my use of wide angle legs on my DSLR which mages me feel this way. Wide angle lens are more useful than telephoto because while using a smartphone, people usually dont stand too far. I've used Lens Blur of Nexus devices to get portrait shots and blur effects.

Oh joy! ANOTHER 2x zoom lens. That's why the V30 will be getting my full attention on release.

LG *better* have 6GB RAM in that V30 or they are OUT for me

Can you use the cameras separately? Or would you even want to? if I just want a telephoto and dont care about special blur effects.

Just show us the picture samples. That's why we're really here.😜 But some good information here.

I played with the n8 for a hour at Best buy comparing it back an forth between my s8 plus . Man the note 8 to me is the real deal if you every liked the notes like me then this is by far the best note maybe the best phone of 2017 . In the Orchid Gray the phone is just stunning to look at an that dual camera it's the real thing . ...I pre order one 😉

Thank you for the focal length info. Called Samsung and their call center people had no clue what the question was. Any info if Note 8 has improved the excessive noise levels in the RAW dng files?

The cameras on the Note 8 are spectacular. They produce sharp, clear images consistently even in low light. I have an LG V20 but found that I had much more use for a zoom lens as opposed to the wide angle option. I ported the Google Pixel camera to my Note but found that the stock camera usually produced equal or better results. I have used cell phones from a variety of manufacturers but this device has the best cameras I have ever used.
Android Central Newsletter
Get instant access to breaking news, the hottest reviews, great deals and helpful tips
Thank you for signing up to Android Central. You will receive a verification email shortly.
There was a problem. Please refresh the page and try again.