Samsung Galaxy Note 10+ vs. OnePlus 7 Pro: Which should you buy?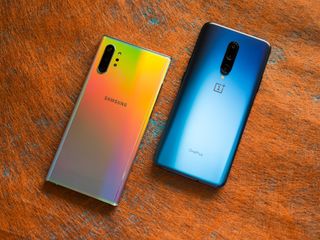 (Image credit: Apoorva Bhardwaj/Android Central)
OnePlus 7 Pro
(opens in new tab)
The OnePlus 7 Pro is going from strength to strength: a slew of updates have made the camera much better, and OxygenOS continues to be the best third-party skin around. The phone itself is one of the fastest money can buy today, and you have to see the 90Hz display to understand just how good it is. Combine that with an enticing discount and it's an absolute bargain.
OnePlus 7 Pro
Latest hardware
Outstanding 90Hz display
Clean software with high customizability
30W fast charging
Fast updates
Insane value
Battery life is strictly average
No 3.5mm jack
Unwieldy design
Samsung Galaxy Note 10+
(opens in new tab)
Samsung made several key changes for the Note 10+, including a gorgeous new gradient design, 45W fast charging, and 15W wireless charging. The internal hardware has also been refreshed. The phone also has IP68 water resistance, a microSD slot. Then there's the S Pen, which is a standout feature on the Note line.
Samsung Galaxy Note 10+
S Pen continues to be great
Stunning new design
45W fast charging
MicroSD slot
Best display on any phone
Expensive
No 3.5mm jack
Power button is on the wrong side
The Note 10+ is one of the costliest phones available today. Sure, it has a ton of new features and a sexy new design, but that is a ridiculous amount of money for a phone. That's where companies like OnePlus come in. The OnePlus 7 Pro offers most of the same features, but for several hundred dollars less. And after using both phones side-by-side, I'm struggling to understand why the Note 10+ carries such a hefty premium.
The Note 10+ has more features, but you won't use them
Both the Note 10+ and OnePlus 7 Pro have attractive metal-and-glass designs, with Samsung in particular introducing a stunning new gradient effect on the Aura Glow option. As you can see from the photo above, there's a lot going on at the back — the colors shift wildly based on light reflecting off of the glass, and it's mesmerizing. Samsung also trimmed the bezels considerably, and with the dual-curved screen the Note 10+ gets pretty darn close to achieving an all-screen front. Shame about that camera cutout though; it's centered now, but it still comes in the way when you're playing a game or watching a video.
OnePlus decided to go with a retractable module for the front camera, leading to a cleaner design at the front. The thin bezels combined with the notchless design make it particularly great for playing games. When it comes to usability, these are two of the biggest phones in the market today, and the fact that both of them have dual-curved screens doesn't make things any easier.
The OnePlus 7 Pro is marginally taller and almost a millimeter thicker than the Note 10+ even though it has a smaller battery (4000mAh versus 4300mAh) and a smaller screen. It's also 10g heavier, and while the retractable camera module adds to the weight, there are several phones that have the same module but aren't as unwieldy.
Image 1 of 6
The Note 10+ meanwhile, is quite wide at around 3 inches (77.2mm versus 75.9mm for the OnePlus 7 Pro), and it ends up looking like a big rectangular slab. However, what's more frustrating is the fact that the phone has the power button on the wrong side. I cannot put in words how annoying this is when using two phones side-by-side: now that I've used the Note 10+ for two weeks, I inevitably hit the volume button whenever I try to wake the screen on any other phone. This is a stupid move, Samsung.
Rounding out the design, neither device has a 3.5mm jack, so if you're interested in wired audio, you'll have to use a dongle. OnePlus provides one in the box, but Samsung hasn't seen fit to do so; never mind the fact that you're paying nearly a $1,000 for the phone.