Samsung Galaxy Gear on sale for $150 at Best Buy today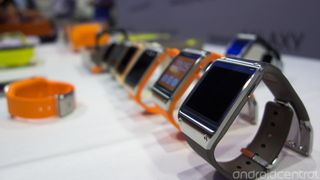 Android-powered smartwatch available for half the launch price
If you're tempted by Samsung's Galaxy Gear smartwatch but have been put off by the relatively high price, Best Buy has a deal that may be of interest. The online store is today selling the Galaxy Gear for $149.99 outright, just half the original launch price of $299.99, as part of its deal of the day. The Android-powered watch is available in rose gold, oatmeal beige, lime green and wild orange. The mocha gray and jet black aren't included in today's sale and still cost $249.99.
The Galaxy Gear didn't exactly wow us at launch, due to its high price and limited notification support for non-Samsung apps. But with recent software updates the device has improved, and at $150 the Gear is definitely worth a look — just remember you'll also need a Samsung smartphone with support for the Gear Manager app.
Source: Best Buy (opens in new tab); via: Smartwatch Fans
Alex was with Android Central for over a decade, producing written and video content for the site, and served as global Executive Editor from 2016 to 2022.
This thing dropped price fast the galaxy gear 2 will probably announced along side the S5 at MWC Posted via Android Central App

I personally don't think the Gear 2 will be announced at MWC. To me it seems like a bad idea to announce and release a successor only 4-5 months after the previous iteration was released. Almost every major product in the mobile tech world comes in one year cycles. I believe the Gear 2 would be around August or September. As for the price drop, I am guessing this is just a Best Buy thing as no other retailer dropped the price and the Best Buy price drop is because the item is a Deal of the Day for them.

Why wouldn't they announce it there will be plenty of smartwatches at this year's MWC. Samsung wanted to be the first major player for the mainstream smartwatch, it would only be logical for them to show up with the Galaxy Gear 2 alongside of the S5 promote them together sell them together. ~My $0.02~

I figure the original galaxy gear was announced with the note 3, I figure galaxy gear 2 would be announced with note 4 keeping it on a cycle. This is just my guess, nothing official, no sources, just a guess from me. Posted via my GS3 with the Android Central App

While that is a logical expectation, I would not be surprised to see the new Gear announced alongside the S5. They know they missed the mark in a number of ways with the current Gear, especially when it comes to device compatibility, and don't want to fall behind in a burgeoning field that isn't set in a current release cycle yet. Posted via Android Central App

I think I'm going to pass on the tempting $150 deal and wait for the Gear 2... https://www.zdnet.co.kr/news/news_view.asp?artice_id=20140213075902

Agreed, but Apple are still yet to dump their thing on the market, after which Samsung can then run over the top of anything special they bring to the table a bit later. Side note: when the Gear 2 arrives with the function of snapping your fingers to wake the screen up, I'm the one you can thank for that :)

When I went into the Best Buy to pick up me Gear I was talking to the Samsung rep about it. She wouldn't give me any real details but I was able to get some info our of her. She said that it will be out by April. That's means a MWC announcement and 2-3 week release would work. She also said that it will be at $300 or more "depending on what capabilities it has." Not sure if that means different models or she isn't sure. I asked her if it had a larger screen or a flexible one and that's when she stopped talking about it. She said I might be a secret shopper and wouldn't talk about it anymore. At least I got something out of her. We'll have to wait and see..... Posted via T-Mo N3

Too bad black and gray aren't included. Nowhere around me has the white. Ugh. -Shawn
Noting the world one S-Pen at a time

It is too bad the mocha gray and jet black models are not included in this sale. They would likely sell quite a few more.

Mocha gray and jet black probably don't need to be discounted as much to sell.

Agreed. Seems like best buy is trying to clear some stock of colors not selling? Posted via Android Central App

I hopped on an Orange one. Just got my tax return back and have been wanting one. I know the new one will be coming out before too long but it'll probably be $300 again. Its worth the price at $150 Posted via Android Central App

Sorry I can't remember where I read it, but there was an article yesterday indicating that the next gear would be released alongside the S5, and feature wider device compatibility AND... a much lower price. Who knows if that's true, but if any company can afford to use competitive pricing to get their devices adopted ahead of the pack it's Samsung. Posted via Android Central App

Check out the comment I just posted above about my experience at Best Buy. Posted via T-Mo N3

$99 would do it for me instead, even if I'm really waiting the gear 2. Posted via Android Central App

Once they come out with a watch that is in dependant from the phone the I might be interested.

Timex. Casio. Seiko. They all make watches that aren't dependant on a phone. You don't need a phone to use any of them. I think your idea of a smart watch is a tad misguided.

Actually, there are old stand alones- using Android 2.+ from two years ago, and some new ones like my just received omate truesmart watch. The truesmart has 4.2 and is more stand alone than accessory, although they're supposed to be working on an app for that connectivity. My brief experience is it's an awesome watch, hoping to use it to track outdoor sports (weather is inhibiting me at the moment).

This doesn't interest me as much. That just requires them to cram more into the device making it bulkier, shortening battery life, and raising the cost. I'd much rather piggyback my phone's connection via Bluetooth 4.0 since I almost always have it with me anyway. We might be wanting to do very different things with our smart watches though. Posted via Android Central App

Omate TrueSmart, Neptune Pine.

The whole point of smart watches is to be an extension of the phone. Currently none are designed to be independent of the phone.

Are you serious there are plenty go have a look on Amazon, plus there are some in the making from crowd funded sources. ~My $0.02~

Be nice if it was compatible with more then just a few select devices, I'd purchase one at this price, but not being compatible with a galaxy nexus, which is a galaxy device, come on Samsung you suck! Posted via Android Central App

It is a nexus. Gear manager or whatever depends on tw -------------------------------------------
Kit Kat tastes like Jellybeans. Can't tell them apart...

yeah i know it's a nexus, also bearing a GALAXY name moniker as well, so one could see why maybe it should also be included, the reason most why it's not though it due to it not having S-voice supported directly, though it's possible to sideload with no issue's, being just a nexus device isn't the only reason!.

Uh, dude, it's not a Samsung Galaxy series phone. It's a Google Nexus series phone, and a retired one at that. BaAAH

it's not a series as in 1/2/3, but it's not just a google nexus, it's specifically named Samsung Galaxy Nexus, what i'm referring to and you may be missing is that it carries the moniker and name association, again it may have more to do with not having S-Voice support than anything else since that is what is heavily dependent on for voice control. Either way at this point we all know it won't get support.

Twolastnames said it that phone is done for I guess it should be compatible with the original note and s2 also since they are ariund that same era ~My $0.02~

well yeah the done for a i get given the age who wouldn't.

Dude, the phone is retired. The Gear won't officially support it. Period. If you must have a Galaxy Gear, you can probably hack a mod that enables it to work with your GNex. Otherwise, this back and forth with them (karvoris and twolastnames) is pointless. Posted from my "Gift from God" Note 3, my "God-Given" iPad Mini 2, or my "Risen" Samsung Chromebook.

Hey man, stop being logical! Posted via Android Central App

Lol Posted from my "Gift from God" Note 3, my "God-Given" iPad Mini 2, or my "Risen" Samsung Chromebook.

I wouldn't expect them to support it,would be nice to see them support device's outside of the Galaxy line up, besides price that has been a bigger setback for them more then anything, granted i'm not saying sales are hurting or suffering, but their sales would more then likely increase if they weren't taking such a Apple type of approach to the products by limiting themselves to just select devices.

It would be nice to see it outside the Samsung universe, but it is another of their hooks to get you sucked in. I still think that there are software issues that is holding it back. I seems to remember it being installed on a non standard HTC One (ROM'd) and it was not fully functional because it relies on S-voice. I do know that it relies on BT (newest only) LE so that is part of the reason that it is not on more Samsung devices. A Note I or whatever does not support LE. They are not going to open up S-voice to everyone yet so that is a major impediment. As far as price, it is the only one made of stainless steel, it has one of the biggest screens, it uses voice assistance (not many do), and is the (?) only one with a camera. There is the price difference

I don't think it's compatible with the Galaxy S2 either. The Galaxy name in and of itself doesn't mean a lot.

You can root the Galaxy Gear, you can also install custom ROMs on it. You can then also use it on any android 4.3+ phone.
Check out XDA for all the info.

Root the Gear and install Null ROM on it. It's then compatible with any phone running Android 4.3 or later.

best looking smartwatch so far bar none.

I wish I knew what the Gear 2 features will be and how much it will cost so I could decide if I want this or if I want to wait. Posted via Android Central App

Pisses me off. Got myself one for Christmas. Less than 2 months later it's half price? Samsung should offer us beta testers a discount on the GG2.

It's not a Samsung promotion. It's Best Buy Posted via T-Mo N3

+1 Even Wal*Mart is still selling it for $299. In fact, the $150 price tag is only good for today at Best Buy, from what I understand.

Hello eBay Posted via Android Central App

That should be the regular price! Posted via Android Central App

If it worked with the nexus 5 I would buy one right now. Stupid Samsung, it should be about the money Posted via Android Central App

Manual install method has Samsung Galaxy Gear working with Nexus 5 http://www.androidcentral.com/manual-install-method-has-samsung-galaxy-g...

Better than none. Posted via Android Central App

$150 seems like a very reasonable price for the Gear. Unfortunately, I'm not interested in walking around with something that can be seen from space on my wrist. If they had included the black or grey I would have loved to jump on this, but I'm guessing the brighter colors are not selling as well and they're just trying to clear out inventory.

I just got the Orange one at a BB 40 minutes away...worth this price and will match the color of my Seadoo Boat...Lol!

too bad its not waterproof!!!!! :(
I thought that was kinda a shame...

it is water resistant..... just don't go swimming with it.

Buy an orange one, take it back the next day, tell them you asked for black and when you got home you noticed it was orange. Can't hurt to try, right? Posted from my newly Kit Katted Droid Ultra

I'm going to be absolutely floored if/when you ever make an intelligent comment... Posted via Android Central App

Never test the depths of a river with both feet

I'm sorry, I should have clarified... I meant an intelligent original thought, not an old saying someone else came up with... but nice try, I guess. Posted via Android Central App

Make up your mind. You can't have your cake and eat it too Posted from my newly Kit Katted Droid Ultra

Dude... WAT ... *facepalm* Posted via Android Central App

I bought an orange one... would rather have had grey or black.
I am not an ass tho so I wont try to rip off BestBuy

Bought an orange one to try out. For the price, it's at least worth a try and I can return it if it doesn't work for me.

Finally got the price right. Unfortunately they still have the color, device compatibility, band interchangeability, and universal charger parts wrong. Posted via Android Central App

this, all of this, and get rid of that damn camera!

Yes cause everyone has the same preferences as to. Fail on your part. Posted via Android Central App

He's just voicing an opinion, you prick... change your fuckin tampon, pussy. Posted via Android Central App

You* Posted via Android Central App

I would consider it if it wasn't just for Samsung phones. Sorry Samsung but u dropped the ball on this one..

You can root the Galaxy Gear, you can also install custom ROMs on it. You can then also use it on any android 4.3+ phone.
Check out XDA for all the info.

Can you please post a link here.
Very interested to connect this with my LG G2

http://null.section80.net

I'd be all over it if the sale included black.

I tried getting one but it only Available for instore pick up but every store location around me shows unavailable. Confused Posted via Android Central App

Edit: just got the rose gold one from a buy but mobile store Posted via Android Central App

I I just picked up an Orange one for the the wife for Valentine's Day. I think she'd like a white one better but unfortunately the "white" is a dingy, almost gray color.
Side note - Best Buy employees had no idea they were on sale, even argued with the sales "manager" until another employee went and looked it up..

I am very tempted to go out and buy the orange one. I funded/bought a crocs like shoe on Kickstarter called Crosskix. I purchased the orange one so I have been getting orange accessories for my phone (S3) like Orange back/case/cover. A orange watch would compliment well and make it easier to take pictures of artwork at shows (for school) without getting in trouble in some places. But with the rumor of the Gear 2 coming out soon I think I'll pass. I'm not exactly looking forward to purchasing the Gear 2 but the potential price drops that will come to the original Gear watches. Might drop beyond $150. Plus when a general price drop is adopted by nearly all retailers/eretailers I can buy the watch free shipping/no tax online. Not exactly $150 you pay at Best Buy.

I just picked mine up and played around for a bit with it all I can say is I will be returning it soon since I feel my Sony Smart watch 2 does better for what I need it to do. Posted via Android Central App

That's too bad. Mocha and Black are the only 2 colors that I'm interested in, and I would definitely buy one for $150. I just don't care for any of the other colors. Oh well, guess I'm back to waiting for the Gear 2...

Just checked these out, sold out online, not available in my stores for pick up : ( Posted via Android Central App

Got one for sales let me if interested
Brand new.I don't have a Sammy phone so can't use it. Posted via Android Central App

Austin tx.. Mail me timboctou@yahoo.com Posted via Android Central App

Unavailable online so I went to a brick and mortar Best Buy and they were able to order the oatmeal beige for me. It will be in next week. They price match at the store folks.

Asked a customer sales rep. he said they could not do it... BEST BUY VA you SUCK

I just picked up the gold one. The employees had no idea the sale was on. But if you pick it out they will honor the price. I like it so far. For 150 its totally worth it. For 250 hell no. But its been working great with notifications and i can answer calls while driving which i do alot for my job. S voice is s voice but its been working surprisingly well. Posted via Android Central App

I just tried to pick one up, completely sold out in my state. Posted via my Note 3

Feel your pain here in VIrginia

Went to bb in Roanoke today and explained I couldn't get out due to snow and they honored the deal got a rose gold color

I picked up an orange one. Would rather have the black, but the price was right.
This thing is pretty awesome. Posted via Android Central App

Development support is pretty good for this on Xda. A custom rom which gives you access to a full browser and appstore. I will be looking into that tomorrow. Definitly worth the 150 IMHO. Posted via Android Central App

Got the lime colored one, even if I don't like it I can flip it on eBay. Posted via Android Central App

Online said sold out, went into brick and mortar and they had the 4 colors available. Sales associate said the web site has glitches. Picked up the oatmeal color. Posted via Android Central App

At first I did not want the watch... then looking more closely over time I became more interested in it. Saw this article about the price slash when it came this morning (I said hmmm) as I was getting in from work, but I fell asleep with Note 3 in hand. Got to work later on that night saw my co worker got a new watch from her significant other for valentines. NOW!!! I am hot for the Galaxy gear... got to the Best buy website and they are sold out called store all around and the customer service WTF !!!!! Now I am sitting at work Hotter than fish grease and my wrist naked like a Jay Bird!!!

Got one of the lime colored ones at lunch today thanks to this post... Very cool gadget! Thanks for the tip AC! Posted via Android Central App

I went to Bestbuy today and discussed with the bb rep that I wanted to come in yesterday and get one but couldnt get out of my neighborhood due to the massive amounts of snow and I asked if they would honor the daily deal. The rep said no and so I asked to speak to the manager the rep went to call him... after 5 min the rep came back and told me that they had two rose gold models and they would do the 150 for them if I wanted them. I got mine!!!

Got the rose gold. Have to say its pretty flossy! I love it so far. I can see all my notifications. And everybody checks it out. Posted via Android Central App

If I had gotten the S4 as I originally planned I would have picked this up. Posted via Android Central App
Android Central Newsletter
Thank you for signing up to Android Central. You will receive a verification email shortly.
There was a problem. Please refresh the page and try again.