Samsung is the first to begin mass production of 16GB LPDDR5 DRAM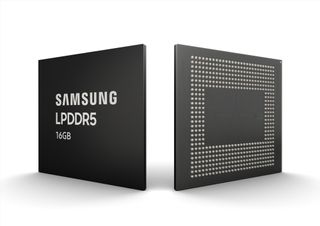 (Image credit: Samsung)
What you need to know
Samsung has begun mass production on the industry's first 16GB LPDDR5 DRAM with a transfer rate of 5,500Mb/s.
The chips will be used in the Samsung Galaxy S20 Ultra as well as high-end laptops and gaming PCs.
Compared to the 8GB LPDDR4X chipsets, the new 16GB LPDDR5 chips will offer double the capacity while providing more than 20% in energy savings.
You may know Samsung for its flagship phones such as the Galaxy S20, Note 10, or new foldable Z Flip. However, beyond producing high-end Android smartphones, the South Korean tech giant also makes components that power many competitor's products. In fact, even the iPhone relies on parts made by Samsung.
In order to keep up with the fast-paced industry, Samsung continues to push the limit and announced (opens in new tab) today that it had begun mass production of the industry's first 16GB LPDDR DRAM. According to Samsung, the new 16GB LPDDR is 1.3 times faster than its previous LPDDR4X memory modules with a transfer rate of 5,500Mb/s. When compared to the previous generation 8GB LPDDR4X DRAM, the new 16GB LPDDR5 chips will offer double the memory capacity while providing more than 20% in energy savings.
Samsung says the new memory chips will be useful for ultra-high-resolution graphics, immersive mobile gaming, and smart photography. It will also be helpful in enabling enhanced 5G and AI features in the future.
What this all means for you is, faster more efficient memory with more capacity to be used in high-end laptops, gaming PCs, and mobile products. The first phone to feature the 16GB LPDDR DRAM will be the Samsung Galaxy S20 Ultra. However, whether or not your phone actually needs 16GB of RAM is still up for debate.
Later this year, Samsung will also begin production on faster LPDDR5 DRAM at its Pyeongtaek site, using 10nm technology. This will enable its 16GB LPDDR5 DRAM to reach speeds of up to 6,400Mb/s.
High-end flagship
Ultra specs for an ultra price
The Galaxy S20 Ultra has the best of what Samsung has to offer, but it doesn't come cheap. Powered by a Snapdragon 865 and a whopping 16GB of RAM, this phone won't leave you wanting in the specs department. It also features a super-smooth 120Hz display along with the 100x Space Zoom for ultra up-close photos.
Does the 12GB version of the s20 ultra come with ddr5 memory or is it the only 16GB version??

Wondering that too after reading this. I am thinking so just samsung is the first to make a 16gb chip, so there was no specific announcement of the 12gb but I would like clarification.

Excellent question, hopefully they shed some light on it.

Glad I went for the big boy and all 16.. Heck., we'll see. But I'm pretty excited for my upgrade.
Android Central Newsletter
Thank you for signing up to Android Central. You will receive a verification email shortly.
There was a problem. Please refresh the page and try again.