Samsung confirms Galaxy Note 8 launch for August 23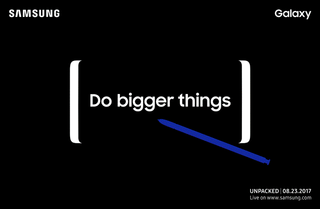 Samsung will launch the Galaxy Note 8 on August 23 at various Unpacked events around the world, though the main one will be in New York City starting at 11 a.m. ET.
The company sent out press invites with a silhouetted phone slightly boxier than the Galaxy S8, replete with an S Pen overlaid on top, In other words, nothing surprising.
The date lines up with previous rumors, and gives Samsung a few weeks to get the phone onto store shelves prior to the unveiling of Apple's new iPhone model. Samsung is also expected to spend some time reassuring the media, and potential customers, that the new Note model is free of battery defects, and that its eight-point battery test is the best in the industry.
This year's Note is expected to have a 6.3-inch Infinity Display, a Snapdragon 835 processor and 6GB of RAM, along with dual 12MP rear cameras, a 3300mAh battery, an updated S Pen, running Android 7.1 out of the box.
More soon!
Daniel Bader was a former Android Central Editor-in-Chief and Executive Editor for iMore and Windows Central.
I've been waiting for this official news. Just hoping it is worth the hype and not too outrageously priced. Looking forward to getting back to the Note line!

Depends on what you consider outrageous. I'd be surprised to see this come in at less than $900.

It's supposed to be more than 1k. I love the note line, but not enough to drop over a thousand on one. If this phone sells well at that price, expect the note 9 to be around 1200 and then for the note 10, lol, watch that phone will be like 1400.
No effing way for me

Waiting on the N8, I go back to the N3 but I will not pay over 1000 for a phone

I hope they do something for those of us that got screwed over with the note7! Having to settle with the 7 edge still isn't sitting well.

Plus one. I got the S8 to cure my Note anxiety after I had the S7 as a loaner. The S8 is a great phone, but man I do miss the stylus! I didn't know I would miss it until I didn't have it.

That would be nice. But seeing as the latest earnings reports are good (not to mention figures showing Samsung's lead over Apple increasing) despite the Note 7 debacle, I'm willing to bet they have moved on from any mindset that they need to do anything for the Note 7 users.

They won't. They seem pretty content that they want to sweep that under the rug

How did you get screwed over

+1 Should've taken the refund and purchased a different phone if you didn't want the S7e.

Many got a sorry deal because eventhough they could get a refund, many traded in devices like the Note 5 that weren't returned and were difficult to replace on the used device market without taking a substantial loss.

S7 edge has been the worst phone I've ever owned. I'm not saying it's a bad phone, but it's the worst of all the phones I've had

Wow the worst? Which phones are you comparing it to?

You're so quick to part with 1k huh

To get back to my Note, HELL YEAH! I keep my phones for 2-2.5 years, so, it is worth it to me. If this works out, barring any earth changing upgrades, my NEXT Note will be the 12.

I'll keep my GS8+ and get the Note 8 and use both.

In what way would you use both? Curious...

Not sure if it's worth it to change from the GS8 for this phone. Can't wait to see what they are doing with the Note line though.

Eh it's basically an S8 with an spen. I'm disappointed that they seem to be merging the s and note lines.

I'll pass for screen facing fingerprint sensor next year. The fingerprint sensor placement in 8 series is terrible and doesn't register as often due to finger angles changing so much depending on grip.

I've already set my money aside for the Note 8.

I'll hold on to my money and my V20 for now. Most likely Note 9 for me.

The V20 is a very good phone. I've owned it for a long time. In the end I think the GS8+ is just a more solid and smooth running phone over the V20. I'm actually excited to see why the Note 8 will bring though. I miss that stylus.

This is how I do it, too. If I'm going with cheap phones (no thanks) I'm OK with every year replacements. If high end phones (yes please) like the V20, Galaxy Note, Galaxy S, etc, every two years is about right. The Note 8 is only, what, $500 per year if using it for two years? I can do $500 for a high end phone that I use for hours every day.

so they want to blow their phone again. ok. They don't care about your guys safety just money $$$$$.

Umm, if they get too poor of a track record, they no longer will get the "$$$$$" they desire. So yes, they do value your safety, even if their motives aren't entirely altruistic.

Yawn. What happened to the days where the Note 8 was the powerful flagship? Now just an S8 with a stylus...

Agreed. That ship sailed with the note 4. The note 4 is the pinnacle note imo, it had it all for its time.

Agree completely. Seems like an S8. I don't care about dual cameras. Was left thoroughly unimpressed on my 7+ and my oneplus that I am returning.

6.3" screen + 3300 mAh battery = a no go for me I'm finished with the big screen, mediocre battery life on phones.

I wish I could believe you...

I really don't care if you believe me or not.

That's nice, because I don't lol

LOL that is true of many of us. We say we're finished with them but then can't keep from buying the new shiny gadget.

Lmao aahhaahahha ahahaha ahahaha lmao ahahaha ahahha ahahaha ahahah 6gb of RAM and S-Pen or 200mAh of more battery - why is the S8+ here, or no the "Note" Ok "dual cameras - that will surely be put on the S9 especially if all iFone variants get dual - that seems to be the market trend Either way the " Galaxy " line hasn't been the same for years - there is no need for 3 variants - the S8 and the S8 Pro - would have been perfect with the debacle of the note 7 - this note lineup just gives them a reason to launch another redundant product to attack LG and iFone Ugh - unless it's appropriately priced at no more than $499.99 it IS dead on arrival - my opinion - spare me yours - Thanks in advance OJ is free (finally)

Where can I get free OJ? My scurvy is becoming intolerable.

Bye V20..I'll pass on v30 too. its either note 8 or pixel 2 xl for me. Google needs to hurry p2 up.

I've been waiting for this

Why sticking with the 12mp cameras? Cool, two of them.. and I like LGS approach on this, but come on. I've always wanted to pull the trigger on a note phone, but why not 8gb RAM, dual 16mp shooters and a big battery? Something you could feel more confident it would still be "high end" two years from now.
I'm sure I'm wrong about all of this , but seems like just a bit of a upgrade rather than something substantial.
I'm looking at what the V30 may bring to the table, however I've always wanted the stylus for editing.

Megapixels on one phone don't compare apples to apples with Megapixels on another phone. 12mp on the Galaxy N8 will be better than the 16mp on my old Galaxy N4. Megapixel size is one relatively unimportant factor in the final picture outcome. I've been reading about this ever since digital cameras first came out. Sometime around 1995 - I waited til about 1997 to get one and the resolution was 320x200 I think. Anyway, people still fall for the lie that mp # is how to rate a camera!

Also, each mobile GPU can only handle processing of up to a certain amount of megapixels. The Snapdragon 835 is 32 total. So dual 12's leaves room for 8mp more for the front camera, right? Or can someone tell me if it only counts for simultaneous usage, meaning they could have 2x16mp rear, one 16mp front, but can't use all at the same time?

I hear you loud in clear about MP not being the end all for camera tech. Totally understand the concept. Im just reflecting on the fact they have chosen this 12 MP for two years now. Why not have a superior resolution with the same great or advanced stabilization, pixel size and software to better improve things. That's all I was really referring to. Making mobile devices much more conducive for printing at a large size. I just love taking pictures with my smart phone and am always looking for the next device that will offer even more impressive results. (Currently have LG G4 and it does a pretty darn good job, especially with manual mode etc)
There was article earlier this year referring to a Sony sensor I believe that could take like 1000 fps or something rediculous and do it with pretty high resolution. That's the kinda thing I'm talking about with a new Note or LG V30 or something upcoming this year. Something that "feels" like a jump in tech. Make any sense I hope? Lol

Welp, I hate to say it, but 12MP is actually considered acceptable for printing posters.

I've never had a Note phone. I started with Android from Apple with the Samsung S7 Edge. Once I knew I liked it I planned to upgrade to the Note 7, but then that didn't quite pan out. So I went back to iPhone until the S8+ became available. This phone is a good size with a solid battery. I love it. But I have to admit I'm curious to see what differences the Note line brings. I can't imagine I'd want to shell out any additional money to go that route, but I am curious to see where the Note line is going. Perhaps next year I can look at the Note 9 if it's compelling enough!

I thought that the Note line was dead...now it's hotter than ever? Make up your mind, AC

Just bought my Korean s8 plus, guess I'll be selling it soon...lol

Definitely excited! I have the S8 and I'm enamored by its beauty! Really would love to get my hands on the note 8 tho. Technology is blooming!!

I'm so torn. I've always loved the Note line and have had all but the 7. So after spending a year with the LG V20, and actually falling in love (all be it very slowly after a small learning curve), I don't know if the Note is still the device for me. I'm actually more excited to hear what about thr V30, and then see who will part this fool from his hard earned money. And seeing as how I'm Canadian and the prices for flag ships are all but mind boggling, they need to have more than just gimmicks.

+1 for seeing about the V30! I'm looking forward to it as well.

Same. All they need to do is use an OLED screen and add water proofing along with the current combination of high end specs, I'm going to be very interested! I love big phones and as of now the HTC U ULTRA is doing the job just fine. Just hate it's bad 🔋 life.

Hope TMobile will do the BOGO when it releases, I don't wanna wait a month to get it like the s8.

Hotter than ever...hahahaha that made me 😆

The battery could've been 4000 mAh or maybe even larger, if only they'd just make the phone 11-14mm thick.

I concur - why a camera hump when you can do just add to the mAh - camera humps are dumb

I am looking forward to this phone. If you are comparing it to the S8 + realize you are getting dual cameras and better performance with the 6GB of ram as well as an spen with all those additional features. This is a big difference and the only knock would be the battery size. Even that is minimal since it likely with translate to less than an hour of additional screen time.

Guess what color it will come with? Hopefully not like the previous s and more series... S8 is lack of gold now (Best buy and Samsung now have blue) note7 have all colors but then recalled

Probably will be good but overpriced with poor 3300mah battery, i wanna see 4000+ with SD835 optimization, guess I'll wait for the mate 10 anyway

The specs are very impressive, but not without the typical Samsung flaws. Judging by what is confirmed by various sources, I can predict it's going to be a phone with very small battery life
https://droidinformer.org/Stories/samsung-galaxy-8-all-the-features-to-e...
This is the most painful flaw of modern devices, and I don't like the attempts to compete with the new iPhone at all. GN8 is already looking better, no need to try so hard
https://droidinformer.org/Stories/heres-why-galaxy-note-8-will-be-superi...
Anyway, we'll have to look at the sales to see how it goes. And try it for ourselves, I guess.

I don't think the phone is launching on August 23rd . that's just when samsung is going to officially announce the phone with the actual launch being sometime in September.

Over a $1000!!!! And people complain about the price of the iPad pro.

My first android was supposed to be the Note7, but I had to settle for the S7E because of the recall. I am very much looking forward to the Note8, I do plan on getting it, but I am concerned with the projected battery for such a device, as well as the potential price tag.

I absolutely cannot wait to pre-order!
Android Central Newsletter
Get the best of Android Central in in your inbox, every day!
Thank you for signing up to Android Central. You will receive a verification email shortly.
There was a problem. Please refresh the page and try again.