Samsung Apps to offer BBM for Android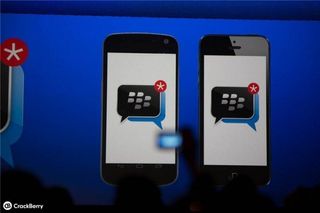 Samsung has announced that it'll offer the Android version of BlackBerry's BBM messaging app upon its release. A press release issued today confirmed that BBM will be "available to all Samsung GALAXY smartphone consumers across Africa" on Google Play as well as Samsung's own app store. And while today's presser refers to Africa specifically, it's likely Samsung owners in other territories (not to mention other Android device owners) will be able to download the app too.
Samsung also states that BBM "will form part of Samsung Messaging Hub" on Galaxy devices, suggesting some kind of deeper integration with the built-in Messaging app may be on the cards.
There's still no word on exactly when BBM for Android (or iOS) will appear, but it's understood to be in beta testing right now, so the public release probably isn't far off.
Source: CrackBerry (opens in new tab)
Android Central Newsletter
Get instant access to breaking news, the hottest reviews, great deals and helpful tips
Alex was with Android Central for over a decade, producing written and video content for the site, and served as global Executive Editor from 2016 to 2022.
Because Whatsapp doesn't do the same thing... BBM was useful a few years ago, things have moved on a bit now =/

Too little, too late is the RIM corporate motto!

You make ZERO sense. Please explain to me how it's too little too late to get a better chat app. Sounds like you're ok with just settling for subpar product, or just repeating what the media has to say about BlackBerry without even opening up your eyes to see what they've done. For starters, Whatsapp is unreliable and often slow at delivering messages. Whatsapp requires access to your address book so it can send it to the Whatsapp servers in order to find your "friends," a terrible method for those of us who use their phones for work and personal; I don't want my work colleagues seeing my Whatsapp picture or status messages yet I have no control over that right now. Another thing, Whatsapp sucks when transferring phones or switching phone numbers; you have to create a new account if you get a new phone number. Plus, it sucks that it tells others when I used the app last. This means that if I don't want to reply to someone, they will still know that I accessed the app and didn't' reply to them, even if I didn't even go into their message. And worst thing, there's no message read status with Whatsapp. BBM will bring a reliable and secure messaging app, and you have the ability to add who you want, when you want. BBM will not go scavenging through your address book, adding people for you, even if you don't want them. Plus, switching devices or phone numbers is super easy with BBM because your user ID and contacts will follow you no matter what phone number or device you're using.

Thank you sk8er_tor! For once, there's someone who actually does some research before babbling away in the comment section! While many would rather remain uninformed and just bash a company/technology because they're following what they perceive to be popular opinion, I'm glad that there a few out there who'd rather get the facts before making an informed decision/commentary. Good on you, Sir!

@sk8er_tor: that feature to limit who you can chat with is awesome. I use Google Hangouts, and it adds all my G+ contacts, plus whomever I email.

While I somewhat agree with what you said about the advantages of BBM over WhatsApp, I have to wonder: 1. In which way could this possibly help BlackBerry? If anything, those who were tied to a BlackBerry because of BBM will now have a choice, I don't think it will make anyone stay or move over to a BlackBerry device. Is it even aimed to do something about BlackBerry's peril? Nobody is gonna spend time and resources to develop something if it's not a win-win situation. 2. BlackBerry phones use their PIN, what is a non-BlackBerry device gonna use? E-mail? Phone number? IMEI? A BlackBerry system designated PIN similar to what LiveProfile does? 3. Will the user be able to send media through BBM? When it was first announced by the company, Thorstein Heins (CEO) said it would only be able to send text, groups up to 30 people, BBM Channels and voice notes; later on, through updates, they would add remaining capabilities... Seeing how long they have taken to release this single app, these updates could take forever. As for WhatsApp vs BBM. Let's understand that: We, as people who have better knowledge about these topics, do care about the app's authentication system such as it being the phone number or a PIN; we care about the app's security and message encryption; we care about having the best chat app there is; we care about proper OS integration and what not, whereas civilians (a Jerry calls non-geek people) could not care less about all that, because what they want is the chat app all their friends have, the app that allows them to send free text and free media, and the app that's easy to use. I was baffled as to why Hangouts (formerly Google Talk) or ChatON have not succeeded as the chat app of choice, given that they come integrated with the most sold OS and phones in the world... But then, I realized that coming pre-installed and highly integrated in the OS, having voice-call and video-call capabilities, and even being available in PCs is not enough, insurmountable amounts of promo must be done, for example: Line, it's becoming increasingly popular in Venezuela, they've been holding the 1st place in the Top Free category of the Venezuelan Google Play Store for a few weeks now, and been among the Top 10 of the Venezuelan Apple App Store, why Line 1st and WhatsApp 2nd now? Because they even have TV ads, and when you see TV ads for some product here in Venezuela, they mean business. BBM may do everything a modern day chat app does and more, but their user base has decreased dramatically since the days of the Bold, they took too long to understand that the future of the company was either "porting" their most emblematic service to the competition (that's what people have always wanted) and/or re-inventing the BlackBerry device to something superior than Apple, HTC, Samsung and others offered. It's not so simple as something like: "the iPhone happened and then Android happened", they are not lagging behind Google and Apple because these two are "too strong to take out". Let's remember that BlackBerry was the company that dominated the smartphone market not so long ago, and was overtaken because they made really ruinous choices (Storm phones who were an actual storm to use as the prime example). I doubt the BlackBerry name alone will shoot them to the top spot for longer than 2 weeks to a month, especially when they've announced this app for summer and fall it's not so far away anymore, people don't like being stood up. In my opinion.

About the publicity thing, that's true. I'm struggling to convert my friends to hangouts, as far as BBM goes, it's the most popular IM app in South Africa, where I'm staying and I must say, I enjoy using it...more than Whatsapp. Yes Blackberry has made bad decisions but I think this was one of the good ones. I think they know their phones are below-par so they're trying to stop forcing people to choose between an IM app or a good phone. About the Pin thing, it will probably also use PIN, long ago you could use BBM on a limited amount of nokia phones and they had PINs, PINs can be generated from an IMEI so I don't think that will be a problem.(So that means no wifi-only devices afaik) If not PINs I think email of your Blackberry ID account.

I was hoping that Google handouts would need ready with there SMS & MMS text integration, but I guess that their late, once I put my contacts into bbm, it'll stay bbm for good. So either Google hurry the EF up or bbm will dominate!

i just want to know if the inclusion of BBM on samsung app will also go to pave way for samsung galaxy subscription as there is also a blackberry monthly subscription ?.

Whatsapp doesnt work on tablets. BBM may. Posted via Android Central App

Whatsapp works on my galaxy tab 10.1 3G. You just have to download the apk and it can't be a wifi-only

Like 90% of my other non-SMS messaging apps, I'll have 1-3 people that use it and won't use anything else. I've got a mix of Android, iPhone, BBM, and non-smartphone contacts... so I use SMS mostly with some WhatsApp, Kik, Skype... and now I can add BBM to that list. while I'm all for diversity and options... I am getting tired of having a bunch of messaging apps with only 2 contacts that use it.

This. +1000. Posted via Android Central App

I don't understand the fascination with these bbm type app's, SMS can send pic's, voice message, mp3, video, & even multi chat. Even emoticons! So what's the difference? They're like instant messages? They tell you when someone's on or isn't? Just leave a message and they'll get to you when they see it. I'm waiting for Google hangouts, with its SMS, MMS & Google voice integration.

Not a bad play. It is very hard to say if it will take off but the increased exposure won't hurt at all. Will BBM stand out against all the other bloat on on Samsung's carrier branded phones? It has a better chance than the competition.

Whats wrong with samsung. why cant they follow playstore??

Ever thought that maybe the Play Store isn't in every country? Plus I think Samsung is slowly preparing for the day they leave Android.

True and True. But that doesn't excuse Samsung. Android has put up a number of great products that are not used for reasons like that. It also makes people angry because they feel that they need 3 apps that do the same things and they are lost. Samsung is not the only one, but they contribute to it.

by creating another 'playstore', they try to differentiate their product againts other Android competitors...

I agree! Nice job Samsung but if this goes to the android play store or sooner or later every android phone can get then whats the use of it being exclusive for samsung. Everybody will get it eventually. If it stays with Samsung only then its a good job because they need a messaging app like that! Posted via Android Central App

I wanna see a Samsung bb10 device. Posted From my HTC One running PlayBook 3.0 via Android Central App

I don't. Posted via Android Central App

It's not gonna happen. It's like expecting a samsung iphone -__-

So does this mean Samsung's own BBM like app ChatOn is going away?

Good to know Africa counts. ...finally. apple would have preferred a USA/ Canada release. Thankd Samsung for keeping Apple on their feet. Posted via Android Central App

Anyone who's used all popular messaging apps, including bbm, know how much potential bbm can have in terms of disrupting the IM market. Personally, nothing comes close to BBM for me. Just think about it: bbm was created in late 90's early 00's. That's a lot of development time compared to other IM apps. It is incredibly mature. Reminds me of Google maps and how they are so far ahead and that if any other mapping service even wants just street view for example, they are already years behind if they want to implement just that. Or they pay Google a hefty price if they're even willing to license it. Bbm is superior in this way to all other IM apps. In fact, all other mobile IM apps are simply inspirations of bbm.

Samsung desperately wants exclusivity just as Apple has, and they are slowly moving in that direction.

I haven't had a BlackBerry for 3 years, but I still miss BBM. No messaging app works as good as it does. I love how the confirmation of delivered and read work on it. I can't say how many times people claim not to get SMS messages (both true and fibbing). BBM kind of takes that issue away. The only problem I see with it is the same problem others have mentioned with getting your contacts to adopt it as well. I know I will be able to get my wife, sister, and brother to adopt it, but it will be an uphill battle with my friends who hear "BlackBerry" and just snicker or snear. Which is fine since it is usually more important to confirm a family member received/read a message vs my friends.

I cant wait, I would like an "imessage" type scenario.... Wish it was on vanilla android but beggars can't be choosers. Posted via Android Central App

I've never had a bbm message sent that didn't get received, or got received 30 minutes after I sent it. BBM is so much more reliable than any other messager that I've used. It's instant and the d and r take it to another level. Kik, whatsapp, hangouts.. I use them all. Nothing is even close to bbm and that's the truth. Posted From my HTC One running PlayBook 3.0 via Android Central App

BBM is a great messaging app & the ppl who bash BlackBerry obviously haven't given BB10 a chance, I mean a real chance like give it 2 weeks so it brings to get her all your accounts in to the hub & you'll realize how great of a product BlackBerry has created. I had a BlackBerry Z10 for awhile but it was too small for me so I let a friend have it when he got robbed for his phone. As soon as the 5" BB10 device comes out I'm definitely getting it and there is even a chance it will pull me away from Android it's that good. BBM is a great feature & just a sample of how great BB10 is as an OS, you'll get curious when you see how great BBM is & want to see what the OS is like & I think that's what BlackBerry is banking on showing off one of their features to other OS's. They do need more quality apps still I know before anyone says that the but they have an amazing base built & ppl need to appreciate it instead of bashing them with everyone else who has no idea about it.

I knw some one will get that apk and share it around for sure Posted via Android Central App

Dozens of people are ecstatic. Posted from my Nexus 4 via Android Central App

Samsung is keeping its competitors on their toes, they push updates faster. A smile on a customers face is like money in the pocket. Posted from my Samsung Galaxy Camera via Android Central App

It's the best application
Android Central Newsletter
Get instant access to breaking news, the hottest reviews, great deals and helpful tips
Thank you for signing up to Android Central. You will receive a verification email shortly.
There was a problem. Please refresh the page and try again.