Samsung and LG will reportedly soon stop supplying display panels to Huawei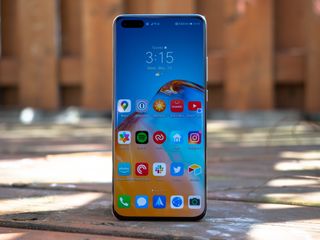 (Image credit: Android Central)
What you need to know
Samsung and LG's display units have reportedly decided to stop supplying panels to Huawei after September 15.
New restrictions imposed by the U.S. last month bans companies from selling chips made using American equipment to Huawei without a special license.
Huawei will now have to rely mainly on China's BOE for premium display panels.
A new report published by South Korea's Chosun Biz has claimed Samsung and LG are both going to stop supplying premium smartphone display panels to Huawei after September 15, due to the recent U.S. restrictions.
The stricter export control rules, which were introduced by the U.S. last month, require companies using American technology to obtain a special license before selling chips to Huawei. The ban also includes chips that are used to operate display panels. Both Samsung and LG expect the U.S. move to have a minor impact on their display businesses, as Huawei is far from their biggest customer.
Huawei will now have to increase its reliance on China's BOE for display panels. The report also says Huawei has already started testing display panels from other Chinese display makers such as Visionox, Tianma, and CSOT.
The news comes just a day after a report out of South Korea claimed Huawei plans to produce only around 50 million smartphones in 2021 due to the U.S. sanctions.
TSMC, which manufactured Kirin chipsets for Huawei's HiSilicon subsidiary, will also stop supplying to the Chinese tech giant after September 15. Since the company cannot produce its own chips now, chip makers like Qualcomm and MediaTek have shown interest in selling 5G mobile chipsets to Huawei.
A deal with Huawei could make Qualcomm's market advantage insurmountable, and that's a problem
Android Central Newsletter
Get instant access to breaking news, the hottest reviews, great deals and helpful tips
Awesome. I hope Trump will impose sanctions on ALL Chinese tech companies! Why do business with a thief (China)?

Exactly! China and it's Chinese companies are where they are from stealing technology from western companies over the last 20-30yrs. Even more so within the 20 yrs.

This comes as no surprise? Without Google apps & now Samsung displays this is the final nail in their coffin. Plus the huge deal Samsung just signed with Verizon 5g? Were talking billions folks? When in cahoots with the Chinese Government these are the results??

Do you feel sorry for Huawei, I don't, even without Google or Samsung at least in China, they will keep them floating! But, it's still a heavy blow?

Y'all sure do hate China. 😂😂😂

Hard to like a country that enslaves their people and harvests their organs when they go against the system. They also covered up the creation and spread of a virus that has affected the world. Surprised karma took this long to catch up with them. But I suppose they pay off a ton of people to keep their corrupt machine running...can't do that without money.

ROTFL!!!! NSA, NSA, NSA!!! One bright american said 'The greatest enemy of knowledge is not ignorance, it is the illusion of knowledge'!
When prejudice is added to the illusion of knowledge we've got a lot of 'bright' comments! Well.. Trump is the president of USA;D
Android Central Newsletter
Get instant access to breaking news, the hottest reviews, great deals and helpful tips
Thank you for signing up to Android Central. You will receive a verification email shortly.
There was a problem. Please refresh the page and try again.