Samsung Admire for MetroPCS spotted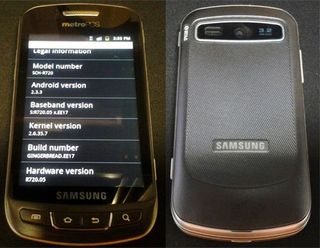 The mid-range sector for Android devices may not appeal to the hardcore Android fans out there but it does make up a good amount of those 550,000 activations daily and no one should expect these devices to stop being made. If you're on MetroPCS you'll soon be seeing the mid-range Samsung Admire show up there sometime in August or September. So how mid-range will it be exactly?
3.5-inch HVGA screen
Android 2.3.3
800MHz CPU
TouchWiz UI
3.2MP camera
Wi-Fi, Bluetooth and GPS
Not great but certainly not terrible either. When this one hits MetroPCS the suggested pricing should be around $150 after mail-in-rebate but MetroPCS could always discount that even further.
Source: SammyHub
To be honest its not a bad phone not great. But I think 150 on contrat may be I little to much

there is no contract on metroPCS, so yeah for the pricing on 50 dollar plan Taxes included is a great deal, just for future reference before commenting get your facts straight.

I'm not in a area where they are so I didn't know it was contrat free so thank you for pointing that out.

u are right but now there is a sale going on at Metro PCS $79.99 for the Samsung Admire will end on Nov 30th 2011.

oh yes there is no contract on MertoPCS. just letting u knoe b/c Im a MetroPCS customer :]

Metropcs is contract free, so the handsets will be a little more than on other carriers on contract.

Hey did you guys know mpcs was contract free?! Damn why do you guys always have to be super dicks whenever someone makes a small mistake?

But! But!!! He made a mistake....FRY HIM! jk this phone is nice but is it all that much better than their current androids (i think optimus m?)

metropcs should be getting their first high end phone in October by LG called "LG Esteem" which is the "LG Revolution" here is the link. http://theunlockr.com/2011/07/08/lg-esteem-for-metropcs-this-october/

The only problem so far with Android on Metro is the data speed. Their years behind. Rates are cheap, but having max speeds at EDGE levels, or less, makes many apps a pain to use. Forget about streaming anything, or browsing full sites on the browser. Especially if you are downloading from the Market a 23MB file. Takes forever. Their LTE speeds aren't much better. Max speed I saw was 3MB down for it. I'm not putting them down as they are improving, but just pointing it out for anyone thinking to go to them without knowing first.

Yes this is very much so true. I had the LG Optimus M on Metro for a few months and it drove me insane. Wi-Fi helped soo much, seeing how I live in an area where there isn't a LTE zone. Not that matters anyways because the optimus isn't a 4G device. Also I wouldn't recommend calling customer service with a problem. I thought Virgin Mobile was bad... Metro was worse on customer service. Always look towards community based help. Such as forums :)
Android Central Newsletter
Get the best of Android Central in in your inbox, every day!
Thank you for signing up to Android Central. You will receive a verification email shortly.
There was a problem. Please refresh the page and try again.