Rymek Typewriter Bluetooth Keyboard review: $200 of nerdy goodness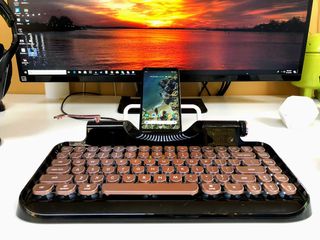 AC
Score
4
When it comes to keyboards, I am entirely without shame. I like my keyboards loud, comfortable, and unreasonably flashy. I can't type on most of my keyboards during meetings or podcasts, because there is no way to type on them quietly. Quality mechanical switches are my happy place, and I refuse to apologize.
But there's usually a disconnect between decent mechanical keyboards and decent Bluetooth keyboards. If I want a keyboard for my phone or tablet to use when I'm travelling, I usually can't get the same experience I have at my desk. I'm familiar with this sacrifice, but that doesn't mean I have to like it. And when the folks behind the Rymek keyboard promised an experience which worked great for desktops and mobile devices, I had to touch it for myself to see what this fuss was all about.
Oh, and the keyboard itself looks like a typewriter, with levers and knobs and lights which actually serve a purpose. I was hooked immediately, and two weeks later this keyboard now has a permanent place on my desk.
Showing off, but also functional
This keyboard is more flashy gadget than actual keyboard. The keycaps are a matte bronze with backlight-friendly lettering, but the plasticky feel to the caps doesn't lend itself well to feeling like a quality keyboard. The Cherry Blue switches under those caps work quite well, delivering quality response while typing while also being slightly quieter than most other Cherry switches.
It's designed to switch back and forth between traditional PC input via USB and up to three different Bluetooth inputs, and to do so with style. I can dock my phone up on the thing that looks like a typewriter paper bar, and when I want to switch between typing on my PC and typing on my phone I just pull the typewriter arm on the left. When I want to control the volume on either my PC or my phone, the turn wheel on the right side of the bar actually rotates for volume controls.
Where you really get the feeling this keyboard is for showing off is the backlights. Rymek includes five different lighting options that are mostly animated. The lights on the keyboard will dance as you type, or light up with each individual button you press, or just stay lit everywhere. The brightness controls are nice and easy to use, but it couldn't be more clear most of the settings for these lights are for filling your friends and coworkers with envy.
Good luck keeping it clean
This keyboard looks great at a distance, but a week into using this keyboard I started noticing dust and smudges. Everything that isn't bronze colored is glossy black, and that material makes every speck of dust and every fingerprint show up when you are looking down at it.
Every keyboard gets dust and crumbs and junk in between the keys, but the spacing between these keys makes it very easy to see what lies beneath. As cool as it is for this keyboard to look like a typewriter, in order to keep it looking nice you need to clean it constantly.
The mobile device dock for Rymek is mostly a small rubbery stand, but you have to choose which way you want to prop your device up. Tablets, for example, fit better when tucked in between the stand and the bar. Phones, on the other hand, fit better when leaned against the bar. The difference seems small, but it's significant when trying to find the right angle for your device to sit at for using alongside a PC monitor. Ideally, the bar on the back of the Rymek would be adjustable to fit a bunch of different sizes, but that's not an option in the current model.
A little pricey, but so much fun
The Rymek is currently available for $199 via Indiegogo, with some Early Bird specials to get it for closer to $99. Coming from the excellent $150 CODE keyboard, it's difficult to say Rymek is $50 better. What you are paying for instead is style and something vaguely resembling portability. While you technically can walk around with this keyboard and type on it wherever you are, it's big and heavy enough to make that unlikely to be something you are going to do.
This is a decent mechanical keyboard, and having Bluetooth available on the same keyboard is excellent, but what you are really paying extra for here is the typewriter look and feel with the flashy lights. And, if I'm being totally honest, it's worth it for nerds who appreciate this aesthetic.
Get the Android Central Newsletter
Instant access to breaking news, the hottest reviews, great deals and helpful tips.