The Ring Video Doorbell now lets you stream live video from your home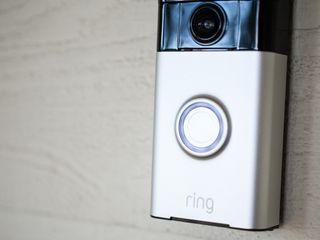 Ring has introduced a new feature to its Video Doorbell family, Live View. With Live View, you can use your smartphone to see and speak with whoever is at your door, whenever you want. Just open the mobile app, select your doorbell, and tap "Live View" to get started.
Right now, Live View is available for select users with hardwired installations. It is also available through the Video Doorbell, and will be available with the Video Doorbell Pro when it launches next month.
You can grab the Ring app from the Google Play Store (opens in new tab) now.
Android Central Newsletter
Get instant access to breaking news, the hottest reviews, great deals and helpful tips
i love this in theory but would prefer the camera to be a separate device. What's stopping someone from ringing the bell and covering the camera with their thumb. if it was out of reach, you'd never have that problem. Think of all TV/Movie thieves... a little spray paint and you camera is in effective. j/k

Thing is you'd see them before they get that close. It starts recording before you're close enough to cover the camera.

Correct, set the hot spot where movement triggers recording like any typical security setup

Ah, see, I didn't know it worked that way. I always thought it started recording when the doorbell button was pressed. But, if it has a motion detector on, that's much better.

Unfortunately that is most probably legal in many countries, at least | think it is here in Germany.

Looking forward to the day when this is integrated with the lock. Alas, Goji, we hardly knew ye....

I have a couple xiaomi smart cams covering my front door and driveways. I wonder how wide the angle is on the doorbell thingy. While I love having the cams in my windows for people to see as they walk up..they do get extremely hot during the summer months. I have already burned through two Samsung SD cards due to the heat. Posted via the Android Central App Edit: never mind. $250 is a rip-off. I have fifty bucks in my two cams...with the same, and better, functionality. I can also run through twenty more SD cards and still be ahead.

It's got a 180 degree recording radius. Posted via the Android Central App

So what did it do before? The radio ads have been saying this is what it does. Posted via the Android Central App

Exactly what I was just thinking. If it doesn't have live video I'm not interested.

Now you can activate the live video on demand. Prior to this nice update, Live video was only available when someone came within the specified radius of your doorbell.

Thank you. That makes sense. Posted via the Android Central App

Awesome! Just got one of these for my house. Posted via the Android Central App

Awesome. This is exactly what I wanted. Gonna order one now. Sweet!

I have the Ring doorbell. I have it hardwired. I don't have this Live View option anywhere in the app.

Same here. Posted via the Android Central App

Yah they are rolling it out but not in one go, I do not have it yet either, I am not sure based on which criteria they have selected who started having this feature first but I am guessing priority was to those who hardwired their doorbells earlier and also joined their "explore's" program

Currently the ring only activates the camera when someone presses the doorbell or the motion detector detects motion. Ring has always been misleading in their ads. It now says 'live view with whoever is at your door' so I suspect they have to be within the motion detector. Ring also can control your doorbell from their support center. Have you ever noticed the intrusive permissions you have to give to the app, including your address? WTF? All your Ring traffic goes through their servers,. That is why there is such a delay to get a notification and why sometimes it fails to notify you altogether. It also means that all your front door traffic is constantly being transmitted over the internet. That's why I returned mine and bought the Doorbird. It is the only one with POE, live video on demand whether someone is at the door or not, a non-intrusive app, an API so I was able to add the camera to my own security software and control it there, gives me a choice of cloud, internet or LAN connects with true peer2peer connection which means INSTANT notifications and when on a LAN connection there is nothing going out over the internet, 100% reliable, no wi-fi drop outs like Ring, NO monthly fee, and well, there's plenty more. Ring is big on advertising but offers little in engineering, Doorbird is small on advertising, big on engineering, German engineering.

EDIT: The way I read this new ad, is they are trying to correct one of the many problems with this product. That is, you only have a small opportunity, a few seconds, to answer the door before the Ring software closes the connection on you, at that point your screwed. The Doorbird has never had this problem because I am in control of the connection, not the software.
I am sure Ring re-sold mine to some poor unsuspecting soul out there.
Android Central Newsletter
Get instant access to breaking news, the hottest reviews, great deals and helpful tips
Thank you for signing up to Android Central. You will receive a verification email shortly.
There was a problem. Please refresh the page and try again.