Ring adds Beams to its 'Ring of Security' as Ring Alarm set to ship this spring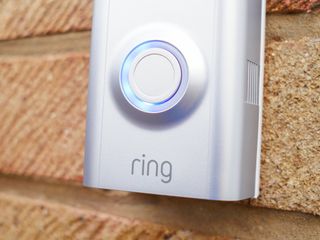 Ring — you know 'em from their connected doorbells — is unleashing a slew of news today out of CES in Las Vegas. The big strokes are coming from Ring's acquisition of Mr Beams, which has a portfolio of wireless LED lights. These will tie in to Ring's existing "Ring of Security" suite, which of course features the doorbells and external cameras we've used previously.
Ring also has updated its outdoor Stickup Cam to 1080p, and it's introduced the Stickup Cam Elite, which has advanced motion detection and can use Wifi or PoE for an internet connection.
The bigger news, perhaps, is that Ring has apparently cleared the hurdles (brought forth by competitor ADT) that stood in front of its new Ring Protect alarm system, and the whole thing is going to be rebranded as Ring Alarm. The basic system will still cost $199 and will start shipping sometime this spring.
CES 2018: Ring Provides Whole Home Security Like Never Before With Latest Security Devices
For the first time, Ring introduces smart lights and indoor/outdoor cameras to the Ring of Security.
LAS VEGAS - Jan. 8, 2018 - Ring , t he leader in home security, unveiled at CES 2018 its whole home security ecosystem, which includes several new security devices that bolster the Ring of Security around homes and neighborhoods. Among the new products are two new indoor/outdoor security cameras and a line of smart, connected outdoor lights, called Ring Beams. Additionally, Ring announced its new, professionally monitored home security system, Ring Alarm, will begin shipping to customers in March 2018. The Ring product line, along with the Ring Neighborhoods network, enables Ring to offer affordable, complete home and neighborhood security in a way no other company has before.
Jamie Siminoff, Chief Inventor and Founder of Ring, said: "In order to execute on our mission of reducing crime in neighborhoods, homeowners need security that is affordable, proactive, easy to install, and comprehensive. All Ring products are integrated so homeowners can create a complete security system with custom zones, commands and settings to best deter thieves. As we begin shipping Ring Alarm, which offers professional monitoring and unlimited cameras at just $10 per month, and continue to innovate and layer new products and features into the Ring of Security and Ring Neighborhoods network, we're going to make being a burglar in 2018 a very tough job."
Stick Up Cam Elite + Indoor/outdoor security camera + Two-way audio + Advanced motion sensors with zone detection + 1080p HD video + Power over Ethernet (POE) or standard wall outlet + Wi-Fi or POE for internet
Stick Up Cam
Indoor/outdoor security camera
Weatherproof
Battery-powered
1080p HD video
Two-way audio
Passive Infrared Sensor (PIR) motion sensors with zone detection
Compatible with Ring's Solar Panel Charger
Ring Beams
Ring recently acquired Mr Beams, an innovative LED lighting technology company, in order to integrate additional smart lights with its security devices.
Patented smart, outdoor security lights
Integrates with Ring app and all Ring security Cams and Doorbells
Pathway lights
Step lights
Spotlights
Ring Alarm
The much anticipated Ring Alarm will begin shipping in spring 2018; bundles start at just $199 and include:
Base Station
Keypad
Contact Sensor (for a window or door)
Passive Infrared Sensor (PIR)
Z-Wave Extender
Ring Protect Plans
24/7 professional monitoring
Cloud video storage for an unlimited amount of Ring devices at any location
Free Ring mobile app usage
10 percent off all future Ring.com device purchases
Hmm. I'm interested in Ring Alarm. I wonder how much additional contact sensors will cost. I would need 3. I was already planning on installing a Ring Doorbell when it got warmer. Too many porch pirates in my area.

I wish they would allow recording to a Nas....

Door sensors $20 Starter kit for $199 includes Base station, Motion detector, Range extender, Keypad, Contact sensor, Owner's manual. I have 3 wireless spotlight cams outside. I might add a stickup cam inside, and I'll probably get the security stuff as soon as it is available. Want to learn a little more on the security side. I want to make sure it can be smart such as disarming when my phone is in range unless specifically armed while I am home. Or if they have a way to remotely disarm it or to disarm via a key fob or something.

As much as this looks interesting, without a phone connection backup it is just not reliable. I hope it has one. Otherwise simplisafe offers a more reliable service that can work after power and internet goes down.

"As much as this looks interesting, without a phone connection backup it is just not reliable". How so? In what way? The only possible way it would be unreliable is if your wifi went down or the power went out. does this happen often for you? If so, I can see needing phone backup, but otherwise what is the issue?

If someone cuts your cable or DSL connection, your alarm can't send out an alert. Many monitored systems use a cellular radio as either a primary or secondary connection, since it's going to be harder for an intruder to disable without accessing the hardware directly.
Android Central Newsletter
Get the best of Android Central in in your inbox, every day!
Thank you for signing up to Android Central. You will receive a verification email shortly.
There was a problem. Please refresh the page and try again.