Richard's most-used Android apps of 2011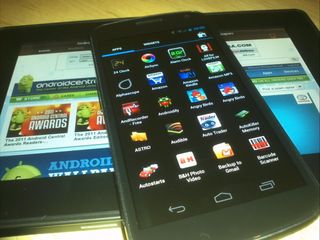 Over the course of the last 12 months, I've lost count of the sheer amount of applications that I've downloaded, tried, deleted, and in some cases tried again. When all is said and done though, there's a select group of apps which I use a whole lot more than others to the point that they've become part of everyday life. Here's a little list of what's been getting me through the week.
Also: Phil's picks, Jerry's Picks, Chris' Picks
1. Pocket Casts
This is without a doubt one of the most used applications I have ever downloaded. Literally every morning begins by opening Pocket Casts, refreshing and downloading the latest podcasts to listen to on my long and endless car journeys around the UK in search of a paycheck. I used to be a Google Listen fan like so many of our readers, but Pocket Casts was good enough to tear me away and not look back. The UI is a lot nicer than Google Listen, and recently got an update to make it look just that bit sweeter on my new Galaxy Nexus. It has never crashed on me, but the most important thing of all is it's listings. I can't remember the last time I had to enter a URL for a podcast feed, whereas Google Listen this became far too frequent. And of course the icing on the cake, the worlds greatest Android podcast is in there ready to roll.
2. Google Reader
Many would argue that there are better RSS readers out there, and said many may well be correct. But again, daily life consists of a lot of checking Google Reader throughout the day wherever I may be, which is never in front of a computer. It does what it needs to which is the most important thing, and it looks real nice in its ICS style.
3. Wind Up Knight
We love Wind Up Knight here at Android Central, that's no secret. But there's not one game I've enjoyed playing more, and more to the point not one game I've wanted to complete more than this. It's so simple in execution, looks absolutely amazing and is most importantly great fun to play. Some may not favour its in-app purchasing model, but just for the record; I spent about $3 completing the game.
4. Spotify
In the UK we've been using Spotify for some time now, and it still doesn't have much competition over here. Coupled with an unlimited data plan, there is almost no need to carry music on the actual phone anymore. Spotifys catalogue is so vast that anytime, anywhere, I can listen to pretty much anything that takes my fancy.
5. HDR Camera+
I was so impressed with the effects produced by this app, that it actually became for a long time a total replacement for the stock camera app. My phone is always my go to camera if i need a quick snap, but I often feel like the images lack depth and vibrancy. It's not perfect but this app has accounted for about 75% of all the photos taken on my phone this year.
6. Alf for LOVEFiLM (UK only)
Amazon owned LOVEFiLM is pretty much unique in the UK, offering both a streaming and postal rental subscription service for DVD's, Bluray's and games. As with a lot of my day to day online operations I basically rely upon my phone 100% for managing this. Alf is the solution to this. The official LOVEFiLM app isn't a patch on this.
7. Swiftkey X
Without question my personal favourite keyboard. I've tried others, and there are indeed many excellent ones to choose from. But I always go back to Swiftkey X. It's predictions are first rate and apparently I'm 30% more efficient from using it. For me that's a whole lot more efficient.
8. Google Maps
I drive approximately 40,000 miles every year, up and down the length and breadth of the United Kingdom in my dayjob. I used to use a £250 TomTom Navigator to get me about, but that has been pretty much completely replaced by Google Maps Navigation. It has it's flaws I agree, how I long for offline maps. But it's always there when I need it, and its route planning is as good if not better at times than the TomTom ever was.
9. TuneIn Radio Pro
The biggest reason for going for the pro version of TuneIn Radio, was for the recording capability. There are some radio shows which I really love listening to, but don't usually have the time to listen live. This lets me set it going in the background, and record to listen to at my leisure. The catalogue is superb, the UI is really nice and above all, it lets me tune into a quality radio station that kept me sane in the desert of Arizona!
10. Alphascope (Socialscope)
First things first, this isn't available in the Market. For anyone not familiar, Socialscope is a social networking application that is currently in private beta that requires an invitation to join. Thanks to one of the exceptionally good people over at the Crackberry Forums I managed to snag myself an invite and their current Android offering has quickly become my go to Twitter and Facebook client. While there are naturally bugs and bits and pieces that don't work quite as well as they should yet, what there is at present suits me better than Tweetdeck of which I was a long time user. Keep your eyes out for this one, and if you can snag an invite from someone give it a whirl. When it's finished it could well become a big player.
And there we have it. The improvement in the offering in the Android Market during 2011 has been quite remarkable. Long may it continue in 2012.
Get the Android Central Newsletter
Instant access to breaking news, the hottest reviews, great deals and helpful tips.
Nice list, I currently use 6 of these apps. Have alphascope downloaded but need an invitation if anyone would be kind enough to send me one.

What is your twitter name Mobius360 i have a invite for you

do you have only one? :) i've been trying to test this app for 2 years now dating back when i had a blackberry lol... my twitter is @garycantrell

If you one going spare mine is jb305 many thanks

Thanks polar135: My twitter is @richardb360

I tried out Alphascope once the Tweetdeck app started working for me (thanks, Twitter), but wasn't that impressed. I like Hootsuite a lot better.

Couldn't agree more on Pocket Casts. Found it here on AC, use it more than any others. So much better than my old Google Listen days.

Im a huge fan of pocketcasts. I may have to try reader again, I'm a feedly fan for now.

Does Pocket Casts have lock screen controls? I just want a Podcasting App that utilizes the built in ICS lock screen controls. I currently run Beyondpod which has some overlay controls but it's just not the same. Nexus S running AOSP ICS

BeyondPod is my go to for podcasts. I download and listen to over 20 podcasts each week, many are daily. This app handles it all automatically for me with great options. It can autobuild playlists, and download as often or as smartly as you need. I've not tried Pocket Casts, but have read reviews and BeyondPod has a lot of features that are must haves for me.

I miss socialscope. Holy crap my socialscope accoynt is still active. So freakn sweet

I had social scope on my blackberry and miss it big time any one got a invite for me please

If u had a social scope account before its still golden. Just log in again. I did and it worked

If anyone is giving out socialscope invites, I definitely wouldn't mind getting one.

PM me your email address. I'll send you an invite. Keep in mind it's alpha software, not even beta yet. Although I agree that it works well so far and I can't wait for it to get even better.

Richard, I suggest checking out the Google Labs pre-caching toy for Maps in Android. In Maps, go to Settings and then Labs. Select "Pre-cache map area". Then if you tap-hold on a location and then select the options ">" button, there will be a "Pre-cache map area" option. I believe it caches 10 square miles? I've never hit a limit, but I think I read somewhere about some upper bound to how many maps can be cached. I have only 7, but I drive only a fraction of the distance you do.

Wouldn't cut it for me, literally 230mile drives each way in January alone. I would need a proper full on offline sat nav. Thanks though :-)

I think Grooveshark is a pretty good alternative to Spotify! Good range of songs, i like the ui and its cheaper!! On another note id love to try out the alphacast app for my blog if anybody would be kind enough to slip an invite my way! Twitter name is same as username on here. Thanks in advance!

Thanks for mentioning Alphascope! I have been missing Socialscope since I left Blackberry over a year ago. Awesome!!!!

i have only used two of these apps and i didn't like them at all

If you're looking for a very complete offline satnav try the app made by Sygic. I've used it on lengthy roadtrips with great success. It's essentially turned my android phone into a fully featured gps. The maps do need to be purchased, but I figure what I've saved on data bandwidth using offline maps will recoup the initial expense.

im still on the fence between pulse and official google reader

I've never really used Google Reader for much. I use Pulse the most but also like ChannelCaster Pro and the new Google Currents which I have my Reader account logged into all of them. ChannelCaster will be my goto if they keep working on it and can speed it up a little bit more like Pulse. Currents also needs speed improvements IMHO. Taptu is another good choice.

Is it me or does scrolling feeds in Google Reader seem very jittery. I have only noticed this since I got my Galaxy Nexus. The list of feeds scroll like the hardware is struggling to cope. I don't have hundreds of feeds either only 12 different feeds but still the app looks far from smooth.

The original reason i first dlwnloaded tunein was to listen to a radio station from arizona while back home in toronto (103.9fm). I fell in love with it while on vacation there a few years ago. I use acast (free version for podcasts, but will give pocket casts a try too

google navigation is the best thing since sliced bread but I find myself using Waze more and more.