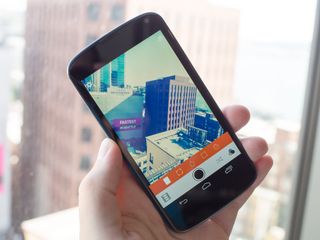 Filter fanatics will enjoy this simple app, but serious photographers will have to look elsewhere
There are plenty of ways to put funky retro filters on your photos, but many focus on tweaking after the fact rather than doing it on the fly. Retrica is one camera app that's picked up a sizable following for offering a huge set of neat and artistic filters that are applied to the viewfinder live as you're taking photos, and letting you quickly share them out to any service you choose.
Working with photos this way creates a different dynamic than snapping a picture and laboring over filters and tweaks later, but for some people the live filters of Retrica will offer a more spontaneous and fun experience. Read along for our full review of Retrica, another choice in a full stable of camera apps on Android.
Retrica has a simple and relatively easy to learn interface, with a basic viewfinder and even more barebones gallery. The interface gives you a shutter key on the bottom, along with some quick settings buttons to add vignetting, a shallow depth of field effect, simple border and timer. You can also manually set your aspect ratio between 3:4 and 1:1, along with the option to use a multi-panel effect that captures photos on a custom interval and stitches them into a collage.
The most interesting part about Retrica is the pile of filters available, accessed in the bottom-right corner of the interface. You can hit a shuffle key to randomly pull up a filter (I honestly don't see much use for this one), or choose one manually. Filters are grouped into themes like "chic," "silver" and "cinema" with each one containing several different filter looks. You can tap one and see your viewfinder change immediately to reflect what the finished product will be, and use a slider along the bottom to change the intensity.
And that's about it. The fact that you get a live preview of what your picture will look like in the viewfinder is the real draw here, and it's an important one. I never noticed any slowdowns while the filters were being shown, which would be a deal breaker, and pictures turned out just as they looked before I hit the shutter key.
When you snap a photo it'll take a moment to process the image and then you can view it in the gallery portion of the app, which as I said is about as minimalist as you can get. There's no multi-select to delete or share multiple images, nor are there any post-processing options. You get two choices when you tap a photo — share, and delete. Sure you could share the image out to another photo app for further editing, but I think that starts to get redundant.
All of the thought and composition needs to be done before you take the photo with Retrica, and considering how thickly the filters are laid on by default it isn't too tough to work out a nice looking image with little effort. I didn't find myself needing to touch up photos coming out of Retrica, and I'm glad that the developers stuck to their guns and kept things simple here.
The simplicity extends into the settings menu of the app, where you basically have the option to turn off geo tagging of photos and watermarking of pictures with a "Retrica" logo in the corner. The only other option here is to buy additional filter packs and "remove ads" as it says, but it's interesting as I never actually saw a single advertisement in my time using Retrica. In either case it comes down to a one-time payment of $1.99 for the so-called "Pro Upgrade" — more than acceptable if you plan to use the app.
Retrica offers a lot for the casual mobile photographers out there who want to focus on filters and the occasional spontaneous collage, but is going to feel like its lacking for those who are a bit more "serious" about their pictures. This isn't the only photo app out there that can do live filters, but it's one of the few that really does them well — and there's something to be said for a well-executed photo app that does one thing with particular quality.
Not everyone will find Retrica to be their go-to photography app, but considering that it's free to use I'll encourage most people to give it a try and see if the photography style it represents suits you well.
Get the Android Central Newsletter
Instant access to breaking news, the hottest reviews, great deals and helpful tips.
Andrew was an Executive Editor, U.S. at Android Central between 2012 and 2020.