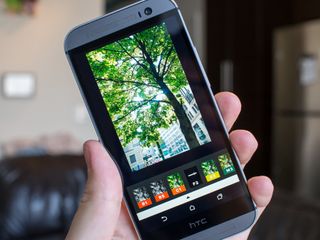 A great photo editing app awaits you at the top of a steep learning curve
There are an uncountable number of photo editing apps available today, each with their own experience, editing tools and social engagement mechanisms. There are the big names like Instagram, Snapseed and Photoshop — but another app with a passionate following for a long time on iOS called VSCO Cam (derived from the name "Visual Supply Co") is also now thrown into the mix on Android.
In a world where Instagram has lost a bit of its "cool" factor among the more artistic and photography-focused users out there, VSCO Cam is a really great option. Though with a potentially over-simplified and tough-to-grasp interface, getting acquainted with this app definitely takes some time. Read along for our full review of VSCO Cam on Android.
When you first open up VSCO Cam, it takes a bit of curious poking around to actually figure out how everything works. It's an intentional move by VSCO to be extremely simple and devoid of any real description of interface elements, which gets into the "less is more" mantra that many photographers have but is difficult for newcomers to pick up. But it doesn't exactly telegraph how everything works like other apps do.
Once you get your bearings, things are pretty simple. You have a slide-in panel on the left edge that lets you access the Grid, Journal, Store and Library sections, as well as launch directly into the camera or access the settings.
Grid, which was recently added to the Android app, is the social network side of VSCO Cam where you can browse photos, follow users and share pictures. You don't have to join the Grid network if you don't want to, which is a huge plus, but I actually found it to essentially be a "pure" version of an Instagram feed. You can see great photos and follow photographers you like, but there's no spammy likes, comments or other cruft getting in the way.
Journal is a list of information from VSCO on new products, initiatives and updates, and I never really found myself going there much. You'll spend far more time in the Library where your photos live.
VSCO is versatile in that it lets you shoot with its built-in camera interface or import images — you can share single images to VSCO Cam directly, or use the built-in file picker in Android 4.4 to select images from any source. The camera interface is dead simple, giving you basically no options — other than turning on a grid and toggling tap-to-focus — to snap a quick picture. You're expected to make the photo look great with your framing and all of the edits you'll do after the fact.
And editing is where things get really odd and somewhat intriguing. When you tap a photo to edit it, you'll find a grouping of filters called "presets" that you can apply to photos. Presets aren't at all descriptive — they're simply called B1, C3, G4, M2 and so on — so you're expected to just try them out and see what you can make. Presets aren't a one-tap-and-done affair, either, they're applied as layers and can be used in different intensities on a scale of 1 to 12. Add a +4 M1 and a +7 B1 to make a different picture from a +12 C1 and a +2 T1. While you're not restricted to portrait or a certain aspect ratio when you take pictures, the interface actually doesn't rotate to landscape for editing, gently nudging you toward portrait pictures.
Going yet another step further, you can edit "traditional" aspects of your pictures like exposure, vignette, contrast, sharpening and more, as well as simply crop and rotate them. With all of these tools, you could easily spend hours editing photos for different looks right on your phone or tablet. Edits that you apply are completely nondestructive, meaning you can back up your last edits one at a time, or completely remove them all — even after you've "saved" an image once with edits to it.
While I found the bevy of presets and settings to give me plenty to work with, the VSCO Cam Store is populated with dozens of different preset packs that can provide a different look to your pictures. They range in price from 99 cents to $4.99, and contain varying numbers of presets. Once you purchase them, you can re-order how the presets are displayed in your editing interface from the settings.
Somewhat surprisingly VSCO Cam isn't a silo where your pictures go to die, either. You can automatically post pictures to connected Instagram, Facebook, Twitter and Google+ accounts, or just hit the "more" button and share to any app on your phone that can handle pictures. No fussing with special links back to VSCO Cam that make you seem like you're part of an exclusive club, just edit your pictures and share them where you want — that's really the most powerful part of VSCO Cam.
After using VSCO Cam, I've determined that it isn't for everyone. This isn't Instagram, it isn't Google+ Photos and it really isn't Photoshop Express, either. It's some of the best ideas from each of these popular photography apps mashed together through the eyes of an artistic photography-minded person. And that isn't going to appeal to everyone — it's a "you either get it, or you don't" situation.
If you want to take a picture, apply a filter in three seconds and add 15 hashtags before posting it to Facebook and Twitter automatically to rack up "likes," this isn't your app. But if you tend to think of yourself as appreciating the "finer side" of photography, and want to pour a bit more time into your photos, it may just be the app for you.
Android Central Newsletter
Get instant access to breaking news, the hottest reviews, great deals and helpful tips
Andrew was an Executive Editor, U.S. at Android Central between 2012 and 2020.
I really like the low light performance the app offers for my Nexus 5. Just when you buy a preset, where do they go??? Or how do you enable them for use? Its probably a simple solution, probably why I can't find it.

They get downloaded and pops up in the long row of filters you can apply. Usually with an obscure abbreviated name based on the filter pack name. Posted via Android Central App

Thx HTC Desire S»HTC Desire HD»HTC One S»HTC M8 (Naked)

In-app purhases:(( deleted !! HTC Desire S»HTC Desire HD»HTC One S»HTC M8 (Naked)

Yeah. It says that in the article. ಠ益ಠ

I don't see what the problem with in-app purchases is here. As I say in the review, the app is completely functional and really good in its free version. The only reason you'd spend money on IAPs is if you want additional presets for different looks.

+1 - everything is not free Posted via Android Central App w/G2

I fell in love with VSCO Cam as an editor (not so much as a camera as I still love Awesome Camera the best). It does come with quite a few built in filters but if you need a different look, the packs are inexpensive and much better than the silly ones on Instagram, etc. Yes, there are in app purchases as there should be. If that is an immediate no buy for some, the program isn't for you. It would be stupid to charge 20 bucks for everything considering most of us won't like every filter they have. It's a la carte... as it should be. If you are avoiding Journal you're missing out on a lot. it's not advertisements. It shows the curated Best Of for certain topics of the week and it's also where they announce new filter packs, both Free and Paid. While I love Snapseed, this is a different kind of editing app. You can't save any presets you made in Snapseed so having a base to start with like the presets in VSCO Cam saves a lot of time. It still has some bugs but they have squashed most of them. For a while, Nexus 7 users had absolute crap export image quality but that seems to have been fixed. It always looked fine on my Nexus phone. Can't wait for the next filter packs to come out because they have some killer ones on the PC that I would love to see come to mobile.

Also great with the newest update to VSCO Cam is the ability to upload and edit DSLR size images on the go with very little quality lost. Snapseed, Instagram, etc really downgrade the quality especially if you plan on printing larger than 5X7.

I wasn't sure if I would try this until the last paragraph. If it's the opposite of Instagram then I'm willing to try it. Definitely wanna try uploading images from my Nikon DSLR. Posted via Android Central App

I wasn't a big fan of the way this app worked. I'm more of a Snapseed guy. Posted via Android Central App

I love vsco cam! Posted via Android Central App

I've noticed I'm using VSCO alot more these days over Snapseed. Although I love Snapseed, the more I use VSCO I see how perfect it is. Posted via Android Central App

My only issue with VSCO Cam is that it doesn't allow you to save the edit photo in its original size/resolution; otherwise, I think it's a great photo editing app. For now, though, sticking with Snapseed. It's doing a great job and saves photos in their original resolutions.

Been using it since it came out. Great app for editing photos. I don't like apps with in app purchases like some. But the extra packs are worth it if you're into photo editing. Least it's not like buying endless coins etc. You get what you need and your done. Posted via Android Central App
Android Central Newsletter
Get instant access to breaking news, the hottest reviews, great deals and helpful tips
Thank you for signing up to Android Central. You will receive a verification email shortly.
There was a problem. Please refresh the page and try again.