RED quietly removes all mentions of Hydrogen One modules from its website [Update]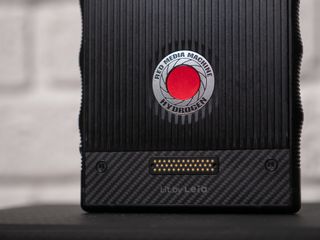 March 12, 2019 — RED says it's creating a "professional image capture program" for Hydrogen One
A day after the Hydrogen One's modules randomly disappeared from RED's website, founder Jim Jannard took to the company's official forums to address what's going on. The full message reads as follows:
What in the world does any of that mean? Your guess is as good as ours.
It's still unclear what's happening to the modules. RED's new focus on this "professional image capture program" makes it sound like they're being scrapped in favor of this new thing, but we still don't know what this program will actually do.
Jannard also notes that "one of the most significant 4V updates" will be arriving for the Hydrogen One in the next two weeks, but once again, he doesn't provide any clarification as to what it'll entail.
Guess we'll just have to wait and see what happens.
Original article continues below.
When it was finally released, the RED Hydrogen One was a disappointing phone to say the least. Its slow performance, poor display, and egregiously high price held it back from ever living up to the hype, but there's been one thing causing us to still hold out hope — its module system.
Unfortunately, it looks like that may not be happening after all.
As spotted by a user on the r/Android subreddit, RED recently updated its website so that the Hydrogen One product page no longer makes any mention of the phone's modules. Where there used to be an entire section on the website talking about modules that would allow for battery packs, expandable storage, and additional cameras, there's now nothing.
While this, on its own, doesn't mean that RED is completely giving up on modules for the Hydrogen One, it's still not a great look and doesn't provide much hope for a phone that's already struggling as much as it is.
Modules were supposed to be the one saving grace that the Hydrogen One had, but at least right now, they've vanished from thin air.
RED Hydrogen One review: The cinephile's dream phone ... some day
Joe Maring was a Senior Editor for Android Central between 2017 and 2021. You can reach him on Twitter at @JoeMaring1.
Just because you can, doesn't mean you should. Lesson hopefully learned.

Just because you can make a folding phone, doesn't mean you should. Just because you can make a hydrogen powered car, doesn't mean you should. Just because.... Innovation is innovation, some bizarre creations give way to better technologies. I think theres a lot of people such as myself who could use modular attachments, such as extended battery, construction tools (thermal cam, level tool, monoxide detector) and storage or network expansion (wireless router powerhouse??). I think the Red HydrogenONE was a failure, but to writeoff removable modules? This is for the techies and power users and I hope one day I will find the right modular phone probably when they can come up with a standardization for some components.

Yeah because Motorola had SO much success with Modules. Phones weren't meant to carry a block of modules. It's the whole reason the word MOBILE exist for it. For mobility. There's no "innovation" in attachments. It's been done and redone and has always been a failure. So as I said.

I agree. If it had been the product that it was hyped to be, I would have wanted some of the modules. This would not have been a device for the masses. It had a particular market segment in mind.

Reminds me of the HP Elite x 3 and it's Pogo pins, what a lame crap that was. Look like this went down the same slope filled road.

Exactly only a hand select of people care about carrying extra crap of their phone. Moto tried it, Essential, Hydrogen, LG. They are wanted to and just couldn't make it stick. Moto was the only one that had some actual solid modules but they were useless to carry around outside the house IMO.

So the big news today is that a company removed line drawings from a web site without doing a news release? Are you kidding... The real news should be about reviewers not bothering to do an OTA update before trying the H1. News that is news...
Did you see that the underwater housing will be available for pre order next week.

Another over-hyped, over-priced device that is an epic fail.

My only thing with the module system is stop releasing phones without modules ready to sell. Stop with the "coming soon" crap. As far as I've seen Motorola and LG are the only ones that have followed through but it was done after they'd already fallen out of mainstream view.

But then they'd actually have to make modules??!! The whole point of the modular system is to sell the main product on the promise of modules, then release 2 ****** ones max! The only one that was (very remotely) interesting was Google's and that's dead now anyway.

But why is this phone so ugly?

I'm trying not to jump to conclusions but they really said a whole bunch of nothing.

The modules were a selling point, and without them, the phone did not have a lot of strong points.
I think they lost a lot of steam after people found out the camera performance they bragged about was for a module, and not the onboard camera.

Don't think anybody cared about the modules that much anyway if the phone is already sluggish. Seems like that would just add to the problem.
Android Central Newsletter
Get the best of Android Central in in your inbox, every day!
Thank you for signing up to Android Central. You will receive a verification email shortly.
There was a problem. Please refresh the page and try again.