RED Hydrogen One delayed until August to add even more impressive cameras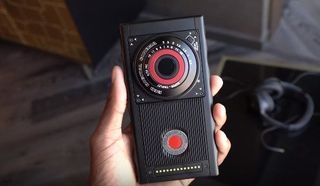 RED threw us all a curveball last July with the announcement that it'd be shifting away from multi-thousand dollar cinema cameras for a second to make an Android phone. Unfortunately, it looks like we'll have to wait a bit longer before we can actually get our hands on the thing.
The RED Hydrogen One was initially supposed to be released during Q1 of this year, but RED later pushed its sights back to this summer. Now, the company is saying it won't be until August before the phone is launched.
Delayed releases are never cheery things to talk about, but RED's reasoning for its decision here sounds more than fair.
One of the highlights for the Hydrogen One is its 4-View holographic display that'll allow you to move your head to look around objects in certain photos and videos. RED was originally going to sell an attachment that'd allow you to capture 4V content on the Hydrogen One, but thanks to the delay, will be adding a second camera to the front and back so you can record it natively.
Additionally, RED notes that the August release date will enable it to launch the Hydrogen One on multiple wireless carriers simultaneously.
RED's founder Jim Jannard recently said in the RED forums that the company has "no idea" what it's doing and that the Hydrogen One will have "more firmware/software updates than any other phone ever made" seeing as how it admittedly "won't be complete" upon launch.
Whether it's amazing or a steaming pile of garbage, the Hydrogen One will undoubtedly be one of the most interesting phones we see all year. Are you still excited for it to come out?
RED Hydrogen One will have a 4500mAh battery and carrier support
Joe Maring was a Senior Editor for Android Central between 2017 and 2021. You can reach him on Twitter at @JoeMaring1.
I wonder what carriers it will launch on? Or will it just have compatibility with multiple carriers? Either way, I'm looking forward to learning more about it. I like the fact that they are upfront with the fact that it will have multiple software updates to fix issues that come up. I also like the fact that the founder said that they didn't know what they were doing. Honesty from an OEM... It's quite refreshing.

I wonder how well Red's Hydrogen One will fare with their take on an android skin? Would it be too optimistic to want a Nexus / Pixel line level blandness? Hopefully there will be a unlocked version for the carriers that aren't a part of the initial launch. I have a feeling that the carrier branded units will not be dual SIM. The hardware specs sure look good, devices with expandable storage, and 3.5mm headphone jack, are becoming scarce.

I wouldn't expect a carrier version of this device..

Spencer, imagine my surprise when AT&T and Verizon recently announced they were getting on board. Now my 'apprehension' is that it will be such a departure from the norm in that it'd be like having to learn to read and write again. Hopefully there'll soon be a display model to appraise in a store nearby.

It's called Hydrogen because it's invisible. Red had their 5 minutes of hype and fame; deliver or get lost.
Android Central Newsletter
Get the best of Android Central in in your inbox, every day!
Thank you for signing up to Android Central. You will receive a verification email shortly.
There was a problem. Please refresh the page and try again.