Read It Later, the "DVR for the web", is now Pocket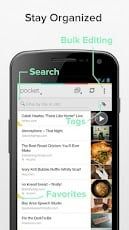 Read It Later, the popular multi-platform "DVR for the web", is now Pocket, and is now available for free in the Google Play store. With a free account, Pocket will save the articles, photos, and videos of your choosing to your queue (or "pocket"), which is accessible from your phone, tablet or computer. The content you save is optimized in a layout that's easy to read, and once you sync your pocket, it is available for offline viewing.
Along with the new name, the update brings new content filters, more organizing tools, and faster syncing. Accounts are free, and your Read It Later account will work seamlessly with Pocket. Hit the break for the full presser and the Google Play link.
More Than Just Reading - Top App "Read It Later's" Newest Version Becomes the Now Free "Pocket" to Easily Save Web Articles, Videos and More to View Later
New Pocket App Leads Content Shifting Category with a Beautiful New Design that Makes Viewing Later on Any Post-PC Device Easy
SAN FRANCISCO, CA, APRIL 17, 2012 - Four years ago, Read it Later was created to allow users to save their web content to view later on their own schedule. One year ago, Read It Later had 2.5 million users; now it has 4.5 million. This growth made it the number one paid news app for Android and Kindle Fire and a top app for iPhone and iPad. Today, the company announced a new version of their flagship app -- now free across all devices -- and a new name, Pocket.
Pocket is for when people discover an interesting article, video or web page, but don't have time to view it. Once saved to Pocket, the list of content is visible on any device -- phone, tablet or computer. It can be viewed while waiting in line, on the couch or during commutes or travel -- even offline.
Pocket is available today for free in the App Store atwww.getpocket.com/ios (opens in new tab), on Google Play (formerly the Android Marketplace) at www.getpocket.com/android (opens in new tab), and for Kindle Fire at www.getpocket.com/kindlefire (opens in new tab).
"Nearly five items every second are saved to Pocket from the web and popular news apps, including videos, articles, recipes and more," said Nate Weiner, founder of Read it Later and creator of Pocket. "Pocket is the perfect name for our latest version as it expresses how simple it is to take any content users discover with them, no matter where they go."
Pocket is different than "bookmarking," apps, which organize links for long term storage. Instead, Pocket lets users save the content they discover on the web or inside any of over 300 leading apps--including Flipboard, Twitter, Pulse, and Zite--with a single tap and view it on any device.
Since its launch in 2007, over 200 million items have been saved, giving the company deep insight into how and when consumers save and view their web content. Key findings include:
33 percent of saved items come from 3rd party apps including Twitter, Zite, Flipboard and Pulse.
50 percent of items saved via Pocket are viewed on mobile screens (up from 34 percent in January).
Web consumption peaks in the early morning and declines through the day, as consumers dig through their inboxes and find what they want to view later. iPad use peaks at night, as users view saved content in the pre-bedtime hours. Mobile consumption maps to commuting times, as users increasingly view content in transit.
40 percent of items saved are not articles; popular content include videos, images, things to buy, travel tips and recipes.
YouTube is the apps' most popular source of content, as users increasingly are saving videos for later viewing.
The new Pocket update is focused on making the most important parts of the user experience as easy and simple as possible. It enhances all the features users already loved in Read it Later in a beautiful new interface.
A Cleaner, Simpler UI. The new user interface of Pocket displays all of a user's content in a beautiful, easy-to-view layout adapted to take full advantage of high definition displays.
• Video & Image Filters. Most people save sites with videos and images, in addition to articles and text. Pocket automatically filters all content so users can quickly switch between articles, videos and images with just a tap.
Enhanced Viewing Experience. Articles, videos and anything saved is displayed in a clean and simplified view with fewer toolbars and a redesigned full-screen mode.
• Easier to Organize. New bulk editing, favoriting and tagging modes make organizing and browsing saved items easier. Users can find content by keywords, publications or create their own custom tags.
Favorites. Users can star favorite content so it is always available when they want to find it.
Pocket is Free on All Major Mobile Platforms. Pocket is now available, for free, on all major mobile platforms including Android phones and tablets, iPhone, iPad, iPod Touch and Amazon Kindle Fire.
About Read it Later
Based in San Francisco, Read it Later was founded in 2007 by Nate Weiner to help users save what they find online and view it on any device at any time. The service currently has over 4.5 million registered users and is integrated into over 300 apps including Flipboard, Twitter and Zite. In April 2012 the Read it Later app became known as Pocket and focused on the most important parts of the content-shifting experience, making it easier and simpler than ever. Pocket is available for major devices and platforms including iPad, iPhone, iPod Touch, Kindle Fire, all Android-based tablets and smartphones, Google Chrome, and Firefox.
But there's ALREADY something called Pocket, a rather brilliant password-keeper system (Android app + desktop program). I wonder what will happen, as I somehow think Read It Later hasn't realized that Read It Later is a much more descriptive name (for what it does) than Pocket is.

That's precisely why I won't be using Read It Later anymore. This shows either a total lack of courtesy or a pretty glaring mismanagement of brand. Either way, it's coming off my phone for exactly that reason. I've used Pocket, the REAL one, for almost a year now and I hate to see this guy's product name getting stomped on.

Talk about not doing your research! I searched for "Pocket" in the Google Market and the top app was the password one. "Pocket - Formerly Read It Later" (yikes!) was about 15 down (although I guess it will move up once it is downloaded more). Not the best move to name your app the same as another program. (And I agree with the above poster. "Read It Later" makes much more sense than "Pocket". Reminds me of a certain name change by a certain movie rental / streaming service.)

The hell is wrong with Companies? Wha'ts wrong with "Read it Later"? . . . It's a definitive brand!... Why the hell would you change the name to something dumb like pocket?

I think they are after using "pocket" as a verb, as in: google it, pocket it, so you can read it later... They should just call it "Save it for later to forget about it, never read it, and eventually delete it (together with the app) when your phone runs out of memory... ".

Read it later was a better name. What were they thinking?
But really, there is no confusing the apps, or their Icons, and they don't conflict, so I don't see the problem. But other than that, this is a stunning facelift, and a great app.

Although I agree that RIL was a better name, I won't be uninstalling a great useful app for that reason. I hardly think that RiL (aka, the new Pocket) is "stomping" all over the already existing Pocket's name.

There must be a hipster trend of using a single word for your app name.

I think it started with Apple after they exhausted the iThing in all their applications.

what about those that paid $2.99 for it?
And Read It Later is a better name, Pocket doesn't let you know what it does.

This is what I was thinking. I paid for this app and now it's free. I would be pissed if I didn't get it on the $0.10 sale.

I paid full price awhile ago, but I don't mind at all if it's a useful app. In this case, RiL is one of my MOST useful apps.

Well, you aren't getting your money back. ;-) Which suggests they have found another way to monetize it. By the way, did you know you can add your reading list to your RSS reader: Just add the URL in the form: http://getpocket.com/users/USERNAME/feed/all

The should have used a hotter spokeswoman; the video would have held my attention better ... I'm just saying.

Better looking phones/tablets is what would have kept my attention a bit longer...

Been using this since the day it was released to the Play Store. Don't get the name change at all for an established brand name it doesn't make much sense to me, but I'm no marketing expert. I updated my application and will continue to use but if they start with the ads I'll be pretty pissed since I bought the ad free version for a reason.

I haven't tried Read it Later for a while, but I have been using Instapaper which I think is a little nicer. (and they finally have a decent Android app for Instapaper called "PaperMill") Anyone else used both and care to give an opinion?

i actually have a problem with the app. i liked the dark backgrounded app, it was easier on my eyes. i don't like the new light background at all. i would hope that they make a new dark theme or some app dev makes a version that has a dark background version of this same app.

Why do companies change well established names? Android market becomes a ridiculous play store and now these guys give it a stupid name and an ugly icon! While the app has been improved the rest went down the toilet. And as a side affect my dolphin add on is not working anymore because of the name change! So give us the old icon and name back then everything will be fine!
I hope more people will run away from this app maybe that's what's gonna be a wake up call for this company! I for my part will try a different app.

Zite should add an off-line mode.

I agree....Read It Later was completely better. Pocket doesn't tell you what it does nearly as much, there's already a very well-received and popular app in the "PLAY" store called Pocket, and the light background looks bad compared to the dark background it used to have. :( UGH, CHANGE!

It could be the confusion over "read it later" being the action some of their competitors (notably safari) used to describe saving content on their own competing services. Not sure what I think of the name change, but I LOVE the updated app UI. And I paid full price for the app the week it came out and I'm GLAD that other's get to enjoy it now. I don't understand the "OMG, I can't believe it's free now!" attitude. I love this app, I use it all the time. How is that NOT worth a cup of coffee? Now I can get my brother to try and AMAZING app he wouldn't try otherwise... where is the downside?

I already have the RIL-plugin on Dolphin and I don't have space for this!
Android Central Newsletter
Thank you for signing up to Android Central. You will receive a verification email shortly.
There was a problem. Please refresh the page and try again.