Quick comparison: iPad Pro 9.7-inch versus Android's best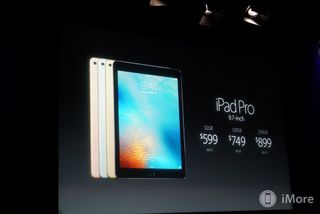 Apple today took the wraps off its 9.7-inch iPad Pro, beefing up the mid-sized version of its tablet. As expected, it's got more power under the hood than the previous iPad Air 2, along with support for the Apple Pencil stylus — in essence, shrinking the features of the old iPad Pro down to a more manageable form factor.
The Android tablet space is in a bit of a weird place right now, as we wait for the arrival of Android N and the new multitasking features that'll bring slates like the Pixel C into their own. Nevertheless, it's worth seeing just how Apple's latest iPad compares to Android's best, so that's exactly what we've prepared for you down below.
Category
HTC Nexus 9
Google Pixel C
Galaxy Tab S2 9.7
iPad Pro 9.7-inch
Operating System
Android 6.0.1
Android 6.0.1
Android 5.1.1
iOS 9.3
Display
8.9-inch (2048x1536)
10.2-inch (2560x1800)
9.7-inch (2048x1536)
9.7-inch (2048x1536)
Processor
NVIDIA Tegra K1
NVIDIA Tegra X1
Samsung Exynos 7 Octa
Apple A9X
Storage
16/32GB
32/64GB
32/64GB + microSD
32/128/256 GB
RAM
2GB
3GB
3GB
4GB
Rear Camera
8MP
8MP
8MP
12MP
Front Camera
1.6MP
2MP
2.1MP
5MP
Connectivity
Wi-Fi 802.11ac
Bluetooth v4.1 LE, USB 2.0, NFC
Wi-Fi 802.11ac, Bluetooth v4.2 LE, USB-C
Wi-Fi 802.11ac, Bluetooth v4.2 LE, NFC
Wi-Fi 802.11ac, Bluetooth, Lightning port
Charging
microUSB
USB-C
Rapid charging
microUSB
Lightning port
Battery
6700 mAh
9243 mAh
5870 mAh
27.5‐watt‐hour
Security
Lock screen code
Lock screen code
Fingerprint scanner
TouchID
Dimensions
226 x 153.67 x 7.8 inches
242 x 179 x 7 mm
237.3 x 169 x 5.6 mm
240 x 169.5 x 6.1 mm
Weight
425g (Wifi) / 436g (LTE)
517g
389g (Wifi) / 392g (LTE)
437 grams (Wifi) / 444 grams (LTE)
Starting price
$299
$349
$295
$599
Alex was with Android Central for over a decade, producing written and video content for the site, and served as global Executive Editor from 2016 to 2022.
Let's be honest: Until Android N arrives, the iPad is simply a better tablet. Hell, it'll be a better tablet until Android can draw in devs to create tablet specific apps.

I'm with you on this one. But there's also a good percentage that will take a Windows tablet over the iPad as well. The best choices for anyone making a tablet buy would be between the Surface/ Windows/ iPad Pro depending on user's tasks.

Maybe a refurb'd surface pro 3, but even at $599 for the iPad, these tablets are way cheaper than a surface. Different category altogether.

But the comparison shouldn't even be made... For the ipads sake. The ipad runs a half-assed mobile phone operating system, that has basically not evolved since inception. It doesn't have an active digitzer, it has a mobile CPU, and it doesn't have anywhere near true multitasking abilities.. Its honestly a joke that someone would spend the full 899 on ipad pro. Apple thanks God everyday for stupid people.

To be frank, the mobile CPU is quite powerful. It's a single-core screamer.

I'm an avid android fan but with all that you mentioned the iPad is still the better tablet experience. For all the options we have on Android you'd think their would be tablet optimized apps by now. I own a tab pro 8.4. Very nice tablet but my wife and son use it the most because I can do more on my note 5 than I can on it which doesn't make sense. Posted via the Android Central App

It makes perfect sense; android just has more features than iOS. But Android is, sadly, a phone OS - not enough tablet support, which I believe I is quite a shame. Android could work great on tablets, we just need some devs to spend a bit more time working on tablet versions of their apps Posted via my smexy Nexus 6

Oh, I dunno, I like my Android tablet. Everyone always complains about a lack of "tablet optimized" apps, but most of the apps I use on my tablet don't really need optimization. I play games (full-screen on bigger screen = good), take notes in Google Drive (relatively optimized), and read. I mean, I do other things, but that's the vast majority of what I do. Android is better than iOS for me on a tablet because I can do more, game-wise, than I can on an iPad. For example, I'm running DOSBox and playing the original X-Com, and I've also got some other classics loaded in there. On top of that, I've got emulators for everything. I think I'm a unique use-case, which is fair, but I also don't think it's fair to blanket-state that the iPad is better, because it isn't for everyone. Just like my tablet isn't better for everyone. :-)

Like I said, android has more features than iOS (in the case of your gaming). While your take on the tablet version is mostly focused on gaming, most people don't know about emulators and such. Most apps, specifically productivity (with a few exceptions, such as drive, as you mentioned), just aren't as optimized for tablets in Android as they are in iOS. That's why I said as I did - most developers tend to spend more time on iOS tablet versions than Android tablet versions (actually, you can say more time on iOS in general). As an avid Android fan (oh, how much I despise Apple's subpar hardware with minimalist, closed-source software), I strongly want Android on tablets to be very successful. While the argument can be made that Android on phones is just as great for "the everyday Joe," the same argument can't be made for tablets. The app support just isn't as prominent as it is for iPads. Don't get me wrong - I feel Android is taken major leaps and bounds in the tablet space, and definitely could be an amazing experience, but that would require a lot more app developers focusing a bit more on optimizing their apps for tablet use, and I'm not sure how that's going to happen, since they spend a lot more time making sure their apps work for iOS than Android (and coming from a programmer's standpoint - ouch. Objective-C vs Java? No contest.) Posted via my smexy Nexus 6

For the record, I'm not really disagreeing with you. :-) I'm just saying that there are things that even Android tablets do better than iPads, and that, for me specifically, Android is a better choice. That being said, I agree with the rest of your sentiment--I agree that there are fewer tablet optimized apps, but the big names are there now. Microsoft's stuff is tablet optimized, and so is Google Drive. I'm not sure what else you need? Even the Facebook app (not productivity, I know) is now tablet optimized. Sure there's more to choose from on an iPad, but all of my productivity needs are covered on my tablet--though, I still do actual work, for the most part, on my laptop.

It's awesome tat you find your tablet useful. I don't think anybody disagrees that at least the likes of Samsung (amoled display) and possibly LG (not used any of their tablets) put out some killer tablets for your user case. I personally am looking to get the galaxy view for the media consumption but other than that my phone covers so much that I rarely even get on a laptop or computer. Some of these functions should be a given on tablets. Posted via the Android Central App

From my experience it is a fair comparison. Your user case is unique to those that know how to do those things. And don't get me wrong, for media consumption, android tablets and iPad as well are easily better than my note 5. What I'm stating is that the iPad is known for running silky smooth vs android tablets and many defend android because of our options. Where are these options when it comes to android tablets. They just started pushing split screen which my Galaxy pro already had thanks to Samsung. But back to my point, I can already do that on my phone. I'm not endorsing someone spending what apple is asking for these pro lines. Its not offering enough either. I'm just going on a simple comparison where you look at top of the line vs the other and if it wasn't for TouchWiz (ironicly) android has nothing available in the market to compete with the iPad. Even the pixel c is just an oversized nexus device. Posted via the Android Central App

Even then, something like the Pixel C is a terrible design with the way the keyboard slides across the screen. It's clunky and leads to scratches. Stick to an iPad for a tablet or go with a Surface Pro if you want a full computing experience. Tablets on Android are a complete second thought. They're basically just large phones without cellular radios in them.

I put a $12 glass screen protector on my Pixel C on day one. Fixed. The aluminum keyboard is pretty great. Posted via the Android Central App

You seem pleasant. Posted via the Android Central App

I find its easy enough to attach and detach the screen. I see no scratches. My pixel C has tumbled 3 times off a bed with no damage whatsoever evan after a 2 to 3 feet fall. I dropped on its screen, still no scratches or scuff marks. Its built like a tank. Similar falls caused $700 damage to a MacbookPro.
Pixel C screen is much more higher rez at 2560 x 1800 than IPad Pro 2048 x 1500, It also can generate 509 Nits of brightness far better than the IPad Pro . Its black level and contrast rate is better than a $3300 HDR 4K TV I have.
I do not get it, my Pixel C smokes the IPad Pro in specs. Especially where it counts like resolution and battery life. I owned every Tablet under the sun and my Pixel C is head and shoulders above anything I seen.

Forget about the keyboard then, or get the Folio case. I think the keyboard has distracted people from what is a great tablet in its own right. It will be even better once we get Android N, but it's still great as it is. It's actually taken the place of my first generation Air in my work flow when my larger 12.7 Pro is less practical. Posted via the Android Central App

While I agree Apple has a better tablet experience, for most people an Android tablet is more than enough. I still have my N10 and use it almost daily for VUDU, Netflix, Chrome, facebook, news, etc. Having multi-user support has also been a godsend for sharing with my kids. They play Minecraft without issue and there are plenty of decent games for Kids in the app store. Best of all, my N10 cost about 150 bucks on Ebay. Front facing speakers plus a high res screen...not bad at all.

As much as I love android and wouldn't switch to iOS for my smartphone daily driver.
iOS is better for tablets, it's true that for most people you can get by with an Android tablet, but why would you want to merely get by?
I want the best experience available, and for that, Apple or Windows is much better.
I have the original iPad Air and it's still a better experience than any Android tablet available for my usage.

I'll take a Z4 Tablet or a Pixel C, or a Tab S2 over any IPad anyday. Google Cloud Print, MS Office and the like, and a significantly better browsing experience make the comparable lack of tablet optimized apps less of an issue. There is also the fact that all of these have much better screens than currently released iPads and two have better battery life. I have yet to find anything that I can do on an IPad that I can't do more efficiently on Android or Windows.

Uhm, theirs are tons of options to print from an iPad, I'm google guy so I have chrome and Google Drive installed on my iPad both of which can use Google Clound Print. Not that I really print things that often, that's why we're going digital And better browsing experience? I don't see that at all. I have both Safari for ad free browsing which has all my chrome links synced using iCloud bookmarks plugin for chrome as well as the chrome browser.
IPads have MS office as well.
I've spent a lot of time doing things in the browser like shopping on amazon and shopping in the tablet specific app.
a tablet specific app is a nicer experience usually.
I doesn't sound like you've used an iPad in a long time. I'm very pro google, but to me the experience on a iPad tablet is better.
Because developers put time and effort into apps for the iPad because they make money.
it's unfortunate but it's true,

Everything that you've said is spot on. I love Apple and Google both. I see myself as a true fan of technology and innovation. Both platforms have their pros and cons. For the last year or two I've been able to access most, if not all, of the Google services that I need without any problems. Like you I have the iCloud bookmarks plugin which is great(although I've been recently using Papaly for bookmark management for all platforms. Google cloud print works great. Safari with ads blocked is absolutely fantastic. The iPad definitely provides a better tablet experience. Developer App support is second to none on IOS.

+1 Posted via the Android Central App

Android tablet is a lot cheaper and for people who use it for things like watching video, play some games, browsing, etc why need to spend $899 Posted via the Android Central App

That's a different discussion and yes you can definitely get an android tablet cheaper.
I was discussion which is a better experience, not cost. The iPad pro starts at $599, and the iPad Air 2 now starts at $399, so your $899 listed price is more than a little unfair.
that's the price for a 256 GB 9.7 inch iPad Pro

Even with Android N the iPad is a better tablet. It all comes down to apps, when you compare tablet apps on Android and iOS there's simply no comparison. Posted via the Android Central App

But most apps on android still look great on a tablet with a 4:3 aspect ratio in portrait. That levels the playing field quite a bit more. But apple still has most of the exclusive, specialized apps

I have to agree. Android tablets are lacking in Dev support.

iOS is so limited and restrictive that it's a showstopper no matter how competitive the hardware is and the reason I hardly touch my iPad anymore. I'll take a Galaxy Tab S2 with its split screen and background multitasking which iOS can't do or better yet a Windows 10 tablet like the Surface Pro 4 or Galaxy TabPro S.

iOS does have the ability to split screen Posted via my smexy Nexus 6

I hate to admit it,but as a faithful android user I'd rather take the iPad over any of Android's best. I'd say the Tab S2 is a close second, but I don't think it will be supported years later like the iPad will. I know the Pixel C would, but I prefer the 4:3 aspect ratio on the iPad. Posted with my awesome Gold S6 Edge+

Hey, I agree. I have a Samsung Galaxy Tab Pro 8.4.
Does anyone else actually know what that it?
Anyway, I have the Galaxy Tab mounted in my car. Cheaper than an iPad and more useful because it has GPS, etc. On the other hand, what I use as my tablet is an iPad Mini.
I'll use an Android phone because I like ti better than iOS on a phone.
But for my tablet, I prefer an iPad.

Yeah I actually prefer that to the Tab S, just because of the price and the screen aspect ratio Posted with my awesome Gold S6 Edge+

We are a Sammy family, with Note 5s, s7 Edge's, S6 Edge+'s and quite a few 9.7" Samsung Tablets and a few Gear S 2 Classics. However, I will always pick my iPad Air 1 (the only Apple device in the house) over any of our 3 Samsung Tablets when I have to do work or music related tasks. In it's simplicity, it does what I need it to do, when I need it without any kind of slowdown, freezing or stuttering. Will never spend what Apple is asking for the Pro though...ever....

The Surface Pro and Samsung Tab Pro Windows 10 devices willing be the biggest competition for the new ipad pro 9.7. I really like the newer Tabs being equipped with detachable keyboards, rather than adding aftermarket bluetooth keyboards. Android has pulled focus off the Tabs in recent years, in favour of Android Wear, Android Auto, Android TV. A refocus could bring the Tab market back to the forefront to regain more relevance.

I don't care if the ipad has more apps to choose from. I cannot stand iOS compared to Android (I have an ipad 3 at work and a Samsung Tab S 8.4 as my personal tablet). Android tablets have all the apps I need for what I use one for which is mainly media.

Ya me too. Using an android tablet is a pretty decent experience these days IMO. I have a Tab S 10.5 running an AOSP 6.0.1 ROM and i love it

Damn that HTC tablet is huge. 226x153.67x7.8 inches? That's over 18 feet x 12 feet!!! And thicker than the width of some tablets. Heh, any look it will be edited by the time I finish writing this... Posted via the Android Central App

It was nick named the HTC Moses during development ;-) Posted via the Android Central App

WoW did crapple actually say how much RAM it really has?!?! Amazing!! I'll take one Pixel C and a Shield Tablet, save a few bucks as well :) I think they have the price of the Tab S2 9.7 a little too low??

You idiots REALLY take this **** way too seriously. Oh, and stop using the word crapple. It makes you look like a ******* retard 10 year old.

Come again? Who's taking this too seriously? Methinks you protest too much. It's déjà vu all over again using Android Central App on the Sprint Samsung Galaxy Note 4

Good Job, making fun of mentally challenge 10 year olds!!

The crapple/iSheep garbage annoys me to no end too, but you undermine your point when you say things like "retard 10 year old." Judging by your avatar, it looks like you're a grown adult. Act like it. Posted via the Android Central App

i'd take 2 android tabs over one iPad. if money isn't taken into account at all then surface pro would be the easy winner.

Is the 9.7 inch Tab S2 only $295, now? I might need to get another one... Posted via the Android Central App

For that price i'd be down to buy one and swap out touchwiz for a decent AOSP ROM

The Pixel C also starts at $499. Even with the 25% off coupon right now it's still $374. No clue where that $349 price comes from.

Meanwhile, in Canada, the Pixel C is like $700-800 plus another $200 if you want the Pixel C Keyboard Posted via the Android Central App on my Nexus 6

Lots of new Pixel C "developers" recently lol. Love mine. Posted via the Android Central App

I don't know if I could see a 4in. iPhone. My 5.7in. Note 4 is beginning to get small. Posted via Galaxy Note 4

Is that why you've posted on the wrong article? Posted via the Android Central App

$599.....I guess some people have to watch Netflix like a PRO

Maybe Google will come out with a Nexus tablet this fall that doesn't look totally embarrassing next to the iPad Pro. Because while the screen on the Tab S2 compares quite favorably to the current gen iPads, that's essentially the only area that isn't almost strictly worse. Especially since Samsung won't even field their best phone-class SoC in their "flagship" tablets, let alone a beastly tablet-class SoC like the A9x. Even though the Nexus 9 had some very serious problems, it was excellent on paper (one of the few tablets not using a phone SoC). I'd love to see HTC take another crack at a ~10" tablet that gives Android at least something close in quality to what Apple has to offer. God knows they're going to need some good press after their flagship phone flops... again. Posted via the Android Central App

Hahahaha....I hope HTC's latest does not flop, but I agree with you on many of your other points. I'd sure like to see a so called "flagship" level tablet. I just don't know if I'd buy it when more affordable options fit the bill quite well.

Nexus 9 after 5.1.1 runs great. Awesome on Android N. Posted via my glorious Nexus 6P

For comparisons sake, it should be around 7430mah (27,5 Wh / 3,7V) for the iPad Pro.

I didn't know Android was a manufacturer of tablets.

Google is. Enjoy your short visit on AC, troll boy Posted via my glorious Nexus 6P

What tablets does Google make, troll boy? Oh, and I am using a Nexus 6 by the way, so take your troll boy **** and shove it up your ass.

Google male the Pixel C. It's in the article if you fancy reading it. Posted via the Android Central App

The Pixel C doesn't sell for $349.

Apple thinks this is the ultimate laptop replacement. Are they completely stupid or just that blind?? Need desktop office apps? Good luck. I think apple thinks laptops are just for consumer idiots or something. I'm a serious power user and there is no way I could do what I do without my ThinkPad. Posted via the Android Central App

It's how you lasso unsuspecting and uneducated consumers into thinking their tablet can do more than they need.
"It can show graphs?! All I need is to watch Netflix, but if I ever get called on by management, I can make pie charts!"
- ill-informed Apple buyer Opinion expressed from a Moto X Pure

Do people still buy tablets? Jk, I watched a really good video on the Huawei media something yesterday. It was pretty impressive for a 10 inch priced right media consumption machine. My daughters iPad pro sits and rots because Noone in my home likes using ios and they'd way rather use their nexus 6ps for the convenience of just using one device and they all complain that tablets are too bulky. Posted via the Android Central App

I love my Pixel C, but the Sony Xperia Z4 Tablet should be included in this comparison. It's an incredible device as well. Posted via the Android Central App

Apple makes a solid tablet, with great hardware, a great hassle free user experience, and it's supported like no other device. While there will be niche users who prefer a windows tablet or android tablet, iPad makes sense for most people. Having all three I can say that I'm constantly dissapointed with my windows tablet because it doesn't get near the battery life of any other OS out there. I know it's because it's basically a Windows PC, but to make sense as a tablet, this should be resolved. My Tab S2 has amazing hardware, and runs really smoothly. It also has great battery life and I can go days without charging. My only real gripe is the lack of developer support for android tablet optimized apps.

I'm still using the Samsung Tab S 8.4 as my only device. It is perfect, and not interested in moving anywhere else. Posted via the Android Central App

This is a terrible article. The prices at the bottom are all FALSE! Show me where I can pay $349 for a Pixel C or $295 for a Tab S2! Way to skew the article to be whatever you want it to be... If you're taking into account Verizon or AT&T subsidies, then apply that to the iPad Pro as well. I am an Android user and will NEVER use Apple products. But, can you at least provide valid information when writing your stories? Your Editor should be fired or you should be. What a crappy article!

Please tell me where I can get a Tab S2 for $295! I would buy it in a heartbeat! It's closer to $500 at Amazon. And samsung lists it for $499. Hell, even the 8" version is $349, marked down from $399 on Samsung's site.

They probably got the countless Samsung tablets mixed up. I did too while looking for potential new tablets to replace my Nexus 7 2013. Can't Google/Asus take a leaf out of Apple's book and simply update the internals of the Nexus 7? Really no /s. Posted via the Android Central App

I don't know. I still think the iPad is the better tablet even with Android N tablets coming later in the year. Reason is developer support. There's just more apps that were designed for tablets from the ground-up on iOS compared to Android. After using a couple of Android tablets, going back to my 12.9-inch iPad Pro kinda makes me wish Google gave developers more incentives to create more tablet-ready apps because right now, they're kinda like glorified smartphones.

Agreed. My smartphone of choice up until last week has been a Note 4. I still have that but it takes a backseat to my S7e. The reason I mention that is because Android is my primary OS/device. That being said, my tablet is an iPad Pro. I use what I consider the best available device for me regardless of OS and am willing to pay a premium for it. Posted via the Android Central App

Android will always be my primary phone OS because I really like the choice factor and the customization potential, along with the option to flash a stock Android-based custom ROM on some of my phones with unlocked bootloaders if I want to. But as a tablet OS, I think iOS still takes the cake for me. Sure, the home screen is like a glorified iPhone, but I honestly feel that as a tablet experience within apps, it just feels more polished. There's just more apps that really take full-advantage of the entire tablet.

The new iPad Pro is a beast! These android tables should be compared with the iPad Air not even Air 2. The iPad Pro packs specs that should be compared with surface pro not the laggy Android tablets.

Ignoring the specs, but I've got Android tablets in cheapo Lenovo and pricey Samsung flavours and neither lags. Nor does my wife's iPad Air 2 unless you swipe down to search when it stutters horribly. Interestingly so did the ipad Pro I played with in store recently, so I'm guessing it's an iOS issue. Posted via the Android Central App

I'm guessing it was an issue with that iPad Pro. I throw everything I can at my iPad Pro and never once have seen it stutter. The a9x processor paired with the 4 gb ram is absolutely buttery smooth. Posted via the Android Central App

Largely the same story on my Pro here too. Minus one thing. The scroll lag in Chrome. I thought it was just on my G4, but it exists on my Pro too, albeit in a much more subtle manner, but it's there.

I think the problem is that users of this site generally have such a hatred for Apple products they just post their opinions without seeing the product. Anyone who has seen the keynote could not fail to be impressed by these iPads. Posted via the Android Central App

While very true, a lot of us Android fans do not like the fruit company. The more rational of us have very real reasons for not buying an iPad or any iOS device. My biggest reason is very simple: let me control where on my home screen my apps are. I can't stand how all the apps gravitate to the upper left.
If Apple were to shockingly allow Android on their devices I would be all over them! Opinion expressed from a Moto X Pure

typo on the price Tab S2 9.7 is NOT $295
I paid that for the Tab S 10.5 shortly before S2 9.7 came out

Nexus 9 is also not $299.
Maybe went on sale for that price but definitely not the norm.
WTF Alex.

It's the comparison of the software updates that gets me. My wife's iPad Mini still gets updates, yet my new Samsung Galaxy Tab S2 is guaranteed at least one more during its lifetime. Posted via the Android Central App

I get that people think the iPad Pro is better than any Android tablet out there, but can you honestly say it's worth twice the price because it's that much better? The answer to that should be a resounding HELL NO!

It's $100 more than the S2

I don't think Android has anything that realistically can compete with the iPad. The Surface Pro certainly is a viable alternative, but it's also generally more expensive. Posted via the Android Central App

iPad pro is not anywhere near the same class device as the Surface Pro, in the end it is still iOS not OSX. We won't even start talking about all the lesser expensive Windows tablets on the market that if you want real productivity are the way to go. When Apple finally turns the Macbook Air into a tablet with touch and pen support then they will have it all.

It's amazing to me how many people continue to speak in absolutes as if they know everybody's circumstances. The Surface Pro may be perfect and have no equal to some people's needs but the same thing can be said about the iPad Pro. I wish everyone could just stop being DieHard defenders of one OS or the other and realize that it may be great for them but that it's not the going to be the best for everybody. Posted via the Android Central App

Surface Pro will always be superior until Apple gets their head out of their butt and puts OSx on a tablet. Until then tablets with apps and no ability to join a domain are just not going to cut it as anything other than essentially a consumption device.

I agree. Aside from the obvious technical advantages of the Surface over the IPad Pro 9.7 https://versus.com/en/apple-ipad-pro-9-7-vs-microsoft-surface-pro-4 , the all-out desktop operating system of the surface easily beats that in the IPad Pro 9.7 or the 12.9. The Windows os is much more powerful when it comes to productivity which is essentially what work tablets are striving to be great at.

Alex, the iPad Pro 9.7 only has 2GB of RAM. Posted via the Android Central App

Big Android fan here... I owned the Tab S2, sold it for a Pro 9.7.
Why?
The true color display is light years better with iPad. Tab the reds and blues were not right. And the white had a harshness to it
Build quality the iPad is so much better. Just feels sturdy in my hands
And I may take a lot of heat but graphics are just buttery smooth on iPad, not sure what secret sauce iOS has but it just beats Android
THE SPEAKERS. Seriously the sound quality out of the S2 is not even in the same universe as the Pro 9.7, I can't stress this one enough - the sounds is truly amazing
WiFi on my S2 had issues in my house a dead area in my kitchen, Pro 9.7 just works
Picture in picture on iPad rocks
Slide Over and Split View is pretty awesome The drawback is the price, Pro is considerably more money My two cents

I agree with you with the sound is amazing on the Ipad vs the Tab S2, I'm on the fence with the displays, but the Ipad definitely is quicker and more fluid then the S2, the only complaint I have with the Ipad Pro is the Icon size, would be nice to scale them down more like the S2, I also agree that the WiFi is much improved on the Ipad as well. Both of mine are WiFi and Cellular capable which increased the cost further. This is my first Apple product. So far so good.

The only thing, I do not like about the iPad Pro 9.7, is that you can only message those who have an iPhone, or iPad, or iPod. Where as on the galaxy tab s2, you can message anyone.
Android Central Newsletter
Get the best of Android Central in in your inbox, every day!
Thank you for signing up to Android Central. You will receive a verification email shortly.
There was a problem. Please refresh the page and try again.