Qualcomm announces Quick Charge 3.0 — from 0 to 80% in 35 minutes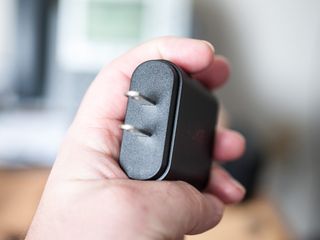 Qualcomm has announced the third version of its Quick Charge standard — appropriately named Quick Charge 3.0 — which it says will allow compatible phones to go from dead to 80 charged in just 35 minutes. It'll debut on the Snapdragon 820 processor in 2016, and also be on a handful of other chipsets.
Quick Charge is Qualcomm's proprietary (but almost certainly also licensed) technology that allows a mobile device to smartly communicate with a charger so that it can safely and efficiently increase the charge rate. Initially available only on wall plugs, Quick Charge is now found on vehicle chargers as well as external battery packs.
In addition to the Snapdragon 820 processor, Quick Charge 3.0 will be available on the Snapdragon 620, 618, 617 and 430 platforms.
For more on smartphone battery tech, check out "Futurology"
Qualcomm Introduces Next-Generation Fast Charging Technology with Quick Charge 3.0
Latest evolution of quick charging technology is anticipated to be available with the Qualcomm Snapdragon 820 processor and in mobile devices next year
HONG KONG, Sept. 14, 2015 /PRNewswire/ -- Qualcomm Incorporated (NASDAQ: QCOM) today announced that its subsidiary, Qualcomm Technologies, Inc., has introduced its next-generation of fast charging technology with Qualcomm® Quick Charge™ 3.0 technology. Quick Charge 3.0 is the third generation of this technology and is the first of its kind to employ Intelligent Negotiation for Optimum Voltage (INOV), a new algorithm developed by Qualcomm Technologies, designed to allow portable devices the ability to determine what power level to request at any point in time for optimum power transfer, while maximizing efficiency. With Quick Charge 3.0 you can charge a typical phone from zero to 80 percent in about 35 minutes compared to conventional mobile devices without Quick Charge that may typically require almost an hour and a half.
With, INOV and other advancements, Quick Charge 3.0 is designed to be up to 38 percent more efficient than Quick Charge 2.0, while also implementing additional steps to help protect battery cycle life. Additionally, when used with Qualcomm Technologies' latest, advanced parallel charging configurations, Quick Charge 3.0 can:
Help improve fast charging up to 27% or reduces power dissipation by up to 45% when compared to Quick Charge 2.0.
Charge up to 2x faster than Quick Charge 1.0
Available now, Quick Charge 3.0 will be featured as an option on select Qualcomm® Snapdragon™ processors, including Snapdragon 820, 620, 618, 617 and 430, and is anticipated to appear in mobile devices launched next year. Qualcomm Snapdragon processors are products of Qualcomm Technologies, Inc.
"We are significantly enhancing the capabilities and benefits offered by Quick Charge 3.0 to bring robust fast charging technology to all," said Alex Katouzian, senior vice president, product management, Qualcomm Technologies, Inc. "Quick Charge 3.0 addresses a primary consumer challenge with today's mobile devices in helping users restore battery life quickly and efficiently, and does so through leading technology and a robust ecosystem including leading device and accessory OEMs."
Additional improvements offered by Quick Charge 3.0 include enhanced flexibility over Quick Charge 2.0, notably in terms of charging options. While Quick Charge 2.0 offers four charging voltages at 5V, 9V, 12V and 20V, Quick Charge 3.0 provides flexibility with 200mV increments from 3.6V to 20V. This allows the phone to request just enough voltage to reach the desired charge current, resulting in minimized losses, increased efficiency, and improved thermal performance.
"LG Electronics featured Quick Charge 2.0 in our recent smartphone designs and the reaction from the public was very positive," said Dr. Sang G. Kim, AVP, LG Electronics. "At its core, LG strives to design devices that deliver an unbeatable user-experience. Qualcomm Technologies' solution is well aligned with that philosophy and fast charging has quickly become one of the more popular device features. Qualcomm Technologies' solution is also generations ahead of others and we look forward to offering Quick Charge 3.0 to our customers to give them a full charge faster and with increased efficiency."
Quick Charge 3.0 also maintains forward and backward compatibility with previous versions of Quick Charge as well as with connectors, including USB Type-C, as well as the same ultra-fast charging speed, cable independence offering OEMs several options, and UL certification to help meet quality and safety standards.
Quick Charge 3.0 is implemented with minimal changes to current designs, offering OEMs a low cost option for fast battery charging. Operators and OEMs benefit from the established Quick Charge ecosystem with over 20 OEMs already supporting Quick Charge 2.0, and over 90 available accessories. The fast charging technology is mandated by several operators with active support from other operators and retailers.
To date there are more than 40 mobile devices and 100 certified accessories with Quick Charge 2.0. To see the list of companies, please visit: https://www.qualcomm.com/documents/quick-charge-device-list. For more information on Quick Charge, you may also visit: https://www.qualcomm.com/products/snapdragon/quick-charge.
Wow. Now I want the Snapdragon 820 even more. Posted via Nexus 5

hoho
jz hope huawei nexus will use s820

Now everyone will just put 1500 mAh battery in their phones and say they support quick charge 3 so no big deal ;) Posted via the Android Central App

But your watch will charge to full in lime 83 seconds +++ Insert witty signature, watch as others not get it, profit +++

But what if you only have lemons?

Glad you asked! Let my good friend Cave Johnson explain what to do with the lemons. "Alright, I've been thinking. When life gives you lemons, don't make lemonade! Make life take the lemons back! Get mad! I don't want your damn lemons; what am I supposed to do with these? Demand to see life's manager! Make life rue the day it thought it could give Cave Johnson lemons! Do you know who I am? I'm the man who's gonna burn your house down... with the lemons! I'm gonna get my engineers to invent a combustible lemon that burns your house down!'" He is a bit eccentric, but REALLY fun!

+1 Posted via the Android Central App

Now that the iPhone 6s weighs a little bit more, maybe Samsung might copy that and be okay with adding a bigger battery.. Posted via the Android Central App

Nah they will decrease the battery like how apple did lol Posted via the Android Central App

That ended up devastating their S6 sales

This is true. Still can't believe I bought the S6.

Why? Just the battery life? I got an S6 and have not seemed to have the battery life issues others have had

Samsung will love this. Posted via the Android Central App

I was just looking at my Aukey charger this morning. 2.0, hmm what's next? Now we know. Posted via the Android Central App

Can I buy a 3.0 charger now to future proof?

More interested in wireless charging improving. The USB port will fail over time. Posted via the Android Central App

They have the quick charge wireless charging pads Posted via the Android Central App

More like "they have heat lamps that charge your phone" Delivered by my Shamu

Still at 5w 1.5 amp max Posted via the Android Central App

Fuck. Why did the 820 have to get delayed? My new Nexus was supposed to have it :( Posted via the Android Central App

It didn't get delayed, the Nexus was never going to get it anyway. They are not really the cutting edge platform, nor is it supposed to be. Yes they have once, maybe twice, in the past but this isn't them. Besides they rushed the disaster that was the 810,you want them to rush another? +++ Insert witty signature, watch as others not get it, profit +++

Goddammit Qualcomm. And I just bought a Galaxy S6. Looks like I gotta waste more money soonm Posted via the Android Central App

Lol.. Yearly cycle for me so I am used to buying one and salivating for the next almost before the wrapper is off +++ Insert witty signature, watch as others not get it, profit +++

You got money, unlike ppl like me :'( Posted via the ONE M9

The two year old retains value pretty well... I will sell my note 4 for whatever to buy next year's S-Pen goes *** click ***

Seriously? S6 charges like, what ~50% in 30 minutes? Yeah, that's terrible all of a sudden, better drop $800. Lol Posted via the Android Central App

And this is why I'm keeping my N6 for another year.

I just bought a N6 and I love it so I'm not about to Drop more money no matter how good the SD820 is with quick charge 3.0. Posted via the Android Central App via My Nexus 6

I use to think quick charge 2.0 wasn't a big deal until I actually used it. Going back to a device without it is painfully slow

Just won a G4. 2.0 will be good enough until the 830 is out :) Posted using SwiftKey on my LG G4 via the Android Central App

This is the real innovation Posted via the Android Central App

Awesome. Hoping the Note 6 will support this

I'm holding out for quick wireless charging... Posted via the Android Central App

Sweet But I hope this doesn't mean OEMS will be like "Here's a 1,650mAh battery! It's smaller than the last one so that we can have a phone that's 0.2mm thinner than the last one but the internals are more efficient, so it'll last as long as the last one! AND IT CHARGES IN LESS THAN AN HOUR TOO!"

I think it's exactly what they'll do. Samsung, I'm sick of your shit, but not your cameras... Let's just hope for the best and be prepared for the worst. I'm using a Note 5 doesn't mean I like it!

Thank God for T-mobile's JOD. If the GS7 has the 820, I may have to jump... Note 5/AC App...

Dang, this is awesome. Technology keeps marching forward. And with battery tech that's a really needed thing.
This goes 0-80% in 35 minutes. Currently my 2 year old Galaxy Note goes from 0-100% in about 0 minutes and 45 seconds fully booted. In a few years this quick charging tech may be able to be honestly mentioned in the same breath as true fast charging.
Keep it up Qualcomm.

Yes tech keeps going forwardd... i bet Qualcomm has Quick Charge 10.0 already... Posted via the Android Central App

Go from 0-100% in 30 seconds by swapping the battery. Smh Posted via the Android Central App

Congrats, that $800 phone now costs $850. Posted via the Android Central App

Not as long as LG keeps giving away free batteries with purchase. :)

Touche Posted via the Android Central App

Next up - nuclear powered phones! =)

Let's ask the real question here. How long before my phone is engulfed in flames? We need to know!

THIS is a reason to upgrade!!! Charging is very, very important!!! Posted via the Android Central App

A ha, it's probably because my external charged doesn't 'safely increase charging rate' that my phone's battery is sabotaged. Posted via the Android Central App

Just another reason to hold onto my nexus 6 until it finally gives up the ghost in another 2-3 years. Qualcomm upgrades is quick change every year. The difference is notable but in 3 years with quick charge 6.0? I expect the phone will go from 0-100% in 30 minutes flat and as long as you can get a phablet with 3500 mAh battery and a tablone with 4000 mAh then life will be sweet. By the way I define a tablone as anything with a screen 6.1 inches or larger. Hopefully phone makers will have enough sense not to use more efficient internals and faster charging to keep making batteries smaller because the last thing the world needs is a 4 mm thin phone with 1000 mAh battery when if you can charge it from dead to full in 30 minutes. At least for me screen size will always be the top priority followed by battery size. Third will be removable battery like LG had because zero lemon had those sweet extended battery cases that triple the stock battery size and when you combine that with battery guru and quick charge, well then you start coming with gas.

Well, that's what my Oppo Find 7 does for almost one year now ... 25 watts of pure VOOC charging power :) and it just rocks.
Can't wait for any other manufacturer to offer this!

sweet, now we can finally make a phone the size of a credit card. personally, this doesn't impress me. I like the olden days when you can get 0 to 100% in 30 seconds.

I'm waiting for perpetual motion charging using the accelerometer so your phone never needs charging. Now where did I put that bong.... Posted using SwiftKey on my LG G4 via the Android Central App

I'm holding off for quick charge 8.0

OMG QUICK CHARGE FRAGMENTATION /s Posted From my Nexus 6/Nexus 7 2013/Surface pro 3

0 to a 100 real f*$%in quick.

Quick charge 2.0 is known to shorten the battys lifespan, so with that in mind won't this be even worse? Not trying to hate bc I'm aware how batty tech is dragging ass compared to everything else; we need progress Posted via the Android Central App

New algorithm makes it better as well as faster. More gradations in how much power to generate - just enough, but not so much as to overheat. So will be easier on battery, not worse.

So is it safe to assume the 2.0 chargers won't produce 3.0 speeds?

Great feature! The Snapdragon 820 sounds so awesome. If OEMs don't include the Quick Charge 3.0 charger with new phones, they really shouldn't view this feature (or wireless charging) as a substitute for a larger battery.

This is going to be really handy when the car chargers come out-- 30 minutes is an average commute in L.A., it will be nice to know that I can top off my battery during my commute.

That would be amazing. I wonder if we will ever see QC car chargers. I usually just take my power bank if I know I'll need a good charge on the road. :/ Posted via the Android Central App

They already exist-- my only QC charger is in my car, not my home or office, because I usually don't look at my phone until I'm walking out the door, then have that "oh hell, it's dead!" moment. But QC in the car usually keeps me in business. If I know I'm in a dead zone, I've got a power bank and a spare battery- I actually had a day at the beach, in a dead zone, where I killed the first battery, swapped to a second while charging the first off the bank, then had to QC charge on the way home.

At the risk of having to video it for a half hour....I have an N5 and One+ that already charge to 80 or more in a half hour...I keep wondering why this fast charge is a big deal. As long as the charger is 2.1 amp , its already fast. The slowness lays in the 1.0a chargers... Posted via Serenity
Android Central Newsletter
Get the best of Android Central in in your inbox, every day!
Thank you for signing up to Android Central. You will receive a verification email shortly.
There was a problem. Please refresh the page and try again.