Qualcomm announces Quick Charge 3.0 — from 0 to 80% in 35 minutes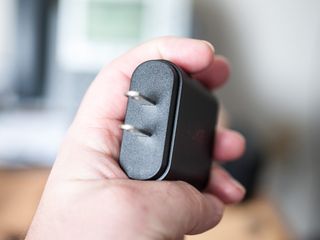 Qualcomm has announced the third version of its Quick Charge standard — appropriately named Quick Charge 3.0 — which it says will allow compatible phones to go from dead to 80 charged in just 35 minutes. It'll debut on the Snapdragon 820 processor in 2016, and also be on a handful of other chipsets.
Quick Charge is Qualcomm's proprietary (but almost certainly also licensed) technology that allows a mobile device to smartly communicate with a charger so that it can safely and efficiently increase the charge rate. Initially available only on wall plugs, Quick Charge is now found on vehicle chargers as well as external battery packs.
In addition to the Snapdragon 820 processor, Quick Charge 3.0 will be available on the Snapdragon 620, 618, 617 and 430 platforms.
For more on smartphone battery tech, check out "Futurology"
Qualcomm Introduces Next-Generation Fast Charging Technology with Quick Charge 3.0
Latest evolution of quick charging technology is anticipated to be available with the Qualcomm Snapdragon 820 processor and in mobile devices next year
HONG KONG, Sept. 14, 2015 /PRNewswire/ -- Qualcomm Incorporated (NASDAQ: QCOM) today announced that its subsidiary, Qualcomm Technologies, Inc., has introduced its next-generation of fast charging technology with Qualcomm® Quick Charge™ 3.0 technology. Quick Charge 3.0 is the third generation of this technology and is the first of its kind to employ Intelligent Negotiation for Optimum Voltage (INOV), a new algorithm developed by Qualcomm Technologies, designed to allow portable devices the ability to determine what power level to request at any point in time for optimum power transfer, while maximizing efficiency. With Quick Charge 3.0 you can charge a typical phone from zero to 80 percent in about 35 minutes compared to conventional mobile devices without Quick Charge that may typically require almost an hour and a half.
With, INOV and other advancements, Quick Charge 3.0 is designed to be up to 38 percent more efficient than Quick Charge 2.0, while also implementing additional steps to help protect battery cycle life. Additionally, when used with Qualcomm Technologies' latest, advanced parallel charging configurations, Quick Charge 3.0 can:
Help improve fast charging up to 27% or reduces power dissipation by up to 45% when compared to Quick Charge 2.0.
Charge up to 2x faster than Quick Charge 1.0
Available now, Quick Charge 3.0 will be featured as an option on select Qualcomm® Snapdragon™ processors, including Snapdragon 820, 620, 618, 617 and 430, and is anticipated to appear in mobile devices launched next year. Qualcomm Snapdragon processors are products of Qualcomm Technologies, Inc.
"We are significantly enhancing the capabilities and benefits offered by Quick Charge 3.0 to bring robust fast charging technology to all," said Alex Katouzian, senior vice president, product management, Qualcomm Technologies, Inc. "Quick Charge 3.0 addresses a primary consumer challenge with today's mobile devices in helping users restore battery life quickly and efficiently, and does so through leading technology and a robust ecosystem including leading device and accessory OEMs."
Additional improvements offered by Quick Charge 3.0 include enhanced flexibility over Quick Charge 2.0, notably in terms of charging options. While Quick Charge 2.0 offers four charging voltages at 5V, 9V, 12V and 20V, Quick Charge 3.0 provides flexibility with 200mV increments from 3.6V to 20V. This allows the phone to request just enough voltage to reach the desired charge current, resulting in minimized losses, increased efficiency, and improved thermal performance.
"LG Electronics featured Quick Charge 2.0 in our recent smartphone designs and the reaction from the public was very positive," said Dr. Sang G. Kim, AVP, LG Electronics. "At its core, LG strives to design devices that deliver an unbeatable user-experience. Qualcomm Technologies' solution is well aligned with that philosophy and fast charging has quickly become one of the more popular device features. Qualcomm Technologies' solution is also generations ahead of others and we look forward to offering Quick Charge 3.0 to our customers to give them a full charge faster and with increased efficiency."
Quick Charge 3.0 also maintains forward and backward compatibility with previous versions of Quick Charge as well as with connectors, including USB Type-C, as well as the same ultra-fast charging speed, cable independence offering OEMs several options, and UL certification to help meet quality and safety standards.
Quick Charge 3.0 is implemented with minimal changes to current designs, offering OEMs a low cost option for fast battery charging. Operators and OEMs benefit from the established Quick Charge ecosystem with over 20 OEMs already supporting Quick Charge 2.0, and over 90 available accessories. The fast charging technology is mandated by several operators with active support from other operators and retailers.
To date there are more than 40 mobile devices and 100 certified accessories with Quick Charge 2.0. To see the list of companies, please visit: https://www.qualcomm.com/documents/quick-charge-device-list. For more information on Quick Charge, you may also visit: https://www.qualcomm.com/products/snapdragon/quick-charge.
Be an expert in 5 minutes
Get the latest news from Android Central, your trusted companion in the world of Android