Qualcomm to make its Toq smartwatch available Dec. 2 for $349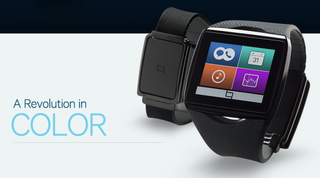 Qualcomm has announced that its Mirasol-screened smartwatch — the Toq — will be commercially available starting Dec. 2. The Cyber Monday launch will see a $349 price tag, and the watch will be available from Qualcomm directly.
Like other smartwatches, you'll hook it up to your Android phone (Android 4.03 is the minimum) and receive text messages and other alerts, accept and reject calls, and a number of other notifications.
The featured spec is the 1.55-inch Mirasol display. It's low-power and actually remains on all the time, but stil claims multiple days of battery life.
More: Qualcomm Toq
Qualcomm Announces Availability of Qualcomm Toq Smartwatch
Smartwatch Technology Set to Transform Wearable Device Category
SAN DIEGO, Nov. 18, 2013 /PRNewswire/ -- Qualcomm Incorporated (NASDAQ: QCOM) today announced that its wholly-owned subsidiary, Qualcomm Connected Experiences, Inc., will make its Qualcomm Toq™ ('talk') smartwatch available to consumers on Cyber Monday, December 2, 2013. Toq is compatible with Android™ smartphones* and features proprietary Qualcomm MEMS Technologies, Inc.'s Qualcomm Mirasol™ display technology, providing an always-on experience with multiple days of battery life and visibility even in bright sunlight. Toq starts at $349.99 and will be available through toq.qualcomm.com.
"The Toq smartwatch showcases key Qualcomm innovations, such as Mirasol always on low power display, AllJoyn interactions and WiPower LE wireless charging, that will define the emerging wearable category," said Dr. Paul E. Jacobs, chairman and chief executive officer of Qualcomm. "Like a traditional watch, Toq displays information at a glance with no on/off switch. And paired with a smartphone to receive notifications and content, it allows the watch to seamlessly merge our physical and digital lives. Leveraging these and other industry-leading technologies, we and our partners will enable new product opportunities and consumer experiences."
As previously announced, this limited edition smartwatch will leverage breakthrough technologies necessary to deliver compelling user experiences on wearable devices. Of note, Toq demonstrates the benefits of significant technologies, such as:
Mirasol display technology – always on, always visible reflective display technology that utilizes ambient light to enable a crisp and clear viewing experience even in bright sunlight;
Qualcomm WiPower™ LE technology – enables a hassle-free, true "drop and go" wireless charging experience; and
Stereo Bluetooth audio experience – first truly wireless stereo headphones that sit outside the ear canal for all day comfort and wearability
Using Bluetooth® wireless technology, Toq allows consumers to accept/reject calls, view text messages and meeting alerts, and selectively receive notifications from their smartphone or AllJoyn-enabled devices directly from their wrist. Qualcomm will continue adding functionality to Toq through software upgrades. Consumers also will be armed with preloaded weather and stock applets from AccuWeather and E*TRADE. For more information about Qualcomm Toq, please visit http://toq.qualcomm.com.
*Android 4.0.3 and above, 4.3 Jelly Bean preferred
Insert Scumbag Qualcomm meme here Hears the millions of complaints about the galaxy gears pricing...prices own smart watch higher. Posted via Android Central App Edit: let It be know I like the look of this one a million times more than the Gear.

The smart watches coming out now are not fully baked yet, and damn, $349?! I think Pebble has the sweet spot for price at $149. I don't care what 'features' and hardware they say they have, they're still too pricey for what they do. I mean, you could get a 16GB Nexus 5 for $349, and it's packed with tons more features and hardware than any smart watch. So pricing them between $300-$400 is ridiculous (especially when ones like the Gear is only compatible with a only a few phones). It's an accessory and should be priced as such. $99-$149 should be the prices for these, and they should be able to withstand any perspiration and normal wear that any watch can. When they get the tech and features updated, are able to pair with more devices and do more without the phone, as well as be more competitive and realistic with pricing, they'll have my business.

Its all about the market. The first of these watches will be set high just to see what the market says is a good price. They'll come down accordingly. Also, with electronics, smaller is generally more expensive so you have to factor that in. Posted via Android Central App using an LG G2.

The market already says $300 is a lot. Qualcomm pricing this at $349 is moronic.

Comparing Apples and Oranges really. You can't compare a watch with a phone (that too a nexus). Nexus prices are an exception, not a norm. Don't you know that making something in a small package will cost more? Miniaturization costs -- I thought people knew that already. There is no justification for "prices should be $99-$149". Why shouldn't smartwatch be less than that or more than that? What's so great about this magic figure?? For all of Pebble's perfect "reviews", it's nowhere near as popular as Gear (even though it's double the cost and compatible with just 4 devices). Stats: In AC, Gear has 101 threads, 936 posts.
Whereas, Pebble has 13 threads, 47 posts. In XDA: Gear has 561 threads, 8,327 posts.
Pebble has 37 threads, 332 posts. Clearly Gear is popular even though it's priced much higher. If people think that the product is worth the money, it will sell. Going by your logic, iPhone won't sell a single unit and Nexus would be the most popular device in the world. That clearly isn't the case.

Forum threads are not an indication of sales. Posted via Android Central App

FWIW, people always ask if my Pebble is a Galaxy Gear. Marketing. It works.

I get the same thing, and it annoys me. How does the pebble look anything like a gear!

don't count reviews as which has sold more. I know 3 people (myself included) who have a Pebble, I know no one who has a Gear. That's just me. YMMV

You'd look pretty silly strapping a Nexus 5 to your wrist.

Sony and Pebble did this right. Releasing at price under $200. So what Samsung and Toq take pictures, are you really that much of a photog? Posted via Android Central App

Tow doesnt take pictures Posted via Android Central App

I stand corrected. Either way that Marisol display isn't worth that much. Posted via Android Central App

I stand corrected. Either way that Marisol display isn't worth that much. Posted via Android Central App

Hey! That's my birthday. I'll take one for free. Lol

Are you getting one Phil?

Maybe when smart watches aren't 2 inches thick.

100% THIS! Posted via Android Central App

Sony pricing is much more realistic (especially at the current $169 price on Amazon). Seeing the pricing on this helped me make up my mind. Sony it is. Posted via Android Central App

What about specs Posted via Android Central App

I love the display tech for this watch and the ear bud/charger. Very well thought out setup. Kind of funny how the only complaints is folks complaining it's too expensive, just like the complaints in the Play store where many negative reviews is always "make it free and I'll give 5 stars" lol.. Not everything can be or will be in everyone's "price range"...

I don't think it's really about being in everyone's "price range." It's more about what each person is willing to pay for a device based on their needs, desires, and/or requirements. I already stated earlier in the comments that I feel that it's too expensive for what it is. Not because it's not in my price range, as the watch I currently wear cost me $2,100, so I don't mind paying a higher price for certain things. It's just a personal decision based on what it offers and if I feel the need (or even just the desire) to purchase it. I do like the always on display (preferably in color) no matter who is making the smartwatch, as you want as much convenience as possible with the ability to see the info at a glance at any moment.

Won't get a smart watch till they start cost at 99$. That's it Posted via Android Central App

LOL.. So that's either never or you'll always be 3 years behind in tech..

Proof of statement?... Posted via Android Central App

I'll wait to see what Jerry says about it. He's tested all of them.

Multiple days' between charges is awesome, but they could squeeze even more time out of it if they used an orientation sensor that powered the screen only when it was facing up.

Not likely. LCD uses very little power. Look at a "regular" LCD watch- a battery will last years and the display is on all the time. What uses the power is the backlight... and this watch doesn't need one for normal/daytime use because it is transflective.

Gear has that feature... Posted via Android Central App

I'm waiting for the cost to go to $600 before I even consider getting a smartwatch Posted via Android Central App

I'm excited to try one of these out, I like the display technology, but disappointed they're not taking pre-orders (at least not yet). JT
Posted via Android Central App

There's an amazing watch called the Vea Buddy that was due to be released in September but Qualcomm screwed them over and wouldn't supply them with the Mirasol display after the design was created. They had to redesign it with an LG screen and it's now in production and I believe it's priced at $249. The beauty about it is it's full featured, color AND compatible with iOS, Windows AND ALL Android devices. Posted via Android Central App

I actually want one of these... Posted via Android Central App

Non-swappable plasticy strap. No mic/speaker (so no voice control and no making/taking calls). No other specs listed, but those alone make it certainly not worth over $300 to me.

The GG can be had for for approximately $250 on eBay if you watch carefully. Posted via Android Central App
Android Central Newsletter
Thank you for signing up to Android Central. You will receive a verification email shortly.
There was a problem. Please refresh the page and try again.