Qualcomm announces 64-bit Snapdragon 808 and 810 chipsets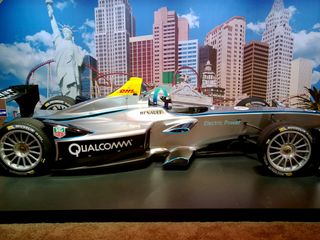 Qualcomm today announced its next-generation mobile processors for the Snapdragon 800 family – 810 and 808. These new chips are designed to deliver even better performance and delight compared to what's currently available to handset vendors today. The main improvements with these two chips is the 64bit architecture and Cat 6 LTE.
Though the chips aren't expect to hit the public domain before 2015, it's interesting to see what Qualcomm is working on. This Cat 6 LTE support will depend on carriers and Qualcomm has opted to use ARM core designs and not its own Krait. These new processors will introduce support for 4K displays with the new Adreno 430 GPU.
The Snapdragon 810 will combine a quad core ARM Cortex-A57 CPU and Cortex-A53 to provide ample power. The 808 on-the-other-hand will have two ARM Cortex-A57 cores paired with a quad Cortex-A53 CPU. It's all good to know, but you can expect to see more hardware with both 801 and 805 chips until early next year.
Check the presser below for the full details.
Press release:
Qualcomm Announces "The Ultimate Connected Computing" Next-Generation Snapdragon 810 and 808 Processors
SAN DIEGO, April 7, 2014 /PRNewswire/ -- Qualcomm Incorporated (NASDAQ: QCOM) today announced that its wholly-owned subsidiary, Qualcomm Technologies, Inc., introduced its next-generation mobile processors for the Qualcomm® Snapdragon™ 800 tier, the Snapdragon 810 and 808 processors, which are designed to deliver the ultimate connected mobile computing experiences in video, imaging and graphics. The Snapdragon 810 and 808 processors are Qualcomm Technologies' highest performing platform to date, completing Qualcomm Technologies' lineup of 64-bit enabled, LTE-equipped chipsets for premium mobile computing devices. The Snapdragon 810 and 808 processors enable an exceptional overall user experience with seamless connectivity and industry-leading power efficiency for flagship smartphones and tablets.
Both the Snapdragon 810 and Snapdragon 808 processors integrate Qualcomm Technologies' 4th Generation Cat 6 LTE Advanced multimode modem together with support for the Qualcomm RF360™ Front End Solution, and support 3x20MHz Carrier Aggregation, enabling speeds of up to 300 Mbps in the broadest set of spectrum deployment configurations to date. Both processors are designed in 20nm technology node with Cat 6 LTE, advanced multimedia features and 64-bit capability, all tightly integrated and optimized for exceptionally low power consumption that does not sacrifice performance, making them the first premium-tier 64-bit processors to enable LTE Advanced globally with a single design. These products underscore Qualcomm Technologies focus on 64-bit leadership, accelerating its availability across all product tiers while maintaining a long-term commitment to the continued development of its own next-generation custom 64-bit CPU microarchitecture, with more details expected to be shared later this year.
The Snapdragon 810 processor, as Qualcomm Technologies' highest performing Snapdragon platform to date, also supports:
Rich native 4K Ultra HD interface and video, along with an upgraded camera suite using gyro-stabilization and 3D noise reduction for producing high quality 4K video at 30 frames per second and 1080p video at 120 frames per second. The combined 14-bit dual Image Signal Processors (ISPs) are capable of supporting 1.2GP/s throughput and image sensors up to 55MP. Advanced imaging software helps enable advanced mobile camera features, including enhanced exposure, white balance and fast low light focus.
The combined 64-bit quad core ARM Cortex-A57 CPUs and Cortex-A53 CPUs are designed to enable an improved user experience based on the advanced technology feature set, while implementation of the new ARMv8-A ISA enables improved instruction set efficiency.
Designed for 4K displays, the new Qualcomm® Adreno™ 430 graphics processing unit (GPU) provides support for OpenGL ES 3.1 plus hardware tessellation, geometry shaders and programmable blending. The Adreno 430 is designed to deliver up to 30% faster graphics performance and 100% faster GPGPU compute performance, while reducing power consumption by up to 20%, as compared to its predecessor, the Adreno 420 GPU. The Adreno 430 GPU also enables a new level of GPU security for secure composition and management of premium video and other multimedia.
The Snapdragon 810 processor introduces high speed LPDDR4 memory.
Frame buffer compression and external 4K display support via HDMI1.4.
First mobile platform to implement Qualcomm® VIVE™ 2-stream 802.11ac with multi-user MIMO, which makes Wi-Fi® networks more efficient than ever in order to maximize the performance of local connectivity for mobile devices.
Support for Bluetooth® 4.1, USB 3.0, NFC and the latest Qualcomm® IZat™ location core for ubiquitous and highly accurate location services.
The Snapdragon 808 processor is designed for premium performance and integrates the same LTE-Advanced, RF360 and Wi-Fi connectivity as the Snapdragon 810 processor and includes 2K display support. Both chipsets are fully software compatible with the 64-bit ARMv8-A instruction set. The primary differences of the Snapdragon 808 processor include:
Designed for WQXGA (2560x1600) displays, the new Adreno 418 GPU provides support for OpenGL ES 3.1 plus hardware tessellation, geometry shaders, programmable blending. It is designed to support up to 20% faster graphics performance than its predecessor, the Adreno 330 GPU. The Adreno 418 GPU also enables a new level of GPU security for secure composition and management of premium video and other multimedia.
Configured with two ARM Cortex-A57 cores paired with a quad Cortex-A53 CPU.
12-bit dual Image Signal Processors.
LPDDR3 memory.
Frame buffer compression and external 4K display support via HDMI1.4.
"The announcement of the Snapdragon 810 and 808 processors underscore Qualcomm Technologies' continued commitment to technology leadership and a time-to-market advantage for our customers for premium tier 64-bit LTE-enabled smartphones and tablets," said Murthy Renduchintala, executive vice president, Qualcomm Technologies, Inc., and co-president, QCT. "These product announcements, in combination with the continued development of our next-generation custom 64-bit CPU, will ensure we have a tremendous foundation on which to innovate as we continue to push the boundaries of mobile computing performance in the years to come."
The Snapdragon 810 and 808 processors are anticipated to begin sampling in the second half of 2014 and expected to be available in commercial devices by the first half of 2015. More information can be found at www.qualcomm.com/snapdragon. Developers can find tools to optimize their apps for Snapdragon processors at http://www.developer.qualcomm.com.
Except for the historical information contained herein, this news release contains forward-looking statements that are subject to risks and uncertainties, including Qualcomm Technologies' ability to successfully design and have manufactured significant quantities of Snapdragon 808, Snapdragon 810 processors and next-generation CPU microarchitectures on a timely and profitable basis, the extent and speed to which the Snapdragon platform is adopted, change in economic conditions of the various markets Qualcomm Technologies serves, as well as the other risks detailed from time to time in Qualcomm Incorporated's SEC reports, including the report on Form 10-K for the year ended September 29, 2013, and most recent Form 10-Q.
Get the Android Central Newsletter
Instant access to breaking news, the hottest reviews, great deals and helpful tips.
Nice From my Note 2 to you

I was expecting them to rename as Snapdragon 900 Posted via Android Central App

They seem to be nailed the naming system down to 20X,40X,60X & 8XX, so I don't think we will see a 900 anytime soon.

I hope to see this on my Note 4

Which would have to mean the note 4 would not come out until next year.
I would probably stop hoping. Posted via Android Central App using an LG G2.

Only when it's at least somewhat realistic. EDIT: But then we are talkin about Samsung. They could release 12 different versions of the Note 4.

Snapdragon 610 or 805 will probably be in the Note 4, if Samsung doesn't have an Exynos chip to push worldwide in one phone model again.

There will NEVER be a 600 series chip in the Note.

That isn't a certainty. Qualcomm reps from MWC consider the 610 and 615 to be high end - and I suspect they'll feel that way until the 800 series 64 bit chips with A57 cores come out. It wouldn't hurt the device to run on either a 610 or 615. But, who knows? Samsung may wait until the Galaxy S6 to integrate a 64 bit CPU and go with the Snapdragon 805 for the Note 4. The 64 bit Exynos chips haven't been made official yet either, and if they are in time for the Note 4, will they even have Cortex A57 cores or Samsung's custom architecture? No one's sure yet. I did say in my original comment though that it'll either be the 610 or 805 in the Note 4. I think that might be closer to reality. I went with that based on what Qualcomm considers to be their upcoming high end right now, but it all depends on how much Samsung wants to integrate 64 bit. I am leaning more towards the 805 being in there - I do have my doubts about Qualcomm considering the 610 and 615 to be high end because of A53 not offering that much better performance than A9, we'll see - but if Samsung reveals their new Exynos with their own custom 64 bit ARM architecture? Bam. That could be the one too. Given their track record with the S4, Note 3 and S5 though, Exynos chips being in every model worldwide aren't a priority. The Note 2 got that but the best available option for mass market could probably be Qualcomm again. The 805 has a lot to offer even for just being a 32 bit chip, and probably will smash the 610 and 615 in terms of CPU performance in addition to GPU. Why did I type this much? I don't know, but you don't know either
#themoreyouknow.

Samsung would be able to produce a similar chip in its Exynos line, so I'm not too sure what the real advantage is here. I'm quite disappointed in the announcement hoping for a new architecture from Qualcomm. Guess they think that it wouldn't make sense to make their own architecture, or maybe there is a new architecture that they're working on for mid to late 2015. As for Note 4, since Samsung is going to produce A53/57 chips, it might make more sense for them to put Exynos into their Note 4 across the board than to go with Qualcomm's processor. They can just use the Qualcomm radios alongside the Exynos chipset just how they've done it in the Note 2 line-up.

Good luck. Don't believe a processor can be updated like software.
Also, the only significant advantage of the 810 is much faster download speeds. Not sure you'll get those speed on most of the American LTE networks. During high traffic times now, your lucky to achieve 30 megs.
I have the Note 4 and would certainly appreciate 300 to 450 megs download speeds. But doubt it's possible by updating the Note 4 processor.
Have also been in consumer electronics marketing for 25+ years and seen many products finally reach the "bells and whistles " update stage. Mobile phones are not far away.

So when are we going to see HEVC hardware deccoding? No one seems to be talking about it.

Great, the Snapdragon 805 has not even hit the market yet... Posted via Android Central App

This is probably 2015 stuff. Usual Qualcomm style.

Aww I was hoping for 64 bit handsets by the for quarter 3 and 4 this year. O well. Maybe Sammy will bring out one sooner. While I never turn my nose up at increased specs, support for 4k is interesting. I guess it would be used to power tvs. Smartphones and tablets would never need a resolution that high. Posted via Android Central App

Here comes the Dragon roaring. but i'm a bit disappointed that it is octa core useless sh*t.

Exynos 5420 Octa matches or surpasses S800 in most benchmarks and battery life, plus these are A57/A53 chips that vastly outperform current A15& A7s.

But fail the real world comparison test. It's easy to compare since Samsung sells a exynos version of all their flagship phones. The snapdragons are always better performers(less lag and hesitation). via moto x.

You obviously never compared the Qualcomm pre kriat SOC's to the earlier Exynos SOC's. The Exynos 4xxx series were far better to anything pre Kriat SOC

The whole point was Exynos 5xxx vs Krait chips. Pre-Krait and Exynos 4xxx are not relevant in the slightest.

It was true for GS4( Exynos 5410 vs S600), not so for Note 3(Exynos 5420 vs S800). 5410 was the first Octa product, hence it had various problem that had to be worked out. 5420 was much much better.

First this isn't Samsung octa uselsss crap. This is ARM's bigg little architecture. It is also how ARM has intended these cores to be used.

Samsung octa is big.LITTLE. via moto x.

Not implemented the way ARM intended Big.Little to be done, at least that was the case for Exynos 5410. Anandtech had a long article on how 5420 was more close to ARM's original intent for Big.Little than 5410. Qualcomm's implementation could easily be superior to Samsung's.

So Qualcomm now join Samsung in the Big.Little Club

Goodbye to krait? Lazy lazy lazy! Qualcomm is just basking in their monopoly, twirling their thumbs! Someone needs to knock qualcomm over. via moto x.

but kraits had great efficiency for their per core performance.

And qualcomm is ditching it for generic ARM cores. via moto x.

Until you design your own CPU and get it to market i am not sure I would call them lazy. We don't know what it takes to get these to market. I suspect it is a bit more complicated to bring 64 bit computing to the table then we think. Would you rather wait till 2016 to get a full Qualcomm design?

Your right, once you think about the 64bit transition and how Qualcomm was "blindsided", maybe they were in such a hurry to get 64bit to the market that they decided to ditch their architecture and go with ARMs. via moto x.

What is so bad with ARM's A53/A57 in the first place? They are both amazing chips based on the ARMv8-A architecture. Qualcomms Krait was good, but still heavily based on ARM's design in the first place. Somewhat like Apple, they took the design and made their modifications. ARMv8-A + 20nm lithography (if actually used) will be great.

Their custom 64-bit design probably isn't ready yet. Why sit back and let others get the marketing wins (because that's all 64-bit is right now in phones/tablets) when there are existing 64-bit designs available for the taking. Doesn't mean Krait is dead ... they still have the 801 and 805. I would bet they still do their own 64-bit design at some point.

I expect a Qualcomm to build their own derivative of the a57 for 2016. They were simply caught off guard and it will be quicker and easier to implement this set up then build make the krait 64bit.

How much more can they improve and innovate? Really... I have an LG G2 with Snapdragon 800 and this thing performs like a breeze. 805 and 810? Good Lord. Posted via Android Central App on my T-Mobile LG G2

I love Qualcomm processors Posted via Android Central App

Yeah, but Apple did it first! Suck it Android fans!!! - Sent from my HTC One

LOL. Technically, ARM did it first. Just because Apple rushed to get a 64-bit SoC using ARM's architecture out the door first doesn't really mean anything, aside from the fact that Apple must have thrown an impressive amount of money at that project to make it happen. Never mind the fact that it's largely a marketing gimmick to begin with. The fact that you're so "proud" of this is proof of how desperate you are to legitimize your fandom.

When will an android smartphone utilizing this kind of chipset be released? As far as I know. The android smartphone manufacturers are too quiet. And they haven't announced any smartphone utilizing this chipset. By the time they release this. Apple would have announced and release a far more advance chipset than this or any android chipsets. And since the Apple metal announcement. More users are now geared towards Apple A8 because of huge leap of apple. With the new gaming console developers coming from EA, Crytek, Unity, and Epic games which is utilizing the newest API. Android itself is stuck with OPEN GL ES version which according to apple. Slows the app performance due to Quality filtration done by OPEN GL which makes it harder for apps to access the raw power of the A7. With this newest chipset. It may not even solve the issues on android because of Quality Filtration.