QR Codes and smartwatches, a match made in heaven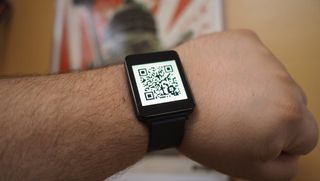 QR Codes are one of those things where you either love using them or they just don't seem to actually add any convenience to your life. The tech has been around for ages, and every time someone tries to breathe new life into this quick glance data delivery mechanism it seems to gain more and more of a following. The most recent attempt at using QR Codes in apps on phones or as a WiFi hand-off for Google Glass all seem to work well enough, but with smartwatches on the rise it's clear that these little data squares are perfect on the wrist.
There are already several apps that will draw QR Codes on Android Wear, Pebble, and other smartwatch platforms. We've seen Air Berlin's Pebble app serve up boarding passes as QR Codes for users to simply hold out their wrists in order to board a flight, and now Delta does the same for Android Wear. While it's cool that these apps make it easy by providing a QR Code on the most convenient device in your arsenal, you can easily push individual codes from other services to your smartwatch if you know how.
Pebble, for example, has a watchface generator that allows you to stick any image in the face. This makes it easy to store your contact information, your Starbucks account code, or any other semi-permanent QR Code you would want quick access to.
If you're packing Android Wear, gaining quick access to a QR Code is incredibly simple. The Google Keep app allows you to save images that sync instantly across all of your devices, so all you need to do is save your code to Keep, open Keep on your phone, and you're good to go. This works for one-off codes as well as long term codes since you can label the file as you add it to your Keep and you can delete them from just about anything with a screen.
We're going to see a lot more in the way of rapid data delivery through apps on Android Wear and other smartwatch platforms, and while not everyone is going to use QR Codes to deliver that data you can bet that we'll see more and more leaning this way. If you've never really played with these strange little codes before, now seems to be the best time to start.
Are you using QR codes on your smartwatch? Sound off in the comments!
Get the Android Central Newsletter
Instant access to breaking news, the hottest reviews, great deals and helpful tips.