Purported Samsung 'Gear Manager' smartwatch app surfaces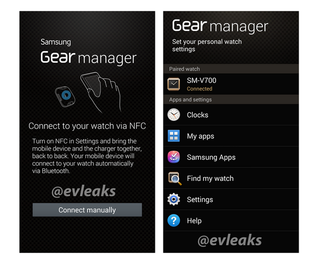 Phone app to control pairing, apps and 'find my watch' functionality
We're just a week away from seeing what Samsung has to show us in the smartwatch game at IFA in Berlin, and now we're getting a quick look at an app that will help control that device. The leaked "Gear Manager" app, shown above in two screenshots, gives us a good idea of what we can expect when the device is finally announced.
The first screen shows a simple pairing process over NFC with a phone, as we could've guessed, and the second one shows several different settings and management functions. A standard-looking settings screen shows the name of the watch paired (presumably over Bluetooth) to your phone, ways to manage clocks and apps, a function to "Find my watch" and more advanced settings underneath.
Nobody is quite sure how deep the phone integration will go nor how apps will work on the device, but it does clear up how you'll be connecting to your phone and what will be available to you. Samsung is set to show off the whole thing on September 4th, so be sure to check back to Android Central for full coverage then.
Source: @evleaks
Andrew was an Executive Editor, U.S. at Android Central between 2012 and 2020.
I wish all smartwatches had dedicated apps like this. Posted via a naked Nexus 4 running 4.3 (No cover for me!)

The N4 feels so good naked

Until you drop it and crack it in the back and the front

What has the world come to that men say inanimate objects feel good naked? Last I checked anything female feels good naked. Posted via Droid RAZR M on the Android Central App

Lol! Posted via Android Central App

Most do - Martian, Pebble, Sony, MetaWatch. The degrees of functionality can vary, however.

Looking forward to checking this out next week.

SO the watch is going to have GPS in it, and you can throw maps on as well Wonder if it has a speaker... Thinking of the possibilities there..

I'm intrigued, though I think I'll wait till Gen two or three when they finally implement the curved glass. Posted via Android Central App

I'd love curved glass. They already have the technology, but I guess it is probably a bit more expensive still to manufacture curved screens. Posted from the incredible new Nexus 7

I'm intrigued, though I think I'll wait till Gen two or three when they finally implement the curved glass. Posted via Android Central App

Galaxy Gear kinda reminds me of PokeGear. Posted via Android Central App

To be honest, my most wanted feature is to be able to control playback of the Google music streaming service. Forward, back, like, dislike and all that. Everything else it can do is just icing on the cake. ;)

*excited! !* Posted via Android Central App

I bet they implement their apps through the Samsung app store as a way of transitioning people to their ecosystem. That would be smart, but lame...

Mein Gott that app is ugly. Then again, this is Samsung we're talking about. I bet it has a Gingerbread menu, too.

Lol that's all you got? A juvenile jab at Samsung? You're a sad sad person lol Posted via Android Central App

Notice there is a place for Samsung Apps, but also My Apps.

Can't wait to get one! Posted via Android Central App

So I have a question, if it works over bluetooth will you be able to use multiple devices at the same time connected to the phone line the watch and a headset? Posted via Android Central App

So it is some sort of companion app similar to SONY smartwatch. Well, it is expected... Good thing it is not saying GALXY device but ANDROID device. It may suggest that GEAR will work with ANY Android phone...

This watch will go well with my Galaxy Note 3...
Android Central Newsletter
Thank you for signing up to Android Central. You will receive a verification email shortly.
There was a problem. Please refresh the page and try again.