PSA: A national emergency alert test is happening on your phone tomorrow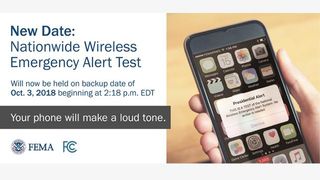 While it can be easy to just think of our phones as tools for checking Twitter, playing games, and watching YouTube videos, they're also critical in the case of an emergency situation. Tomorrow afternoon, the FCC and FEMA will be conducting the nation's first test of its wireless emergency alert system.
The test will take place on Wednesday, October 3, 2018, at exactly 2:18 PM EDT. At that time, your phone will make a loud noise and you'll see a pop-up on your screen that reads:
The alert won't have any adverse effects on your wireless service or device, and after tapping the "Dismiss" button at the bottom of the pop-up, it'll go away and you can carry on with your day like normal.
Get ready for a lot of simultaneous phones going off at the office tomorrow afternoon.
Get the Android Central Newsletter
Instant access to breaking news, the hottest reviews, great deals and helpful tips.
Joe Maring was a Senior Editor for Android Central between 2017 and 2021. You can reach him on Twitter at @JoeMaring1.
All these test alerts has gone "boy who cried wolf" too many times. I have been successfully trained to ignore them except when they go off at 2am. Still working on sleeping through them. Wish there was a setting to ignore test alerts -- maybe after 1 or 2 tests.

I mean, you can disable every Emergency Wireless Alert except the Presidential ones, and this is the first time I believe that level's ever been tested. The testing isn't a matter of making sure it works on your new phone; the testing is to make sure that the systems work on the government's end, and sending alerts to smaller test groups isn't enough to test how a message like this would impact the national cellular networks and what delays some people might see.

Yes, I know you can disable the local alerts, but I just want to opt out of the test alerts. I still want to get the real alerts (local or national).

Can you avoid this by turning your phone off?

The alert will display once the phone turns back on. If you want it quiet, stuff your phone under a heavy blanket, wait for the soft beep, and then dismiss it as quickly as possible (smart watches come in handy for this)

Yes, as long as you leave it off during the alert window, which will be around 20 minutes, I think.

Shouldn't you put the country where this is happening on the title or at least somewhere in the article?

By default it is always America. Rock, flag, and eagle!!

"Presidential" alert
FEMA
FCC
Isn't this mildly obvious?

n8cwhite, don't forget the forcing of Late night "presidential" ramblings while he's watching faux Neuz with a bucket of KFC and a few big macs.

Any idea if airplane mode will act the same as turning it off? will it just delay the alert until you turn airplane mode off?

If barely anybody would bat an eye. I know for sure that I wouldn't. Ever since Hurricane Florence gave me five of these alerts in one hour for a flash flood *watch* I've gotten fairly used to them.

Good grief people, you act like you receive emergency alerts for real and test events on a daily basis. Life is too short for daily manufactured drama.

Though I knew this was coming, the TV chimed-in at the same time (wasn't expecting that); all this an hour after we had a local power failure with the generator cycling-on. I spent an anxious moment waiting to hear Gabriel's Horn signalling that The Rapture was about to commence. It's been that sort of day. Now I'm going to watch The Remaining (2014) since I'm already in the spirit of things. In the event of a real grid collapse I'd estimate that we're only about a week removed from The Lord of the Flies.