Emergency alerts and Android: What you need to know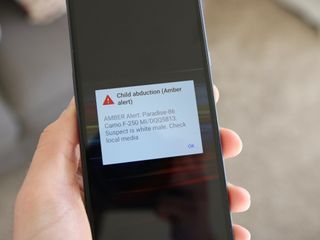 (Image credit: Android Central)
Every so often — or frequently, depending on your tolerance level — you get an emergency alert on your phone. That horrible blaring of the emergency tone, the buzzing the vibration motor, and then the grim news. Someone's missing. Or there's a severe weather alert headed your way. Suddenly and without warning, your phone's scaring the hell out of you. It's bad enough during the day, and downright dreadful in the dead of night.
And that's the idea.
The U.S. carriers have worked with the federal government to come up with a way to push alerts to your Android smartphone to warn you about dangerous weather, missing persons or other matters of grave national importance. The point is they want you to see this information in hopes that it could save your life — or someone else's.
Here's what you need to know about these emergency alerts and how you can control them on your Android phone.
What kind of emergency alerts are there?
There are three (or four, depending on how you're counting) types of emergency alerts you can receive on your Android. They're grouped into the less-dangerous-sounding "Cell Broadcast" heading, and include:
Extreme threats: Classified as threats to your life and property, such as an impending catastrophic weather event like a hurricane, tornado or tsunami.
Severe threats: Less serious than the extreme threats, these could be the same types of situations, but on a smaller scale — a reason to stay safe, but not evacuate or take extreme measures.
AMBER alerts: These are specific alerts aimed at locating a missing child. Technically AMBER stands for "America's Missing: Broadcast Emergency Response." But it was named for Amber Hagerman, a 9-year-old who was kidnapped and killed in 1996. AMBER alerts will include as much information as the authorities currently have available, giving you the location of the alert, and often a vehicle description including a license plate number.
Presidential alerts: These alerts will often fall into the "extreme threats" category, but are issued directly by the President of the United States (or through their office) and cannot be turned off in your phone's settings.
What does an emergency or AMBER alert sound like?
It's loud and annoying — particularly if you have a phone with really good speakers. But it will really catch your attention if you're with several people who all have their phones out!
You'll likely also find your phone is vibrating when an alert is issued, though some phones let you turn off vibration.
How can I turn off emergency alerts on my Android?
Though you don't have a choice as to whether you receive the presidential alerts, you can turn off the other types of alerts. We would recommend leaving them on, though, as the information could help you (or help you help someone else) in a time of danger. But if you want to familiarize yourself with the settings or tweak their parameters, there are options you can use.
The settings will be found in a different place depending on what phone you have (yay, Android!) but the common theme is that the settings will be called "Cell Broadcasts" or "Emergency alerts." The best way to start looking for them is to open up your settings, and if you have a search function to simply type in "broadcasts" or "emergency" — chances are the phone will present you with the settings right away. If you don't have a search function, look under your sound, notification or display settings.
On Samsung phones, emergency alert settings are found in the default Messages app. Go to the Messaging app's menu, settings, and then "Emergency alert settings" to configure the options.
Depending on your phone, you'll be able to toggle each of the alerts independently, choose how they alert you and whether or not they vibrate when you receive one. Newer phones will even give you the option to turn on or off tests of the emergency alert system.
Other helpful links for emergency and AMBER alerts
If you want to learn more about how emergency alerts are handled, we've compiled a group of handy resources:
Get the Android Central Newsletter
Instant access to breaking news, the hottest reviews, great deals and helpful tips.
Andrew was an Executive Editor, U.S. at Android Central between 2012 and 2020.