The APC BR1500MS 1500VA Pure SineWave pro battery backup drops to $141.99 at Newegg with the code EMCDGGE24. This discount is in addition to a Newegg sale that has already seen the price of the battery backup drop to $205 from $240. The same model has been selling for around $200 at many retailers including B&H, but no one has it as low as Newegg right now.
keep it Safe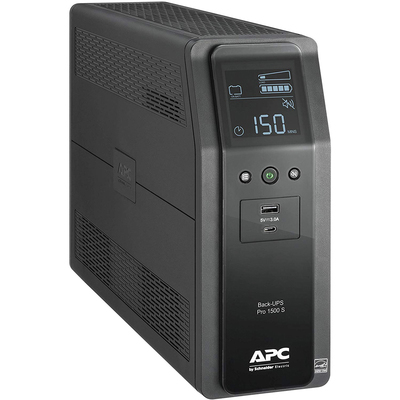 APC BR1500MS 1500VA Pure SineWave 10-outlet 2-USB port pro battery backup
Has 10 total outlets with 6 connected to surge protection and battery backup and 4 connected to the surge protection only. Pure SineWave important for computers using active PFC power supplies. One USB-C and USB-A charging port. Hot swappable battery
$141.99 $205.00 $63 off
The deal given is no longer valid and we do not have a better one. However, we have found some similar deals
This is an uninteruptible power supply. It's an important piece of gear that does two very important things when your electronics are plugged into it. The first thing it does is provide surge protection. All the regular outlets are protected from any sort of power surge, which can happen during lightning storms or through freak accidents at any time. Surges can damage your equipment, so this is pretty important. The second thing it does is provide a battery backup. If you do lose power due to a surge or anything else, the battery backup will let you keep working for a short amount of time. Save your files, shut your gear down naturally and safely, and protect your work.
This one in particular has ten total outlets for you to plug into. That's great for large workstations like your computer or a home entertainment system. Six of the outlets connect to the battery backup, and all ten have surge protection. The front of the APC also has two USB ports, one USB-C and one USB-A. Plug in your mobile devices there to re-charge them safely. Use the battery backup to charge your devices during a power outage so you can make an emergency call.
The system has hot swappable batteries. That means you can keep the power up longer or even extend the life of the battery backup well into the future should there come a time when you need to replace the battery. It also uses Pure SineWave battery out, which is important for modern computers that have active PFC power supplies.
We may earn a commission for purchases using our links. Learn more.