Project Fi app's new widget will let you track your data usage at a glance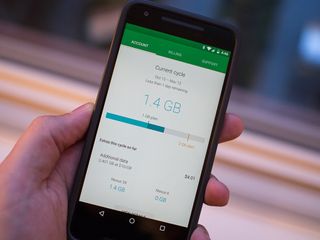 If you're a subscriber to Google's Project Fi, you'll now be able to track your data usage via a handy widget. As detailed in a list of changes posted by a verified Googler over on Reddit, the latest Project Fi app update includes a new widget for your home screen that will allow you to easily track how much data you're using at a glance.
Aside from the new widget, the update also includes a new call forwarding toggle and a notable bug fix. Here's the full breakdown:
[New] Data usage home screen widget - If you're using the built-in launcher, long press an empty space on the home screen, navigate to "Widgets", and scroll to Project Fi's data usage widget to keep an eye on your data usage from the home screen.
[New] Call forwarding on/off toggle - We've made it easier to enable/disable call forwarding with a simple on/off toggle. Select any number from the list and toggle the "Forward calls to this number" setting to temporarily disable a forwarding number. You won't need to reverify the number when enabling it again.
[Bug Fix] Data usage sometimes showing up one day in the future - Many of you let us know about an issue where data usage appeared one day in the future. This issue should be resolved with this update, please let us know if you're still having issues.
It appears that the update has only just begun rolling out in the past day or so, and it's set to continue throughout the weekend. We haven't seen it land just yet on our end, and it's likely it will be a few more days before everyone is able to check out the new widget. Still, if you've already managed to snag the update, let us know what you think in the comments below!
in my hunt for the update, i found the fi switcher app. thanks for the post. :)

I'm on Project Fi. What is the advantage to switching networks manually? I've only been on since yesterday but shouldn't Fi go to the fastest network automatically? Posted via the Android Central App

It should but the algorithm isn't perfect. Some people do find Project Fi sometimes going with the inferior network.

I have been on h+ when on LTE in that location previously. Don't know if switching networks would have made a difference. But at least I will be able to find out. Posted via the Android Central App

Usually if one network isn't performing well, or it's stuck on a poor/slow signal.

I like that I can turn off the networks via airplane mode and use wifi calling. Especially in the dark recesses of my home.

I wanna try out project fi but gotta pay off the phone on T-Mobile first. How good is project fi? Posted via the Android Central App

I'm liking Fi. Was on T-Mobile's $70 Unlimited plan. Not a big consumer of data. Have found I usually use less than 1 GB per month. Am usually on WiFi. Total bill about $35, and I still stream loads of music. I also noticed that I'm usually on T-Mobile. Use "Signal Spy" for this.

My first couple of days were constant dropped calls. Really annoying. But after that... Things have been smooth sailing. Every bit as good as Straighttalk att. On my third week. Posted via the Android Central App

Not worth it IMO. Sprint is basically useless, so the T-Mobile 5GB plan for $30 is a much better deal.

It was beat by the tmo voiceless data plans. I went from paying 50 to 35 for more data. Google voice is handling my dumb phone calls wonderfully, on the rare occasion I need to. Posted via the Android Central App

For you. For me tslo is mostly useless. Good thing this uses both so it is never an issue. Fi is awesome and a good example of why sprint should have bought tslo Posted via the Android Central App

Personally I hate it! i'm keeping it because i travel abroad a couple times a year.

Would be nice to disable the alert.
I like the "quick glance" aspect of this widget. Yeah!

Man i can't believe this article came up. Ive been grappling on switching to Fi. The problem that I have is that I can't seem to keep a phone longer than 5 months. I always like the newest thing. The question for me becomes, can I keep the Nexus for a full year. Posted via the Android Central App

I like the widget for data usage...it wasn't that hard to check it before, but sometimes the phone's accounting and Fi's accounting are slightly different. I also like the Project Fi service generally. I switched from Verizon and saved $20/month for the same plan. I live in a very forested part of Atlanta, so no one's service is perfect all the time. So far Fi is able to find a strong signal for me just about everywhere.

BTW, I use the Nexus 5X and have found it to be a great phone with an awesome camera.

I would like the widget...if it was 1x1. Why so big? As to Fi, so far 30 days in, I like it. My data usage on Sprint averaged 3.5GB, with Fi's changing to wifi whenever possible I will be about 1.8GB this month. One issue that I have yet to figure out....when I dock the 6P in car it takes up to 5 minutes to start streaming NPR One. I think it tries to hold onto my home wifi and takes a while to lock into cellular data. I have tried using AutomateIT to turn off wifi upon docking, but that has not helped.
+1 on the Fi Info app. I use Fi Info widget to make manual switching easier, and mostly just to let me know what network I am using at any given time.

Time to get fi on other phones Posted via the Android Central App
Android Central Newsletter
Get the best of Android Central in in your inbox, every day!
Thank you for signing up to Android Central. You will receive a verification email shortly.
There was a problem. Please refresh the page and try again.