Printing in Android 4.4 KitKat (with some help from HP)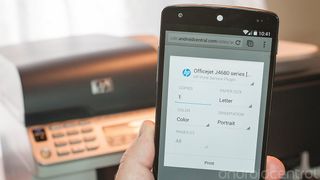 Printers, as we all know all too well, are fickle beasts on a good day. So you'll forgive us for not expecting too much when it comes to printing wirelessly from our phones. But there's a new printing framework built into Android 4.4 KitKat. On the back end, you'll be able to print over Wifi, or Google Cloud Print. Here's how Google puts it:
Your mileage may vary, of course. But, we're happy to report, our first experience with the new printing framework — at least from an end-user standpoint and with some help from an HP plugin — worked flawlessly.
I'm using an HP printer. After firing up the Nexus 5 for the first time, the phone automatically downloads the HP Print Service Plugin (opens in new tab). (That's whether there's a printer anywhere near you or not, actually, and we're not crazy about that. It's good for regular folks, but not great for ) Once installed, my Nexus 5 was able to see my Officejet J4680.
Easy.
You will, however, need to have an app that's capable of printing. Google says that "most devices" with KitKat will have Google Cloud Print pre-installed, and Chrome, Drive, Gallery and QuickOffice all support it as well. Other applications might need updating by the developers. As an added bonus, you can save printable items as PDFs. (That's an offshoot of the way this all works in the first place, and it's handy as hell.)
This isn't the new framework in and of itself. Obviously, HP's played a hand here. But it's also just about as simple as it can get.
So here's how it worked:
Doesn't recognise my Canon printer so have just stuck to using the cloud print app where my printer is registered.

So, based upon the above, are we to presume that it works with HP printers only?

It works on anything recognised by google cloud print. There's a bug right now that causes it to list every device you've ever owned as well.. I'm pretty sure my old TF101 wasn't a printer! Posted via Android Central App

Its not a bug. its displays all printer that you have registered. to delete printers you go here and delete https://www.google.com/cloudprint#printers

My Nexus 4 sends to the printer and receives scans as expected with the Samsung, Brother and HP apps. I would fully expect these to continue with 4.4

The HP app allows you to receive scans? That must be recent (or not available with my AIO), hadn't seen it before... Gonna have to try it out. One advantage to Google Cloud Print or this native implementation is that you can print from a lot more sources, like printing a site straight from the browser, which three HP printer app never allowed before (just didn't show up as a share intent on browser).

Holy crap this actually worked to my crappy old HP B110 series. Posted via AC App on Nexus 5

Never thought I would need to print from my phone but needed to the other day. My LG G2 made that easy.
Glad to see it'll be baked into Android. Posted via Android Central App using an LG G2.

The best printing app i ever used was the motorola printing app from my original Razr Maxx. Scanned for local printers and worked on Ricohs, HPs, everything.

It seems the more and more I learn about 4.4 I find out these features were already standard with my LG G2.

Wooo I have an HP wireless printer Posted via Android Central App on my Moto X

I happened to discover this the other day. I was looking at some pictures from my recent vacation and noticed a print option... decided to give it a try and was surprised by the results. Very happy with 4.4 so far.

This was one of many things I was excited about with the N5. One other thing I have discovered on my new white N5 32G is that wifi tethering works out of the box with no plan required from ATandT!!! (I can't believe how buttery smooth the N5 experience is compared to my old GS4!)

The Print Share app does a great job a printing about anything. I use it all the time and have for a while. Posted via Android Central App

i love it. works great on my HP 6510. and now i can finally delete that awful HP ePrint app that i had on my phone. it looks like Google kicked HP in the azz and/or helped them clean up their act by possibly writing the plug in for them. one of the worst offenders in history of bloatware, poor software design, unintuitive non responsive crap buggy software is the HP printer division.

now if the rest such as Lexmark and Cannon followed Edit: Also Gmail application needs to add an print option!

I've never had an issue with that HP app, I just don't use it much cause functionality is rather limited (at least on the last version I tried)... Most of my printing needs stem from the browser so Google's Cloud Print was always more useful, it's nice that it's now more seamlessly integrated and apps can print directly tho... HP's PC software is still fairly bloated but it could be worse (see Lexmark), I gotta give them credit for their ePrint email feature tho... I've used the hell out of that, it basically gives you an email where anything sent (including attachments) gets printed (you can set up a whitelist of recipient emails).

"(That's whether there's a printer anywhere near you or not, actually, and we're not crazy about that. It's good for regular folks, but not great for )"...did you forget to finish the sentence Phil? Or am I reading it wrong?

OfficeSuite Pro supports Google Cloud Print. OfficeSuite Pro 7 (PDF & HD)
Mobile Systems, Inc. --- What is New in Version 7.3 --- * Ability to print with Google Cloud Print.

ok Posted via Android Central App

Too bad I dropped HP printers a while back. Slow + expensive ink. Canon or death now.

HP Laserjet is best. Inkjet is a ripoff (ink).

HP Laserjet is best. Inkjet is a rip off (ink).

Interesting. I've been satisfied with my HP products over the years, personally. Although I don't do a lot of printing at home anymore, I've always felt like HP ink is inexpensive and long-lasting. And HP's free, next-day shipping of ink used to be really convenient, too. Anyway, this is a nice feature of KitKat. Posted via Android Central App, HTC One

Well it's nice but not entirely new. I have used Google Cloud Print for a while now and it works like a charm. Just hit "share" and pick "Cloud print" from the intent list. This saves me about one step. Some apps have already had Cloud Print support, but I have never bother re-registering my account for that app when I already can go, share, print, print. Since all apps wont come with the "print" option to start with, can you pick the print framework from the share intent list? Or do you need to keep the Cloud Print app around to do that?

i switched to LaserJet and will never go back to InkJets! so much more economical! this is the one i got - Hewlett Packard 1102W Laserjet Wireless Monochrome Printer

I'm using the HP is 1102 W with Android 4.3. I have not got it working with Cloud Print, however I can print to my IP address. Does it work for you with Cloud Print?

For some reason when I go to print a webpage from Chrome or even an email, it just prints out a blank page. Can't figure out what the reason is.

Print from Google Cloud is pretty good, but it's a little bit difficult for unsavvy people like me. There are mobile print apps on Google Play that can solve my problem. I installed StarPrint for my Galaxy Tab 3, which worked as expected to print to wifi or bluetooth printers. Find StarPrint on GP or visit the website http://android-print.com if you want.
Android Central Newsletter
Thank you for signing up to Android Central. You will receive a verification email shortly.
There was a problem. Please refresh the page and try again.