The Pool Party's over: Google shuts down photo sharing app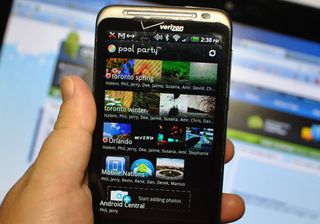 It's hardly a surprise, given the disbanding of the Slide contingent, that the Pool Party photo sharing service and app also has been put to bed. Pool Party was never much more than a beta endeavor (at least as far as end users go), and we're willing to bet a bit of the service is found in Google+ anyway.
Pool Party will remain up for a few more weeks, ending service on Oct. 14. Here's the official word:
Fare thee well, Pool Party.
Never got a beta invite. No harm, no foul.

Frankly, this stinks. Those of us that moved all-in on Google Voice can't do quick picture messaging. Pool Party filled the gap. Google usually makes the right calls. This isn't one of them.

I just got this email too. Never really used Pool Party

This sucks, I never got a beta invite either :( Maybe Google has something else up their sleeves. Off-Topic, Phil, your Thunderbolt looks like hell LOL

yea, seriously, what have you been doing, chewing on it? ;)

Damn, I really like this application.

I didn't even take the time want an invite for this lol.

I never even heard of that...

I tried it out but I never really uploaded anything to it. So this isn't sadding in the least bit.

Bit of a bummer, Picasa web is pretty rudimentary in comparison and i think this did a much better job to manage my photos. Hopefully we'll see its code moved into G+ as an enhancement.

This looks a lot like that Photovine app

Figures. I never get invited to any of the parties :(

Darn... Was sending my invites to people who were attending my wedding and created a pool just for it. During the reception and wedding the could have just uploaded the photos right then and there. Guess I will figure something else out.
Android Central Newsletter
Get the best of Android Central in in your inbox, every day!
Thank you for signing up to Android Central. You will receive a verification email shortly.
There was a problem. Please refresh the page and try again.