Poll: Which Pixel 6 model are you buying?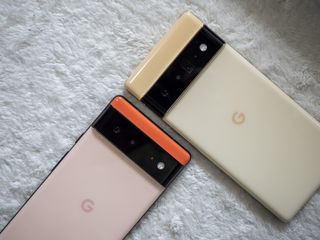 (Image credit: Nick Sutrich / Android Central)
The Google Pixel 6 and Pixel 6 Pro are finally here. On Tuesday, Google fully unveiled its latest smartphones in all their glory, to largely positive impressions. Both phones offer many of the same internals, including the powerful new Tensor chip at the heart of all the new AI tricks. However, the larger Pixel Pro brings with it a better display and a more versatile camera setup. In contrast, the smaller Pixel is much cheaper, undercutting many of the best Android phones.
So we want to know if you're buying either of the new Pixels and, if so, which one are you buying?
If you're looking for a powerful yet affordable smartphone, the standard Pixel 6 may be the way to go. At just $599, you're getting a 6.4-inch FHD+ display with a 90Hz refresh rate covered in Gorilla Glass Victus. The camera system affords you a 50MP primary camera capable of capturing richer tones and fast motions. There's also a 12MP ultrawide sensor to capture the bigger picture.
The Pixel 6 Pro brings all that and more while upping the display resolution to QHD+ and the refresh rate to a dynamic 120Hz for even smoother scrolling. On the back is an additional 48MP telephoto lens capable of 4x optical zoom and 20x "SuperRes" zoom. You also get a bump in RAM from 8GB to 12GB, an additional 512GB storage option, and a higher resolution selfie camera. The Pixel 6 Pro starts at $899 for the base model.
Despite their differences, the Pixel 6 smartphones are still very similar. They both run Android 12, carry an IP68 rating, feature wireless charging and reverse-wireless charging, and both are capable of all the same cool AI tricks that Google announced at its launch event. So it really comes down to whether or not you want to splurge for the spec bump on the Pro model or stick with the more affordable yet still very capable model.
The new standard
(opens in new tab)
Powerfully affordable
The Google Pixel 6 is the latest flagship from Google, featuring a brand new design and intelligent custom-built Tensor processor, enabling smart AI capabilities all throughout your phone.
The new best
Up close and personal
The new Pixel 6 Pro is Google's best smartphone to date, thanks to its smooth 120Hz display, powerful Tensor chip, and versatile triple camera setup that gets you really close to the action without sacrificing quality.
Android Central Newsletter
Get instant access to breaking news, the hottest reviews, great deals and helpful tips
Derrek is a long-time Nokia and LG fanboy who loves astronomy, videography, and sci-fi movies. When he's not working, he's most likely working out or smoldering at the camera.
The regular Sixel, in seafoam.

That seems to be a popular color. I just wish there was a Blue model like the iPhone 12

If I can find it.. It will be the Cloudy White 256GB Pixel 6 Pro.

I bought the Pixel 6 Pro Cloudy White 128 GB (Unlocked) model. With a case and tax it costed CA$1,372.44 if you're wondering. That's probably close to what I paid for the 4 XL.

6 Pro Black 512. Gonna exchange my OnePlus 9 Pro. Had every Pixel so far. Got rid of the 5 for the poor battery life. Very excited for the 6 Pro. Primary reason is the camera upgrades.

Wait, the Pixel 5 had bad battery life? I've only heard the opposite.

Pixel 5 battery life is great.

IF I trade-in my T-Mobile OnePlus 6T, I'll get the 6. I have absolutely no need for a phone over $600. I've had the #6T for 3 years, I'd keep the #Pixel6 for 3, or more. Might wait till the #Pixel6a.

The Pixel 6 Pro is the first Pixel phone I have actually wanted and considered purchasing. But I think I'll pass... for now. I want to see what Samsung delivers in February before I pull the trigger on a new phone.

Smart move. By then the Pixel will drop down in price, or you can take advantage of the pre-order deals Samsung usually give out 👍🏼

Honestly, this is exactly where I'm at. I've never wanted a Pixel until the 6 Pro but I'm curious about what Samsung will give us

I ordered the Black Pixel Pro 128gb only because I couldn't get the 265gb or 512gb due to the site crashing.

I'm staying with my pixel 3a XL & 5

What I REALLY wanted was a smaller device, but since both of them are nearly the same size, I went with the Pro (in Sorta Sunny) because that screen is just beautiful. I so wish the other colors (Seafoam is my favorite) were available on the Pro, too...

Got the 6 Pro 256GB in black, traded in an old LG I don't even use for $98 and got the free buds. I waited and and put my email in the waitlist for the 256GB instead of settling for the 128GB. Only had to wait an extra day and had no issue ordering it.

Black 6 Pro, 256. My trade in credit for my Pixel 4xl is $379 CDN.

Buying? After that fiasco of launch day? You surely must mean...Waitlisting. Unless, of course, you were lucky or literally paid double at eBay or Amazon. I'd like the white 6 Pro w/256GB.

I'm going for the Pixel 6 Pro on a pixel pass. Normally I get a new phone every 2 to 3yrs but I'm not in love with the Pixel 5 and the Pixel pass seem like a good fit for me.

I know I will need a new phone soon. The USB-C port on my current Pixel 3 XL has increasing become unreliable making charging and data transfers via USB very finicky. Additionally, I need to up the storage on my next phone to at least 256GB. At 256GB, there are fewer options of Pixel 6 or 6 Pro to choose from if I purchase directly from Google. The Sorta Sea Form, Pixel 6 is one of those choices and what I seem to be leaning towards. The Pixel 6 Pro's most standout feature is the telescopic, third lens. But the type of photos I take most often with my phone are far more close-up. I would rather put the extra $300 difference into buying a more capable lens for my DSLR camera.

Also, I believe that support for the Pixel 3 XL ends this month if I'm not mistaken.

Maybe, but mine is running 12 just fine. Got it from Woot just to play with Android 12. Am getting the 6Pro 128 Black. Via Best Buy, so waiting a while, but that's no problem.

Preordered the 6 Pro. I currently have the 5, but only because I broke my 3XL and I wanted access to the new spectrum. Google gave me a $400 trade in for the 5 though so pretty happy. Honestly, the 5 has been solid. Battery life was good and the camera was stellar as always. Eagerly awaiting the 6Pro. I don't like the color palettes so opted for standard black.
Android Central Newsletter
Get instant access to breaking news, the hottest reviews, great deals and helpful tips
Thank you for signing up to Android Central. You will receive a verification email shortly.
There was a problem. Please refresh the page and try again.