Polaroid launches 7-inch kid-focused tablet at $150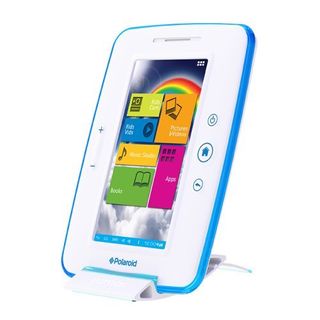 Polaroid (yes, that Polaroid) is launching a durable, kid-friendly 7-inch tablet today at a pretty great price point. The tablet, which doesn't seem to have a proper name, is designed to be rugged enough to be handled and controlled by a young child as you can see with the large buttons and bezels. The device is actually running Ice Cream Sandwich -- though you'd never know it -- and is pre-loaded with 35 "premium apps" out of the box, with more available in a kid-friendly App Shop. It's probably best not to give a little kid Google Play access right from the get-go anyway.
There's 8GB of storage and some moderate specs here, so for $149.99 it may be a compelling option if you're looking to get a young child in your life a "my first tablet" kind of device. The tablet is on sale now from Polaroid directly or in stores later this month.
Source: Polaroid (BusinessWire); Polaroid Store
Android Central Newsletter
Get instant access to breaking news, the hottest reviews, great deals and helpful tips
Andrew was an Executive Editor, U.S. at Android Central between 2012 and 2020.
A friend of mine, without consulting me, bought the 10.1" Polaroid PMID100 Internet tablet on Black Friday for $125 (regular $259). It ran ICS, had no Play Store access, and was the absolute slowest piece of technology with a touch screen that I have ever used. I started setting it up, and told her to return it. Hopefully this tablet is of better quality... for the kid's sake.

It looks like its running Windows 8 not Android lol

It comes with 3 fullscreen widgets that look like a bunch of Windows tiles. It's ridiculous!

This looks interesting, I wanted to get my son a tablet so he'll leave mine alone. Though I'm worried these type of devices suck. Is AC going to review this for us parents out there?

I need to start making babies

If that screen is 7" then this thing is probably 10" sized edge to edge with that bezel. Pre-printed buttons on the bezel are designed portrait mode... ewwww.

Its quite nice and affordable if you ask me http://techarena.co.ke/index.php/mobile/3068.html

That looks like a phone with an oversized case around it :S

I bought my 3 y/o daughter her own Nexus 7 because I got tired of sharing mine. I installed Nova Launcher on it and removed the app drawer button and just set the home screen up with a bunch of shortcuts to her apps and videos, then locked the home screen so that she can't make changes to it. I also disabled the lock screen, and she's able to turn it on and navigate to whatever game/video she wants to play on her own. She knows what the Home, Back, and Recents button does through trial/error, and quite frankly she amazes me on just how much she has figured out all on her own with the device. She calls it "Her Pretty Android" since I put a pink Androidified TPU case on it, and she absolutely loves it. The above device is all well and good, but I'd rather spend the extra $50 and get a device that will keep up with my daughter for a while, rather than a watered down "Tablet". My daughter has dropped her N7 several times, but she's not that tall, and a 2-3' drops hasn't done any damage.

I can't agree more - my 3 y/o boy loves my N7 and, like your daughter, has figured the whole thing out just through trial and error - he'll even open the Recents and close apps every now and then (or pick one to go back to). Locking everything down with Nova is a pretty good idea, I haven't put it on yet, but I probably should. While I haven't bought him his own yet, it would be completely worth it rather than getting a gimped "kid friendly" piece of doo. And the ruggedness is kind of a moot point, as he's extremely delicate with the N7.

Fully agreed. I think we underestimate just how easily little kids can grasp how to use tables like the Nexus 7. I was a camp counselor over the summer for 6-year-old kindergartners and first graders, and they very quickly figured out how to use the Nexus 7 I brought with me, so much quicker than I would have expected. Throw in the easy methods to "lock down" the tablet so to speak so the kids can't access anything they shouldn't be seeing and there's no reason at all to get these kid-ified tablets that can't grow up with the child.

Some of the Best After Holiday Sales on Android Tablets are at a site called TabletSprint -- the Novo 10 Hero introduced in December, is available at $219 -- and is possibly the best 10-inch tablet available priced under $300 -- and features a High Resolution 1280x800 IPS screen, 16GB Memory, a strong Battery and Dual Core processor with Quad Core GPU, front and back cameras, MicroSD Memory Card slot with unlimited storage, Android 4.1 Jelly Bean OS, Google Play with 400K+ Apps, MicroUSB port for connection to printers and other electronic devices, HDMI - to view personal videos and to download movies and watch in Full 1080p (HD) on to a large screen TV, WiFi, Bluetooth, Ethernet, and an option for 3G/4G connection. It's also a great gaming device with its high resolution screen and motion sensor. The manufacturer, Ainol Electronics received a "Best Tablet of the Year" award at CNET-CES 2012. TabletSprint also offers a quality Compact Case with built-in Keyboard which turns a tablet into a mini-laptop. Another new tablet is the Novo 7 Legend -- which may be considered the first quality "$100 TABLET" actually worth buying - with features that include a quality screen display, MicroSD storage, Android 4.1 O/S, Google Play, a MicroUSB port, and a processor good enough to handle 3D games and includes over a dozen children and young adult education and entertainment Apps -- Plus WiFi, Ethernet and 3G/4G Connection. TabletSprint includes $25 in Bonus Apps with all tablets available through their site, and also bundles in free 3G/4G wireless service with a free 3G/4G USB adapter and 500MB of free data every month with full internet access & VoIP voice calling.

I would rather buy the 2nd generation Kindle Fire for the same amount.

It is nice to see Polaroid breaking out of their usual market. Hopefully they can find their niche again as camera sales appear to be less and less since the days of the flexible instant photo.

We purchased the Kindle HD 8.9 when it went on sale for $250 last month. I was expecting disappointment, but for the money have been rather impressed. With the HDMI out, we were able to watch movies and youtube videos on the TV at my wife's uncles house over the holidays. On the way up we hot spotted my S3 and the kids watched movies from Amazon prime and were able to play their games on the Kindle Free Time Unlimited. Only problem now is they fight over it. My wife and I both have the S3, which they both play with, but now they'd rather have the Kindle. One of them complained in the car that the other one had the Kindle and they were stuck with the small screen on the phone. Poor Kids :). I had to laugh...it was so different just a few years ago. Here we are traveling down the road with a GPS, Satellite radio, 2 smart phones, a wifi hot spot, a Kindle streaming movies and 2 Nintendos. That's an impressive amount of tech rolling down the thruway compared to 10 years ago when most still were happy to have a cell phone and a CD player and none of that when I was a kid. Anyways, I think the Kindle Fire 2 at $159 (and cheaper when on sale - BJs had it for $139) is a better deal. It might be locked down, but I have little confidence in any of the Kid specific tablets. With Kindle Free Time, the kids are locked down to kid friendly stuff and the parents can use it later.

I still think the Kindle Fire(on sale for $139 when I got it) and a Fisher Price kid tough case that my two year old loves might still be the better option. I still don't trust these off brand tablets.

Amazon has great deals for tablets at http://www.amazon.com/gp/search/ref=as_li_qf_sp_sr_il_tl?ie=UTF8&keyword...
xo
Jenny

I bought my kids a sub-$100 tablet that runs ICS on it (Hipstreet Aurora). Not a bad little device for a kid's first tablet. It has stock ICS (granted without the play store, but it came preloaded with the 1Mobile Market). I loaded up a Kid's launcher to lock it down. It also blocks access to the web. I don't want them on there alone yet. However it can be customized to allow web access eventually and I can remove it and give them full access to the interface when they're old enough. I'm using Nova on my own phone. I didn't realize you could lock it down that much. That might be an option on these as they get older. For now Kids Place is working just fine. I just find that $200 is a bit much when you don't know how well the kid will take care of it yet. My oldest tends to be rough with his stuff. Maybe later on when they show they can take care of a tablet, I'd upgrade them to an N7 (or whatever Nexus tablet is out at the time).

Great new kids game KIDOKU just released to Google play:
https://www.androidcentral.com/e?link=https2F2F... Works amazingly on 7 inch tablets
http://www.Kidoku.me It's free to play!
Android Central Newsletter
Get instant access to breaking news, the hottest reviews, great deals and helpful tips
Thank you for signing up to Android Central. You will receive a verification email shortly.
There was a problem. Please refresh the page and try again.