Pokémon Unite for Android: Everything you need to know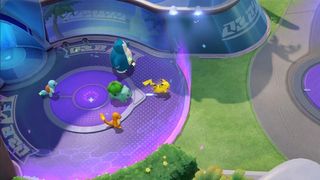 (Image credit: The Pokémon Company)
The world of Pokémon is no stranger to spin-off games, as many have been released in the franchises 25 year history. With games like Pokémon GO already taking the world by storm, The Pokémon Company is ready to introduce a new contender into the ring form of Pokémon UNITE. Announced in mid-2020's Pokémon Direct, UNITE is a multiplayer strategy game that tasks players with using a variety of Pokémon to take down opponents and level up.
Here's everything we know about Pokémon UNITE on Android.
What is Pokémon UNITE?
Pokémon UNITE is a strategic MOBA team battle game developed by both The Pokémon Company and Tencent Games TiMi Studios. Pokémon UNITE sees players facing off against one another in 5-on-5 team battles. During these battles, players will continue to cooperate with their teammates in order to catch wild Pokémon, all while leveling up and evolving their own Pokémon in the process.
What is Pokémon UNITE's gameplay like?
Pokémon UNITE is a multiplayer online battle arena or MOBA, so gameplay operates similar to other big MOBAs like Arena of Valor or League of Legends. Players participate in Unite Battles, where Trainers compete in 5-on-5 team battles with the goal being to outscore your opponents.
To earn points for your team, you must gather Aeos energy by defeating opposing Pokémon and the wild Pokémon on the field and then depositing that energy in one of the opposing team's goal zones.
Unite Battles take place in various stadiums, and the rules for each stadium differ. All Pokémon that enter the field start at Level 1, and then progress by earning Exp. Points by taking down enemies in battle, with the ability to temporarily evolve also in play. As you level up your Pokémon, you'll also get access to different moves, including a Unite Move, a powerful attack that can only be used in Unite Battles.
Which Pokémon are in Pokémon UNITE?
It's currently unknown just how many Pokémon will be featured in Pokémon UNITE when all is said and done. According to recent updates from The Pokémon Company, though, players can look forward to many of their favorites appearing in the game. So far, the following Pokémon have been confirmed to appear in Pokémon UNITE:
Absol
Alolan Ninetales
Blastoise
Blissey
Charizard
Cinderace
Cramorant
Crustle
Eldegoss
Garchomp
Gardevoir
Gengar
Greninja
Lucario
Machamp
Mr. Mime
Pikachu
Slowbro
Snorlax
Talonflame
Venasaur
Wigglytuff
Zeraora
While there are only 23 confirmed Pokémon so far in the game, fans have spotted others through various leaks and other brief looks at gameplay. Considering the fact that there are nearly 900 Pokémon in existence, they should have absolutely no trouble in finding more to include should they want to.
What platforms is Pokémon UNITE available on?
Pokémon UNITE is currently available on the Nintendo Switch, and will release on both Android and iOS devices later this month. It's unclear if future platforms will be supported, but given the fact that Pokémon games tend to stay on Nintendo hardware, it's unlikely.
Will Pokémon UNITE support cross-play?
Yes. According to Nintendo President Shuntaro Furukawa during a recent financial briefing Q&A session, players on Android, iOS, or the Nintendo Switch will all be able to play with one another.
Is there a Pokémon UNITE beta?
A beta test for Pokémon UNITE took place in March for Canadian Android users only. Android users had to be a resident of Canada and over the age of 16 to participate in the beta, and any progress made in-game during the beta was reset once the beta was completed.
When does Pokémon UNITE release?
Pokémon Unite is available now on Nintendo Switch, and will release on mobile devices later this month on September 22, 2021. The game will be releasing on both iOS and Android, although specific device requirements have yet to be listed.
Better yet, cross-progression will also be enabled, meaning that players will be able to start their game on a Nintendo Switch and continue right where they left off when they play on their phone, or vice versa.
Get the Android Central Newsletter
Instant access to breaking news, the hottest reviews, great deals and helpful tips.
Anthony Nash has been writing about games and the gaming industry for nearly a decade. When he's not writing about games, he's usually playing them. You can find him on Twitter talking about games or sports at @_anthonynash.