Podcasts may come to Google Play Music on April 18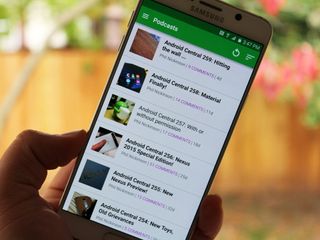 We've known for a while podcasts are on their way to Google Play Music, but we may now have a date to look forward to: April 18. Oddly, the date comes from an email that NPR sent out to members (via Android Police), which notes the network's podcasts will be available on Google Play Music when the service launches on April 18:
Google originally announced that podcasts were on their way to Google Play Music way back in October, but they have yet to officially arrive in the app. While support could very well arrive on April 18 as NPR says, it should be noted that podcaster Bill Simmons previously indicated podcasts would arrive sometime in February — which obviously turned out not to be true.
As always, nothing is official until Google says so.
This might be a little more concrete than what a podcaster says... Posted via the Android Central App

This has taken way too long. Hope the info is accurate and that they will finally have podcasts soon.

I can't wait for this! Amazing. Posted via the Android Central App

Does anyone else get notifications from googleplay music about podcasts from Android Central? Posted via the Android Central App

I cant even find a single podcast in GPM... how are you viewing these?

That's the funny thing, If I don't listen to the podcast immediately after downloading the podcast- then I lose it and can't find it anywhere. I don't remember subscribing to AC on Googleplay Music ever, I have downloaded the podcast from the AC app and listened to it with Googleplay music- so maybe I managed to subscribe that way? Maybe the podcast "section" of the app is what they're releasing?

So much for that whole embargo thing.

I've been looking forward to this, but if it doesn't have 1.X speed-up controls, I won't be using it.

What I've got on Google play music is 10 second rewind and 30 second forward for podcasts. Posted via the Android Central App

Are you able to restrict downloads to over WiFi only?

I already have googleplay music set to only download over wifi so I'm assuming that restricts it. I've gotten notifications about AC podcasts being available for 5 weeks or so. It always asks if I want to download it. Seems like I always get the notification while I'm at work which has wifi available.

You have ten second rewind on Google play music?? HOW?!?!?! Give me your dark secrets!

I have no idea! Haha! It was just there on podcasts only. Would be great for audiobooks too. (Nudge-nudge Google.)

This will be awesome! Now we'll be able to rate podcast shows and leave feedback and reviews like you can in iTunes Posted via the Android Central App

Call me spoiled, but I need 2x speed and start from x seconds. Who am I kidding... Pocket Casts has me for life. Posted via the Android Central App

Yeah, I'm really glad that this function is coming to GPM, but the odds of my being lured away from BeyondPod are pretty slim. Posted via the Android Central App

I know this is important to some users, but I don't want this, just more nonsense to clutter up and slow down the music app. Just my opinion, also, I think the GPM app itself needs a redesign and UI update.

I can't wait, will be great with my newly installed Android Auto. Posted via the Android Central App

Maybe I'll actually listen to one Posted via the Android Central App

I hate having separate apps for everything, it would be nice to have all in one Google Music

So can anyone here at AC officially not confirm or deny this? Never mind. I read the last statement in the article. Posted via the Android Central App

Pocket Casts has little to worry about.

Yeah its usually one of the first apps I install. the app looks and runs great and I love the sync feature. It helps alot when I'm going back and forth with phones. Plus I know it's kinda dumb but I like how it keeps track of how long you been listening to podcasts Posted via the Android Central App

I was about to say that, Google is sooooo far behind here. Remember Google listen? Posted from my Nexus 6/Nexus 7 2013/Surface Pro 3

Can't wait! I really hope it's well done, I'd love to consolidate another app. I love GPM already, and PocketCasts has done a nice job, but I'll be very happy to uninstall that and move to a single app for all of my audio. I don't care about playback speed, all I ask is clean UI, reliable performance, and a sleep timer.

A sleep timer was just added to the iOS app.

For what? PocketCasts? It has sleep timer on Android as well, I'm just saying GPM will need it for me to switch.

Right after I already ponied up the $3 for Podcast Addict. Meh, I'll just justify that as supporting a dev of an awesome app.

now be honest. was that $3 dollars of your hard earned cash? or was it Google rewards currency? stings none the less.

I'll give up Pocket Casts when they pry it from my cold dead hands. Posted via the Android Central App

I hope they have the ability to support paid podcasts. I have one I subscribe to and a lot of apps do not play nice with it Posted via the Android Central App

I still prefer Stitcher Posted via the Android Central App

I prefer to use Google Apps whenever possible but I'll be really surprised if this will be better than Pocketcasts.

agreed, it's my go to and it has so many options that I can't imagine GPM being able to compete for frequent podcast listeners. Still nice to finally have it available though

>...inside of Google Play Music, a streaming service similar to Apple Music. TRIGGERED. Posted via the Android Central App

Before my Android, I was a heavy BlackBerry user, and usually have an iPod (then eventually iPad) so I can listen to podcasts, and have access to apps that never made it to BB (there was A LOT).
I still have an iPad with me, but if podcasts come to Google Music, I may have to permanently let go of the iPad.

Now we need GPM to have an api so it could work with the echo

I would love a way to get podcasts onto my wear watch so I can listen to them while running ... seems like using GPM might make that possible, has anyone heard anything regarding that?

Finally! Posted via my Nexus 6
Android Central Newsletter
Get the best of Android Central in in your inbox, every day!
Thank you for signing up to Android Central. You will receive a verification email shortly.
There was a problem. Please refresh the page and try again.