Google is taking over the world [#acpodcast]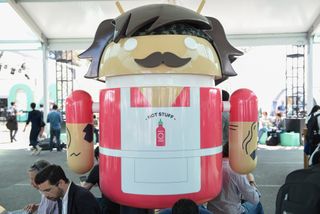 The Android Central team of Daniel, Jerry, Andrew, Alex and MrMobile take on all the big announcements from Google's expansive and intimidating developer conference.
Unlike last year, there weren't any huge product announcements, nor new products, but what we got — updates to Android O, Assistant, Home, Photos — and the introduction of Google Lens and standalone Daydream headsets, give us some insight into Google's AI and machine learning future.
This episode of the Android Central Podcast is brought to you by Thrifter, the best place to get great deals in your inbox every day!
Show notes:
All the major announcements from Google I/O 2017
Our favorite things from Google I/O
Google I/O 2017 preview!
Daydream and Tango are going to be huge... someday
Daniel Bader was a former Android Central Editor-in-Chief and Executive Editor for iMore and Windows Central.
Interesting you didn't want to answer the question. The answer is 1984.

http://www.neatorama.com/neatogeek/2013/08/29/August-29th-Skynet-Becomes...

First of all - great podcast. I truly believe the next 15 years are going to be exciting regarding AI and machine learning. To my knowledge, there are multiple players - companies - that are spending - big - money in developing machine learning - Facebook I believe is one of them. I would assume - multinational interests would be correct. Out of those ingaged players - investors - I would trust Google far more than the rest of them. That's why I think the next 15 years are going to be rather interesting... Bring it Google.

Facebook, Microsoft, NVIDIA and Google are all investing huge money in AI. Amazon is starting to go that way, too. Right now, Facebook and Google have a big headstart, and Google has the benefit of superior hardware design with their TPU and developers to power it through TensorFlow. I'm hoping Microsoft wants to go all-in and try to seriously compete with Google to offer AI systems for others to build out/use because they will come up with ideas that benefit their enterprise software, and that will really get the ball rolling. Right now industrial machine learning is a bit of a hodge-podge of companies doing their own thing, and getting everyone on the same track and working with the same methods is important.

I read this - awhile - back - which was intriguing... I occasionally use 'Pocket' to listen to articles such as this when I have time. https://www.nytimes.com/2016/12/14/magazine/the-great-ai-awakening.html Delete it if you find this inappropriate for your site..
Android Central Newsletter
Get the best of Android Central in in your inbox, every day!
Thank you for signing up to Android Central. You will receive a verification email shortly.
There was a problem. Please refresh the page and try again.