Android Central Podcast: The Galaxy S8 super show!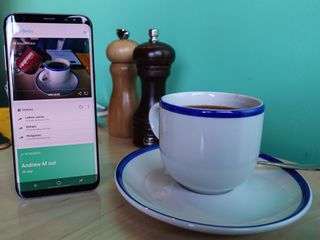 It's here! Daniel, Florence, Michael Fisher (MrMobile), and special guest David Ruddock of Android Police have all reviewed the Galaxy S8 and S8+ and go in-depth about what's good and what's not so good.
Why did Samsung ship Bixby half-finished, and was the oft-criticized fingerprint sensor going to be somewhere else until a last-minute change forced Samsung's hand? And are the cameras better because they're more accurate, or in spite of it?
Join us as we answer these questions and more!
Android Central's review of the Galaxy S8
Daniel Bader was a former Android Central Editor-in-Chief and Executive Editor for iMore and Windows Central.
David Ruddock on the AC podcast?
Cats and dogs living together! Mass hysteria!

Turned out well. Wasn't sure when I read the description.

How come no one mentioned that the fingerprint sensor wasn't placed below the camera probably due to their phones using MST/NFC technology plus wireless charging?.

Never thought of that...I guess we can't have it all.

Because that is not the reason.

David Ruddock on AC podcast made my day

I still think Bixby and Google Assistant still have a very viable future... I do believe Bixby will be geared to Samsung's eco system - no doubt. Having a voice input definitely has its advantages... At certain times it may not be the preferred method - but at other times​ it may be the - only - method available too... So to have someone say it has no value - is - ehhh - somewhat short sighted. In the future, I envision the AI interface to be highly advanced and use different input and output devices... In a noisy environment etc, throat mics work well and there are other methods for hearing conversations too... so in the future - I see people literally being 'plugged into' their communication device. However that may be. Using a history of what the most commands that are given to the device - will guide the developer \ manufacturers to what is in demand. Kind of like Amazon's marketing strategy...

I agree Bixby has potential but right now it's useless. I moved my edge bar to the left so when.i swipe from there i get my edge app icons including a Google one. No Bixby and it feels like old Now.

These new AI's need to multitask very well. They need to handle what currently has the focus and as well bring up new items and manipulate them also... Currently - think of casting to a device and pausing, go back 30 seconds etc - doing very basic moves for now... Handling presentations etc etc. The list goes on...

Regarding the fingerprint reader, the Samsung clear case has a slot over it which makes it MUCH easier to find.
Android Central Newsletter
Get the best of Android Central in in your inbox, every day!
Thank you for signing up to Android Central. You will receive a verification email shortly.
There was a problem. Please refresh the page and try again.