Plex Live TV now available for web and Amazon Fire TV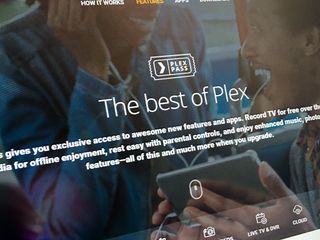 Owning a Plex Pass just keeps getting better and better. In addition to longtime features such as being able to access your own content and accessing other content through channels, Plex recently added a Live TV feature. Users with a compatible antenna and adapter would be able to hook into over-the-air (OTA) TV broadcasts for free. Combined with Plex's metadata, the interface looks just like you'd expect with channel listings and show information. The feature launched on Android TV before becoming available on iOS and Android smartphones.
Today, Plex has announced (opens in new tab) users will soon be able to browse OTA channels from the Plex website or an Amazon Fire TV. That doesn't quite cover all the platforms Plex is available on, since the service is on every platform imaginable. Still, it will be a significant amount of users, and the feature will continue to roll out to new platforms as time goes on.
The Fire TV will also be able to access the DVR feature. As suggested, this feature lets Plex users record free OTA streams to their local hard drives to watch at a later time. The web interface does not have DVR support at this time. The Fire TV Plex application (opens in new tab) will also be updated with a new, more intuitive interface. The Live TV and DVR functionality is only supported when connecting to physical servers hosted by a computer or NVIDIA SHIELD TV, not from a Plex Cloud server that has media stored in a Google Drive, Dropbox or other cloud storage service.
Are you interested in Plex Live TV or DVR? Let us know down below!
Android Central Newsletter
Get instant access to breaking news, the hottest reviews, great deals and helpful tips
Love that feature one my phone and Android tv, just waiting for that on my Xbox one s...

I'd settle for a better interface on the Xbox One

Am I missing something? The only live TV interface I see on phone or Android TV is a stupid poster art interface. No time based grid or anything. Is that under something else?

Anyone know the technical deets on this? I'd love to be able to use my FireTV stick to get a signal from my HD HomeRun, but would rather not leave a server running just for the couple times a year when this would be useful. I had the Plex app on my Synology NAS, but the NAS didn't have the horsepower to deal with the transcoding, and the last I checked, Synology hadn't shared their secret sauce with Plex so that it could be optimized.

Decided to give this a shot, here's what I found out. First off, I've got a Synology DS412+ (basically a 4 year old NAS), where I installed the 64-bit Intel version of Plex Server, and an HDHomeRun EXTEND (3 years oldish), and I shelled out the $5 to get PlexPass for a month. First off, I had to update the firmware on the HDHomeRun for Plex to see it, which required downloading the WINDOWS version of their software, NOT the Windows 10 Store APP. That did an automatic firmware update, and then I was off to the races. I'm using a FireTV stick from the original generation, the HD HomeRun is wired to a gigabit switch, there's a long-ass relay to another gigabit switch, then the FireTV stick is connected to a 5GHz Wifi router plugged into that switch. Plex saw the device a few seconds after the update was complete, and it was pretty simple to set up the HDHR- this was mostly giving it my zip code so it could find a program guide, then disabling all the stations I don't want. Once that was done, "Live TV" showed up as an option in the Plex app on the FireTV stick. Again, very straightforward to start-- it shows what's currently playing on each channel, you pick it, select "Watch," and you're off to the races. Playing live TV had basically zero impact on the NAS- CPU was sitting at idle the whole time, even when watching a 1080i, 60FPS live broadcast. Network wise, the NAS is reporting a constant 2.1-2.3MB/s running through it-- basically exactly what I should be getting over the air. I'm getting full surround sound, and the picture is mostly as sharp as watching it on the OTA receiver. The most obvious difference is the frame rate-- I'm not getting close to 60fps. Comparing the screen to what I get out of the store app on the computer, it's night and day. If this is 24fps, I'd be surprised. Next, the picture is choppy-- about every 5 seconds, there's a just-noticeable pause, then the picture picks up again. It's not unwatchable, but it's very annoying. This is usually accompanied by some image artifacting, but that's inconsistent. Finally, the stream is significantly behind live TV-- the store app is about 2 seconds behind, but the FireTV app is about 10 seconds behind. If you're using this to play a sporting event in a second or third room, this is going to be a problem-- the folks getting the direct OTA signal are going to be celebrating a touchdown before you even see the ball get thrown. I didn't test the DVR functionality at all- I'm assuming that it's going to work about the same as watching a downloaded show. The UI looks like any other DVR- you can either pick a show from the program guide or search for it by name, at which point you can set all the usual stuff like padding the recording, only recording new episodes, only recording in HD, replacing SD versions with HD versions, etc. The only obviously missing feature is commercial removal, but 20 seconds on Google makes it seem like there are 3rd party solutions to automate that. And on that note, it seems like Plex *has* gotten access to the Synology secret sauce-- I can now watch video files without the CPU melting down. In fact, it's sitting below 10%, even when watching 1080 video. However, I still get the stuttering issues that I saw with live TV, and it generally feels even more obvious here. It also seems like there were more issues playing older 720P content than I had playing newer, 1080P content, even though the 720P content was 1/6th the size of the 1080 content. I'm not sure if it was trying to upscale the content, or if the older content just used a less efficient codec. To prove that this was specific to the Stick, I installed the Plex app on my year-old Samsung SmartTV, and the files play perfectly on there, again with no CPU overload. (They haven't added live TV to that app yet, so I can't compare that.) The TV is wired to the network, however, Vimu plays those files back over Wifi with no issues. So all of this points back to my 1st-gen Stick struggling with Plex's software. It's possible that Plex tested this with second-gen sticks, so they didn't see the issue. But without having one of those, that's just speculation-- I'm sure someone will chime in on that hardware eventually. And since the second-gen sticks just went on sale, it's also possible that G3 is on the way, which also should help matters. It's also possible that they just didn't care. To try to prove that it was software and not hardware, I installed InstaTV on the stick. I didn't pay for the codecs ($10), but it's immediately obvious that almost all the playback performance issues don't exist-- I had to manually change the hardware decoder to Type C and maxed out the transcoder settings, but now I get something much closer to 60fps, although there's some obvious video degradation, and I'm still about 4 seconds behind live TV. Because I didn't pay for the codecs, I'm not getting audio, but I'm assuming that it would work. HDHomeRun also has an app, but the FireTV Stick isn't officially supported. However, you can download the APK directly from the manufacturer (https://forum.silicondust.com/forum/viewtopic.php?f=126&t=33103), and from what I've heard, it works for live TV- you just don't get the DVR functionality. So this gets into an interesting "do I get it" situation-- first off, you have to decide if you care about that delay or not. For me, that's almost a dealbreaker before we start, because my main use for this would be to put a TV outside during the Super Bowl. But since that TV would be right next to a room getting the game in real time, I can only see myself doing that if I absolutely couldn't get the antenna working out there. If you just want to watch live TV in a room where you can't get an antenna, it's probably fine. Next, you need to ask how much you care about the frame rate & pausing- I'm not someone who puts TV on in the background for the most part, so it would bug the hell out of me. Hopefully it's not an issue with the newer hardware, but I'm not about to grab another one to test it. I do see at least one complaint about stuttering on Reddit, but they don't indicate what hardware they have. The last question is how much you need the DVR functionality, and if that's worth $5 a month. If you just want live TV, and you've already got an HDHomeRun (which is kinda the only thing going), you can side-load the app in 20 minutes and see if that works for you. Or you can make a 1-time payment for InstaTV. This is obviously a moot point if you already are paying for PlexPass. Personally, I'm probably not biting. I'm going to side-load the app, and if that doesn't work, I'll continue to just drag a laptop in when needed. But if you're already paying for Plex, and you've got newer hardware, this might be worth it.

Thanks for your review. I would like to know your experience with the DVR because I'm having major issues with Plex Media Server on the Shield TV with HDHomerun Connect. I wish Plex would solve some of these documented issues before releasing possibly more buggy software solutions.
Android Central Newsletter
Get instant access to breaking news, the hottest reviews, great deals and helpful tips
Thank you for signing up to Android Central. You will receive a verification email shortly.
There was a problem. Please refresh the page and try again.