Plex finally brings Live TV to its apps, coming first to Android TV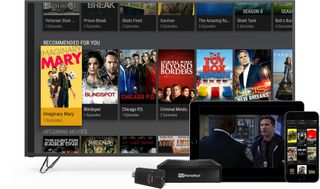 You've been able to record over the air (OTA) TV for a while now with Plex DVR, but that has required the use of the web app and you haven't actually been able to view things as they broadcast. That's all changing as Plex is flipping the switch on live TV channels inside the Plex client apps, beginning withAndroid TV and iOS.
Starting today, June 1, the Plex app on Android TV will be able to hook into OTA TV channels using a compatible tuner. We've looked at things like the HDHomeRun before used with an NVIDIA Shield TV, and it's a similar idea here. Except you're using Plex. This is a staged rollout, and the Android mobile apps won't be far behind with them due to be updated to support the new feature sometime in June.
The feature requires Plex Pass, as much else does inside Plex, but if you already have a subscription there's no extra cost involved. If you already use Plex DVR, it'll feel very familiar. The same approach to organizing content has come across to TV inside the client apps. A 'traditional' guide is left out in lieu of a simpler way to watch TV. You can see what's on now, what's coming up, and break it all down into categories like sports, or movies.
Everything is incredibly visual, with Plex's metadata functionality applied, so you'll get artwork and associated information including IMDB and Rotten Tomatoes.
Of course, the other big thing here is that you can finally interact with Plex DVR without having to resort to the web app. It feels like Plex maybe rolled out these features back to front, but what you have now is a single place to watch and record your favorite shows.
The same options already present in the Plex DVR web app are now in the client apps. You can record just a single show, or set a season link, and Plex will also give you TV recommendations based on what you watch and record.
Eventually, TV recommendations will make it to the home screen, but that's something on a list for a future update. For now it's a fairly steady rollout of the basic features, and it's looking pretty sharp.
One bit of exciting news for Android mobile users that don't have something like a Shield, is that Chromecast support will be coming down the road. The time frame is unclear right now, but eventually you'll be able to send live TV from the Plex app on your phone or tablet to your Chromecast. Which is superb.
For now, it's Android TV owners who get the best, and the graphic above shows which tuners Plex live TV currently supports and which it will support in the future. Initially, it'll just be the HDHomeRun products, but in the future, it'll be possible to use it even with a USB Tuner connected directly to the Shield TV box.
There are no shortages of ways to use your Android TV box like the Shield TV to watch live television, but Plex's killer feature is now being able to handle that alongside all your own media in one place. For 40 bucks a year or $120 lifetime ($4.99 per month) you're getting a ton of functionality from the Plex Pass subscription.
And if you're using a Shield TV running Plex Media Server, you now have a box that can quite literally do it all.
Download Plex from the Google Play Store
Sign up for Black Friday email alerts!
Get the hottest deals available in your inbox plus news, reviews, opinion, analysis and more from the Android Central team.