PlayStation Vue is shutting down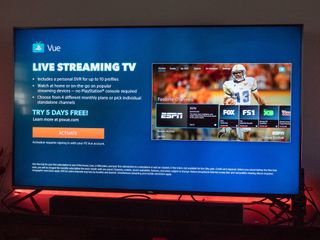 (Image credit: CordCutters)
The long-whispered rumors turned out to be true. Sony today announced in a blog post that it is shutting down PlayStation Vue.
The streaming service — one of the first one what we'd consider to be the major streaming services alongside Sling TV, YouTube TV, AT&T TV Now (the former DirecTV Now) and Hulu — PlayStation Vue long suffered under the weight of its own name. That is, folks forever were thinking you had to have a PlayStation account to use it.
PlayStation Vue launched in the spring of 2015. At the time of its demise it had dozens and dozens of channels — about as many as any of its biggest competitors — and plans ranging from $50 a month to $85 a month.
From the blog post:
Well, not really surprised. I tried it last year and it was not reliable and too expensive.

Just switched from AT&T TV Now to YouTube TV after price increases to my grandfathered plan. These services are definitely losing money and I'm not sure if the financial advantages will be there in a few years. However, the technical advantages remain and YTTV is doing well on both the interface, content, and price for now. None of these are perfect but I'm now looking more at infrastructure and technical features. We'll see what services are left in a couple of years but none of this seems to be going according to plan for providers or consumers.

When I cut the cord a few years ago, I chose PS Vue. At the time, it had the best combination of price, quality, and usability, and it was available on my FireTV. By sheer coincidence, I finally dropped Vue last week -- literally the day before news broke that Sony was looking for a buyer for Vue. The reason was price. Sling offered 95% of what I wanted for $10 less (and unlike Vue, I could go with even cheaper plans if I wanted to). Still, I will miss Vue. It had a great UX, and it eased me into the world of cord-cutting with zero friction. In comparison, Sling TV's interface is a bit of a nightmare (not as bad as Hulu, but then nothing is), and YouTube TV is out of consideration due to price. Here's hoping that either Sling's interface gets better, or I get more money for YTTV.

I've had Vue since day one. I've always enjoyed it, it had everything I wanted, sad to see it going away. Now I better start looking for a replacement.

I just cut the cord last week, yeah I am one of the late ones. I didn't pick Vue (didn't hear about the news of them trying to sell), so I guess I lucked out there. I ended up picking Youtube TV for our main use, but I also got Sling Blue because it had 4 or 5 channels that I watch. Even with two services plus wifi I cut my cable bill in half! If Sling would have a opition with live local channels (for a higher price of course) I could have just gotten Sling. By the way have used both of the apps on my phone and TVs at home for almost a week now and they both perform well.

If you prepay two months in advance they usually send you a over the air antenna. Or that was a promotion they've had.

They still had it, but I want to DVR it not watch it live for the most part. Plus with Youtube TV you cab watch local live on your phone etc..

Surprised they didn't shut down sooner. They were outrageous in price for streaming services. As are most of the streaming companies. The problem is cable companies have you trapped unless you bundle all your service (phone,tv,internet), if you get rid of one service, they raise the prices to offset their so called loss. Streaming services have the lack of being able to under cost a tv network's value due to limitations. I've tried Sling, YouTube TV, DirecTV Now and I've essentially crawled back to DirecTV satellite because my price is still cheaper than streaming services and I get the channels I want. Essentially ever two years I get the same plan with my two boxes for $50 a month.

I don't understand why everybody is saying YouTube television is too high priced, it's $50,you get a local channels without an antenna, unlimited DVR option, works on five TVs at once. It also has a outstanding user interface. You put YouTube TV on an Nvidia shield and you're good to go. I mean $50 plus my internet service that's half of them what cable was charging.

I agree but I also live where the cable options are expensive. Some people can get cable and internet for closer to $50 and I can see why they are complaining about the price hikes. But I think it is reasonable. I only wish I could take out channels I'll never watch and pay less.

Works on 3 TVs at once. You can have more accounts than that though.

Easily has the best UI experience of all. Just switched to YouTube TV and it's ok. No quick guide or 'flashback' is driving me crazy.

Does anyone with a PS4 know if any of the competitors like Hulu or YouTube Tv are available on the PlayStation store? My main tv is connected to my PS4 and I'd rather not go spend the money for a Roku unless I have to. FWIW I loved PlayStation Vue, but the price did keep going up.

Hulu is on the PS4. Not sure about YouTube tv.

This pisses me off Vue has the best DVR and UI hands down.I may have to check out you tube tv. I didn't see a problem with the price. You get what you pay for and I thought it was a great service.

I just love the first paragraph of the press release, when they tease their product as if they are about to reveil an update before just announcing they are closing it! Great trolling 😅
Android Central Newsletter
Thank you for signing up to Android Central. You will receive a verification email shortly.
There was a problem. Please refresh the page and try again.