PlayStation 4 Pro vs. Xbox One X: Which should you buy?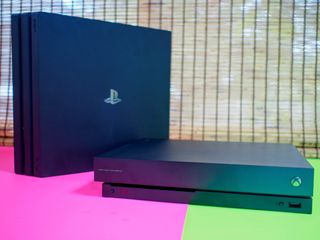 Gamers have been politely discussing the merits of owning an Xbox verses owning a PlayStation for a long, long time. Some years, the scales tip one way, some years the scales tip the other way. The truth is there's never been a "winner" in this particular conversation for very long, but if you have no loyalty toward one or the other it's not uncommon to pick based on which is more popular or more capable at the time.
This year, the conversation lands squarely on the shoulders of the latest console heavyweights. Sony's PlayStation 4 Pro and Microsoft's Xbox One X aren't so much a new generation of console as they are more capable versions of the existing generation. These are the versions built to be a little more future-proof, and help set the stage for new gaming experiences.
Here's how the two compare with one another.
Way less interesting on the outside
There's no nice way to put this, both the Xbox One X and the PlayStation 4 Pro look kind of bland.
Microsoft successfully shrunk the massive bland box that was the original Xbox One, and the result is a slightly less boring thing that will easily be mistaken for a generic DVR when it is not powered on. Sony took the slanted box look of the PlayStation 4 and made it bigger to hold more hardware, but it's still just a slanted box with curved edges.
The PS4 Pro design has a little more character than the Xbox One X, but not enough to really matter. When you fire up both consoles you get either the iconic blue pulse of the PlayStation 4 or the glowing white pulse of the Xbox and that winds up being enough to make these things feel a little more alive. What's more interesting is how similarly wide these machines are. The Xbox One X is just slightly wider than the PlayStation 4 Pro, but it makes up for it by being appreciably smaller going the other way. The slanted design of the PlayStation 4 series has always made the console feel longer than it needed to, but this design decision feels particularly exaggerated with the larger Pro model and the Xbox One X looks positively dainty by comparison.
I guess it's not what's on the outside that counts though. Here's a quick look at how the specs compare.
Swipe to scroll horizontally
Category
Xbox One X
PlayStation 4 Pro
Dimensions
11.8in x 9.4in x 2.4in
11.61in x 12.87in x 2.17in
CPU
8-core AMD custom Scorpio Engine
Liquid-cooled vapor chamber
AMD Jaguar 8-core (x86-64)
GPU
40 custom AMD GCN cores (6 TFLOP)
12GB DDR5
326GB/s memory bandidth
36 AMD GCN cores (4.2 TFLOP)
8GB DDR5
218GB/s memory bandwidth
Storage
1TB
1TB
Optical out
Yes
Yes
AV out
HDMI 2.0
HDMI 2.0
Power consumption
245w max
310w max
4K Streaming
Yes
Yes
USB
USB 3.0 (x3)
USB 3.0 (x3)
VR support
No
Yes (PSVR Enhanced)
A few other interesting things to note:
Sony includes a headset in the box so you can use voice commands and chat right away. Microsoft does not.
Xbox One X still fully supports TV passthrough, complete with HDMI-in and IR out. PS4 Pro has none of these features.
Both Xbox One and PS4 Pro have internal power supplies, so no more ugly bricks!
Way more interesting on the inside
Microsoft managed to make the smallest Xbox it has ever made, and at the same time made it noticeably more powerful than the larger PlayStation 4 Pro — at least on paper. As impressive as the gap between the six-teraflop performance cap on the Xbox One X is compared to the mere 4.5 teraflops on the PlayStation 4 Pro, there are a few things you need to know about how that translates to real-world performance in games.
The original versions of a lot of Xbox One and PlayStation 4 games were barely capable of "full HD" 1080p gaming at 30fps. The target for a lot of Xbox One X and PlayStation 4 Pro games is 4K gaming at 30fps, but that's not the limit. There are a bunch of games on both PlayStation 4 Pro and Xbox One X capable of 4K gaming at 60fps with HDR enabled. Currently, all of these 4K games are being labeled as "enhanced" because they support these more advanced gaming modes, but still play on regular Xbox One and PlayStation 4 consoles.
Here's where things get interesting. Over time, developers are going to be able to do more with the Xbox One X. We're already starting to see some enhanced games for the Xbox One X that look a little better than their PS4 Pro counterparts. Right now the differences are subtle, and only really apparent when the games are subjected to thorough analysis. By the time these consoles have fully matured and developers have started to really push the limits of the hardware, it's possible there will be a clear visual difference between an Xbox One X and PlayStation 4 Pro version of the same game.
One really important caveat to all of this performance talk is that it only matters when you're playing on a 4K television. In fact, in some cases, it only matters if you're playing on a 4K HDR television. That's far from everyone, and if you're playing on a 1080p television there's a limit to how much of these improvements you're actually going to see. The performance on either console will still be well above what you saw on the original Xbox One and PlayStation 4, but the potential performance gap we're discussing here won't be something you'll experience until you make the jump to a 4K television.
Four HDR TVs under $700
Virtual Reality Gaming
This section was originally going to be a lot more interesting than it ended up being in real life. Sony's PlayStation VR headset works best with the PlayStation 4 Pro, and so far in the VR world this headset has been remarkably successful with well over a million headsets sold in the first year of its existence. PlayStation VR games continue to roll out at a healthy pace, and have started to include big name developers like Bethesda and Capcom. It is the most popular VR platform by a fairly healthy margin, and continues to grow quickly.
Microsoft's Windows Mixed Reality headsets are new to the Windows world, but will not be coming to the Xbox One X. Despite the Xbox team's insistence that the console is capable of delivering the full Windows Mixed Reality experience, Microsoft has made it clear the Xbox won't see a Mixed Reality headset until there can be a wireless option. Microsoft doesn't want users to trip over wires in the living room, or have extra hardware going in between the Xbox and the television like you have with the PlayStation VR.
Bottom line? If you're an Xbox fan eagerly awaiting VR, don't expect it to happen anytime soon.
Which should you buy?
There's a lot to consider when buying a game console, but for most folks, it comes down to a couple of things:
What are my friends playing on right now?
Where are the best games?
How much does it cost?
While that first one is up to you to answer, the other two are really easy this go around. If you want the best single player games, you probably want a PlayStation 4 Pro. Not only are there more really good single-player games on the PlayStation right now, but with the addition of a PlayStation VR, there's an entire category of fun local games that are not coming to the Xbox anytime soon. If you care about these kinds of games, the PlayStation 4 Pro is absolutely the console you want to go with. Xbox is more focused on multiplayer gaming right now, and that is also a good thing.
As for the price tag, that $399 PlayStation 4 Pro price isn't really that much smaller than the $499 Xbox One X price. It's cheaper, sure, but there's an argument to be made for this Xbox being $100 better than its PlayStation counterpart if you own a high-end 4K television. If you care about having the best graphics, the Xbox One X is going to be the best thing for you to buy long-term. Even if you don't have a 4K television right now, a lot of you probably will make the upgrade before the next big update to the Xbox hardware.
Why are we talking about game consoles on Android Central? Let us explain.
Get the Android Central Newsletter
Instant access to breaking news, the hottest reviews, great deals and helpful tips.