PlayOn bringing 100+ channels to Chromecast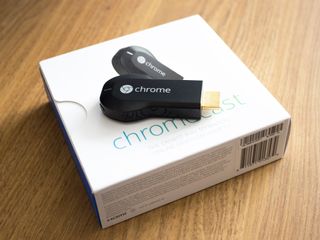 Get Comedy Central, NBC, ABC, and more on your Chromecast
The popular media server PlayOn has announced today that their PlayOn and PlayLater services now offer support for Chromecast. PlayOn users will now be able to beam content from over 100 channels to Chromecast including NBC, ABC, Comedy Central, Hulu and more. Using the PlayOn mobile app, users can browse content on a mobile device and also access the PlayLater option to record videos for viewing at a later time.
To access these features, users will need to install the PlayOn app both on a mobile device and PC. PlayOn is available as an annual subscription for $29.99/year or lifetime for $59.99. In addition to Chromecast, PlayOn can also stream to Xbox, Xbox 360 and Roku devices.
Press Release
PlayOn Adds Support for Chromecast, Bringing 100+ Channels, DVR Capability and and a Uniform Mobile Interface to Browse Channels and Content to Chromecast Users
PlayOn Browser Expands PC Browser-To-TV Casting Capabilities
Seattle, WA – April 24, 2014 – PlayOn, the media server software from MediaMall Technologies that streams online videos to TVs and mobile devices, today announced the availability of PlayOn and PlayLater for Chromecast. PlayOn's support for Chromecast will instantly bring online content from more than 100 channels to Chromecast users including content from CBS, NBC, ABC, Comedy Central and Hulu (no Hulu Plus subscription needed). Additionally, the software's mobile apps give users a way to browse channels and offers a uniform guide-like interface which is sorely missing from the Chromecast user experience. PlayOn's PlayLater product can give Chromecast users DVR capability to record videos for casting later when they are no longer available online. The PlayOn Browser feature gives Chromecast users the ability to cast almost any full screen video from any browser on their PC to their TV without including any distracting web browser frames.
In a recent survey of Chromecast users, 65 percent said that the top three features they wanted were: 1) more channels, 2) DVR capability, and 3) an easy way to browse channels and shows on their TV. PlayOn's bundled software package gives users all of these desired features plus the ability to cast full screen from your PC browser to your TV, eliminating the browser frame and allowing you to simultaneously use your PC for other functions.
"Chromecast is a great, inexpensive device for cord cutters but is somewhat limited in its content and casting capabilities," said Jeff Lawrence, CEO, MediaMall Technologies. "PlayOn gives Chromecast users a universal interface for TV-watching and vastly expands the list of available channels, and with very little fuss, it also brings a full-screen cross-browser web casting experience that users can't get with the Chromecast alone."
To use PlayOn with Chromecast, users will need to download PlayOn to a PC and get the PlayOn app on their mobile device. Then, they can use their mobile device as a TV channel guide and remote control to browse and search for movies, shows, and clips.
The PlayOn Browser extension acts as an enhanced, high-quality browser-casting solution for Chromecast, as well as Roku, Xbox 360, and Xbox One. PlayOn Browser has a lower CPU requirement, uses less power, and optimizes for quality, reducing play lag and jittery streaming when compared to Chromecast's native tab projection feature. When casting online video from a PC browser to a TV, PlayOn Browser eliminates the browser frame and gives viewers a full-screen video experience while freeing up the PC screen for other uses. While Chromecast only supports tab projection from Chrome, PlayOn users can cast videos from the browser of their choice, including Chrome, Firefox, Internet Explorer and Opera.
PlayOn is available in annual ($29.99/year) and lifetime ($59.99) subscriptions and can also be bundled with the company's PlayLater recording software. For more information on PlayOn for Chromecast visit: playon.tv/chromecast.
Android Central Newsletter
Get instant access to breaking news, the hottest reviews, great deals and helpful tips
Editorial Director - High Yield
After getting his start writing about BlackBerry in 2008, Adam is now the Editorial Director of High-Yield content at Future. Leading an outstanding team, he oversees many of the articles the publisher produces about VPN, TV streaming, and antivirus software — from buying guides and how to watch content, to deal news and in-depth reviews. Adam's work can be seen on numerous Future brands including TechRadar, Tom's Guide, T3, TTR, Android Central, iMore and Real Homes.
Another reason to cut the cable cord. Posted via Android Central App

Umm, try again. Most if not all live channels on PlayOn require " a cable provider account" CHeck their channel lineup. I think you can just get about everything they offer without paying extra by simply going to the provider's website ie. CBS, Discovery. etc. .
The cable boys are never going to let you cut the cord, especially if the SUpreme court rules against Arveo

That's what I thought. So can someone please explain to me why this is even needed? I don't quite understand the benefit.

its actually not needed, with all the streaming services that are available plus devices that allow you to access those services why add more viewing services to the mix? its just another example of developers having too much time on their hands. think about it how much time do any of us actually have to watch all that content through services that really have the same programming that is sent out by the cable providers? get the dvr option and save some money. having netflix, hulu plus, amazon video prime, any any service that requires you to pay is just another expense. $8 here, $8 there , digital rental fees of $2.00 or more adds up. speaking from experience, my digital content subscriptions alone were more expensive than cable. dont get me wrong i hate optimum but if we want to cut the cord we should all get hobbies. including myself.

Two words for you. Playon Scripts. That where the cord cutting content is. Posted via Android Central App

I've never used it, don't have to be rude. Posted via Android Central App

That horrible gingerbread interface though, update your app, sheesh

thats not Gingerbread....thats a straight port of an iOS app....but yes, Please for the love of god, fix that app. also, since this needs a download for a PC, I assume this wont work with ChromeOS? thats a pitty.

I have been using PlayOn since 2008. What I ended up doing was putting it on a PC I am running Windows Server on (Any version of Windows would suffice) and I can access it from its web interface from anywhere on the network. It works on a PS3 and a Wii browser so I'm betting it would work on ChromeOS as well. It has been money well spent for me but I mostly use third party scripts that greatly expand the media available.
http://www.playonscripts.com/

Sweet time to dust off my windows 3.1 machine.

PlayOn is awesome, I used it for years until I didn't need it anymore. But it worked great when I had it Nexus 4 - CM10.1.3

So, does playon just cast from your PC to the chromecast, or does the chromecast get the stream directly from the source (like it does with Netflix)?

PlayOn most likely encodes the stream so yes it would be casting from the PC. That's probably why it can cast from the browser of your choice instead of requiring Chrome as well.

Very intriguing. Is their content from network channels (ABC, NBC, etc.) live content, or after the fact access to shows/clips that the content providers make available on their websites?

Can someone please answer the questions from flick and whitenack!!?? I need to know, because I plan on cutting cable!

The content available via PlayOn is directly from the provider's website. It is similar in concept to watching the videos on a full-functioning web browser except with a remote interface and a big-screen display.

Hmm OK, so this sounds more like a competitor to Plex than something like Aereo.

Correct. In fact Aereo is one of the channels of PlayOn so if you are an Aereo subscriber you could redirect its stream to any device PlayOn works. In some ways it seems redundant but it does add quite a bit of extra functionality. The question is whether that functionality is of value to you or not. For instance it includes the Tivoesque ability to stream from your PC to your mobile device when you are not at home which I find quite useful but it also includes hooks to social media sites so you can post your streaming habits directly to them which I don't use at all. If you're interested download it and give it a try. The install is fully functional for 14 days before requiring a license.

Hmm will definitely be checking this out. I wonder what their libraries are like? Posted via Android Central App

Everyday something new for chromecast! I'm grabbing one this weekend, before the price jumps up

Not a chance do they increase the price, dude. When have you seen THAT business model succeed? Unless you're talking about supply vs. demand driving up the price because the supply decreases. But I don't see that happening too much either. They're available like everywhere...

I'm interested, but how is this different than Plex? More "channels"? Better channels?

For local media I hear Plex is better. Supposedly Plex is catching up to PlayOn for streaming but PlayOn's robust scripting community has lots of content available to a wide variety of material. I have both set up on my PC and hardly ever use Plex but many people prefer Plex. You can look at both and see if either has what you need.
https://blog.plex.tv/category/plug-ins/
http://www.playonscripts.com/
http://www.playonplugins.com/
http://www.playon.tv/channel-store/

Yeah, I'm currently using Plex. I have an HTPC with a CableCard tuner and I'm using Win7MCE to record/dvr the few shows that I actually watch (Arrow, Revolution, S.H.I.E.L.D., etc). It *works*, but oftentimes I just end up downloading a show that I already have via other (gray-area) means when I want to watch it away from home. I think the reason is really for ease of fast-forwarding through commercials. Plex takes so long to re-buffer or whatever and it's cumbersome to find the end of the commercial break. ...It's not like I'm obtaining stuff that I don't already have at home, at least... Does PlayOn rely on a hacking/gray-area community for their scripts to keep the channels working? I mean, if Netflix or ABC or somebody changes their structure, do we need to all wait for the community to get back up to speed? I'm assuming that PlayOn isn't sanctioned by all of these channels.... Right?

The networks, Hulu, and Netflix stuff is all built in and maintained by MediaMall. They have negotiated terms with the networks and the channels are baked into the client. In fact to use many of them you need to supply your cable/satellite credentials to allow you to access them. That said there are plenty of gray-area scripts that add the exact same functionality sans credentials. Take a look at a few of the links I have provided to get an idea of what's out there. As far as FFW I've never had any luck with any of them including PlayOn but I haven't tried it with their PlayLater service. I do like that I can even access PlayOn on my mobile device outside of my home network like a Tivo so if you have decent upload speed you wouldn't need to download it before leaving. Of course you still have the whole re-buffering thing if you decide to FFW.

I'm guessing US only? I'd definitely be interested ditching my cable subscription. Personally I hardly use it between Plex, Google Play Movies /TV, Netflix, iplayer and YouTube. I'd be happy with a kick ass fibre broadband connection, my Chromecast and maybe something like this to supplement the other options I currently use. Posted via Android Central App

Playon was great until I bought a Mac. Posted via Android Central App

Who would not just go ahead and pay $60 for a lifetime membership? It would pay for itself after two months Posted via Android Central App

Buyers beware - I bought PlayOn lifetime subscription in 2008 to use over DLNA. couple of years later, they changed features and made a major update, suddenly my purchase no longer counted. I had to buy again if I wanted to new features. Burn me once, shame on me. But it won't happen again!

It appears you misunderstood the license. Someone on G+ provided the original page ( http://web.archive.org/web/20090225082211/http://www.themediamall.com/pu... ) which included: "All functionality and feature enhancements to PlayOn will be free for existing licensed installations, unless a new major version is released, at which point a new license may be required to access newer functionality." The original version did not include built in streams to the networks. Once MediaMall negotiated terms with the networks to include this functionality the resulting version required a new license to which MediaMall gave a steep discount to existing lifetime members. They also instituted the subscription model as these agreements with the networks incur an ongoing expense for the company. They recently added HD capability and to add the functionality required a one time fee ($4.99) as well but was not required. I was a little upset when I had to repurchase the premium subscription but the extra functionality was worth the cost. Your existing version of PlayOn did not stop working because the new version required a new license so it should still work the way it always did today. In fact I actually use 3rd party plug-ins more than the built in channels which should work fine with the version you have.

I bought an original lifetime license back in 2009 and it still works exactly as it did when I purchased (for 19.99 by the way). When PlayOn Premium was released in 2010, I opted to buy a new license rather than upgrade my existing license - even though upgrades were available for as little as 4.99 - so that I could keep my original license installed and in use on a 2nd PC. I, like anyone, would have loved to have gotten the new version for free, but I understood why that was not the case...and my original Basic license is still supported. When updates are released that include fixes for content provider website changes, etc both of my installations are updated and when, on the rare occasion, I have had any trouble with the Basic installation I still get the same 7 day tech support I do with the newer license. Since I purchase my Premium license in 2010, dozens of new channels and many new features have been added...some, like PlayMark/PlayCast/PlayTo and Record To and the improvements to MyMedia were significant enhancements. I sent a support request about Xbox One and PS4 support and within a couple of months support was added for those devices. I have found the folks at PlayOn to be totally fair and completely above board.

The same thing happened to me lol. I wrote them a nasty email wanting to know why my premium lifetime subscription was no longer a lifetime subscription. In so many words I was told that other then the NEW premium stuff my playon would work like usual. It didn't half the scripts I used went to the premium list lol. But I so do love the program and have since repurchased a subscription. With all the scripts that are offered it is well worth the money. Other then my Internet I have not had cable in 5 years lol

Hey Gang, It's the PlayOn Team here. We wanted to answer a few questions and clear up a few things we saw here. 1) While some of the content that PlayOn supports does require a cable subscription (HBO Go, some of TBS, and a few others) the majority of the content we support does not. For example, you can watch all of the web-only hulu content, you can watch a ton of PBS content, Comedy Central content, and much more. If you add plugins and scripts (which are free and easy to add) then the sky is the limit. 2) We believe the real value we add for Chromecast customers is the ability to browse and select content from your phone rather than needing to be at your PC to select content from the channels that Chromecast doesn't natively support. Our mobile interface for Chromecast is also very slick, and will get even better soon. We also think our casting provides a better, cleaner stream than their tab projection does. 3) We haven't actually negotiated anything with any channels. We simply use what channels make available on their websites and allow you to easily screen shift that content to your TV. No negotiations required. We just make your PC a media server that serves up content that is available to you. 4) Every lifetime license we've ever sold is still supported. We still release patches for it, we still make tech support available 7-days a week for it, and we still support all of the features and content that were in them when they were sold. Not really sure why there is confusion around this, but we would not sell someone a lifetime license and not honor that commitment. 5) We do have a 30-day money back guarantee, so if any of you are inclined to try PlayOn, we'll do everything we can to make your experience with it good. Thanks for checking it out. Have a great weekend! Cheers,
The PlayOn Team

Not impressed with this for chromecast very early stages still needs work. then for everything to cost money when I can show you how to do it all for free and with mirroring coming soon as standard none of this is necessary who wants to pay or subscribe to crap with advertisement. Has anyone ever heard of xbmc imagine there was an app for XBMC the casted to Chromecast. XBMCast for chromecast is the best and using it with bubbleupnp watching everything without restrictions hassle or some other bs Internet fake channels. Try it or Google it xbmcast. http://xbmchelper.squarespace.com/buy
We are Chromecast experts since day 1 and all we want is for everyone to have access to everything versus sienfeld from Crackle wtf so boring
Android Central Newsletter
Get instant access to breaking news, the hottest reviews, great deals and helpful tips
Thank you for signing up to Android Central. You will receive a verification email shortly.
There was a problem. Please refresh the page and try again.