The Play Store starts showing app sizes and popularity in search results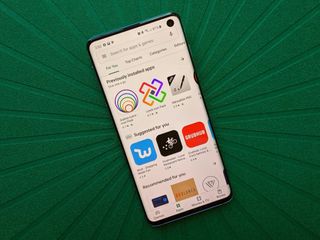 (Image credit: Android Central)
What you need to know
Google is rolling out a small but significant change to the Play Store.
App searches will now show the app's size and popularity among the results.
The update is server-side, so it may take a while before you see it.
The Play Store has almost 3 million apps and while that's one of the reasons why Google's mobile platform is so successful — just ask Huawei — it can also often be daunting and confusing when you look up a budgeting app and are met with 50 different options.
While the Play Store already showed the ratings of different apps among the search results — and Google, of course, does a lot of clever stuff in the background to ensure that the best and most popular apps show up first — it's still possible for an app to have a really high rating only because not many people use it in the first place.
Getting access to other metrics, such as download size — which can be particularly useful in developing nations where internet speeds aren't as fast — and the overall popularity of the app has thus far required you to click on each app and go through its listing individually.
Now, though, Google will more prominently and more readily show these metrics right on the search results page. That'll definitely save you more than just a couple of clicks, especially if you're like me and like to explore all your options before settling on a choice.
The download sizes, though, aren't showing up for everyone. The feature is seemingly not available in Germany, according to the folks at Android Police. This is only my speculation, but I'd imagine that Google is showing download sizes only in developing countries where mobile data is more of a premium. After all, if Malawi is first in line — and we're never first in line for any tech features, ever — compared to Germany, it has to be a deliberate choice.
Get the Android Central Newsletter
Instant access to breaking news, the hottest reviews, great deals and helpful tips.