Play like it's 1997 with unofficial port of Theme Hospital for Android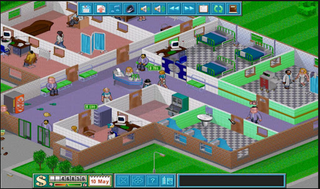 Some of you out there will remember Theme Hospital, the 1997 PC simulation game. Some of us spent a little too much time playing this during IT lessons at school instead of playing with boring spreadsheets. In any case, thanks to an unofficial port of the title, we can now enjoy some Theme Hospital on our Android devices for £0.99/$1.49
For those not familiar, over the course of different levels you're tasked with turning an empty hospital into an all singing, all dancing, fully equipped care facility. Oh, and you also get to hire and fire. When you've hit certain goals, you get to move on up to the next level and start the process all over again.
It has been optimized for handheld devices, but requires a screen resolution of 800x480 or higher to be able to play. If that sounds like your device, we've got the download links for you after the break.
via Pocket Gamer
Get it for free from the original developer: http://www.armedpineapple.co.uk/2012/02/running-theme-hospital-on-androi...

Damn it , I read "Play Like It's 1997" & My mind went straight to the Original Grand Theft Auto !!!!!! I guess I got excited for nothing !!! Thank you RockStar Games , Now would you please tell us anything about The GTA V ??? I guess im suffering from GTA Addiction ! (who Im kidding Im suffering from it) back to topic , I remember playing it back in the day , but I was too busy with Grand Theft Auto & Twisted Metal to care about some hospital game ... lol (Those were good memories)

I so wish this was Bullfrogs Theme Park in original style! One of the best games on playstation (or jaguar) back in the day.

SHUT UP AND TAKE MY MONEY.

How is it legal to charge for an unofficial port? Isn't that considered stealing?

And for those of you who have a PC, Check out CorsixTH. You just need to find the theme hospital game and combine it with Corsix and you'll have it running on your new system. (it's opensourced) and it's really cool.
although, i'm gonna have to get this for my tablet as well.

CorsixTH has an Android port as well, though I'm not sure if it's as good as this one. In my experience it still has some bugs, like people stalling and not moving for the rest of the level, which is quite annoying if it happens in or next to a doorway...

This IS the CorsixTH Android port, albeit a slightly modified version. The developer of this version took the source from the version found on http://www.armedpineapple.co.uk/ , added a menu at the top of the screen and then pushed it to the market where he is charging for it.

Check out the permissions on this crap! it wants to read sensitive log data and a bunch of other crap it shouldn't. MALWARE
Please update or delete article to protect users. I just checked and the original one from the first comment comes without the 2 malware permissions found in the paid version, so get the original.

if you paid for this, you got fooled. "Please note that the paid version on the Google Play is based off my code but has absolutely nothing to do with me. I can't offer any support for it whatsoever. I have no idea what changes he has made to the code, if any, so my advice is to always download versions from here or compile your own. I will NEVER charge for this port as I think it discredits the work done by Corsix and the CorsixTH team to develop this amazing clone." http://www.armedpineapple.co.uk/2012/02/running-theme-hospital-on-androi... http://www.androidpolice.com/2012/05/21/classic-game-theme-hospital-port...

I'm very surprised this was posted on AndroidCentral. I always see you guys as the authority on Android and, you'll have to agree, this is really a scam. Some minutes of investigation would have shown you this smells. To all users that fell for this: Google happily refunds if you report this app

THE POSTER OF THIS BLOG SHOULD BE ASHAMED!!!! THE PAID VERSION OF THEME HOSPIRAL WILL STEAL YOUR PHONE INFORMATION, CALLS, MESSAGES, AND YOU AGREE TO IT ALL BY ACCEPTING THE AUP!!!! DO SOME REASEARCH!!!!!! MY GOSH!!!! ARMEDPINEAPPLE.CO.UK IS THE LEGIT AND FREE VERSION. How the hell can someone post something so idiotic and not do any kind of reasearch???????????????????
Android Central Newsletter
Thank you for signing up to Android Central. You will receive a verification email shortly.
There was a problem. Please refresh the page and try again.