The Pixel C is almost a laptop with this USB-C dongle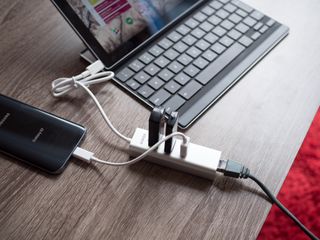 Even a year on, Google's own Pixel C remains on sale and for many is just enough of a productivity machine that it can sometimes replace a large and cumbersome laptop. I've actually taken quite a liking to the Pixel C after completely writing it off for the first six months of its life, but its shortage of ports limits its viability for the kinds of things I so often do on a laptop. USB-C itself isn't the issue, actually — it's the fact that the Pixel C offers just a single port. As anyone with a new Apple MacBook will tell you, having a single port isn't all that great.
As I awaited the delivery of my own new MacBook Pro, which of course only has USB-C ports, I actually took to using a couple of my new USB-C dongles with my Pixel C. In what shouldn't have been a surprise, the dongles "just worked" exactly as intended. And with the addition of one of these multi-function adapters, the Pixel C has become more of a laptop for me than ever before.
The dongle (or adapter, whatever), which comes from Anker at about $28, isn't the prettiest thing ever. But this is the world we live in for the next couple of years — I'm over complaining about it. It plugs into USB-C with a few inches of cable, and then gives you three USB-A 3.1 ports and an ethernet port on the very end. I picked it up originally because it has a nice enough design, is made of metal and isn't all that much larger than the ethernet dongle I was carrying in my bag anyway. It also happens to nicely fill in a few of the Pixel C's port shortcomings.
The biggest one for anyone who works in a large corporate building or travels often is the ethernet port. This was the first great realization that it all just works: plug in ethernet, turn off Wi-Fi and the Pixel C automatically starts pulling data over the wire, no setup required. I continued my tests.
I plugged in a flash drive to one of the three USB ports. The Pixel C pops up a notification, and with a tap you're in a full file browser looking at everything on the drive. So I plugged in another drive — same result, with both drives accessible at the same time. I plugged in an SD card adapter and put a card from my camera in — files instantly accessible. You can easily transfer files between external drives and the tablet, but also between the drives themselves. No hiccups, no issues.
With the two drives still plugged in, I attached my Galaxy S7 over a Micro-USB cable and put the phone in MTP mode. In just a few moments, I was browsing the internal file structure of the phone from the tablet just the same as I do regularly on my MacBook Air. Oh, and the phone charges, too — checking with a volt meter, I saw the Pixel C offered 5V/1A charging through the dongle. That's just as much as I get out of my laptop today, and can put the Pixel C's large battery to good use in a pinch.
After unplugging one of the drives, I popped in a Logitech Unifying receiver for my Performance Mouse MX. About two seconds later, a pointer showed up on screen and I was mousing around. Combining a nice high-end mouse with the surprisingly comfortable Pixel C keyboard just feels right. My forearms, which regularly hover in an awkward position to touch the display when I'm trying to get work done, immediately thanked me for plugging the mouse in.
Again, I know I shouldn't be surprised that this all works. Google would have had to go out of its way to make the Pixel C and its USB-C port not be able to interoperate with these standard peripherals. But that doesn't mean I wasn't downright excited when time after time I plugged in various computer accessories and had the Pixel C take to them perfectly.
With my Pixel C, its keyboard and this single cheap Anker dongle, all of a sudden I have far less anxiety about leaving the house for the afternoon — or, indeed, for a long weekend away — with my Pixel C instead of my laptop. It's these little fringe cases of being able to plug in flash drives, SD cards, mice or other accessories that so often keep a laptop in my bag whenever possible. Now with this accessory — and so many more like it available for specific needs — those situations where I can just bring the Pixel C are growing in number.
Get the Android Central Newsletter
Instant access to breaking news, the hottest reviews, great deals and helpful tips.
Andrew was an Executive Editor, U.S. at Android Central between 2012 and 2020.