Zoom quality is a critically underrated feature of the Pixel 4's camera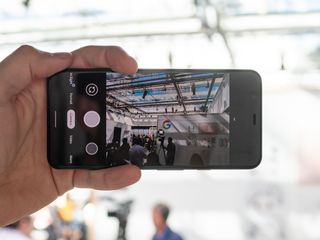 (Image credit: Andrew Martonik / Android Central)
Do I still wish Google included an ultrawide camera on the Pixel 4? You bet I do. But all of the complaints about the lack of an ultrawide shouldn't cast a shadow on the telephoto camera's excellent quality.
I've long been cold on digital zoom on phone cameras because when you simply digitally crop in on an image, the quality loss just isn't worth it. And until recently, I haven't been a big fan of telephoto cameras either because they're usually saddled with inferior sensors, lenses, or both.
The Pixel 4 changed that, with the combination of a secondary telephoto camera and its incredible software called Super Res Zoom that processes multiple frames (not unlike HDR+) to provide improved clarity. So to say this is the "telephoto" camera's quality isn't exactly accurate, because I'm not just talking about using the 2X zoom offered by that secondary lens. I've learned to appreciate the combination of optical and digital zoom even at 5X, which blew away my expectations going into using the Pixel 4.
Even though the viewfinder preview on 2X+ zoom images looks really bad, once you get past that and start snapping photos, it's game-changing. Standard 2X photos are basically the same quality as the main sensor. Even 3-5X photos are incredibly sharp with very little loss of detail compared to shooting at the native 2X lens. Some of my favorite photos I've taken in the last month have been at 2X (or longer) on my Pixel 4.
Image 1 of 12
Image 2 of 12
Image 3 of 12
Image 4 of 12
Image 5 of 12
Image 6 of 12
Image 7 of 12
Image 8 of 12
Image 9 of 12
Image 10 of 12
Image 11 of 12
Image 12 of 12
I know the Pixel 3 already had Super Res Zoom and took good zoom shots in its own right, but being able to start with a 2X lens actually makes a big difference. Not only does it make sure photos beyond 2X retain acceptable resolution, but it also begins with an actual narrower field-of-view lens that really does make a difference visually compared to an image that's purely a digital crop. Starting your zoom with a longer focal length provides a different perspective that's unique and eye-catching, and suits certain shots far better than a regular crop. When used properly, it's a great tool to have at your disposal when shooting with a phone that's inherently limited compared to a dedicated camera.
At this point, I've integrated the use of the telephoto camera into my muscle memory. Most of the time I pull up the Pixel 4 to take a shot, I'll get one with the standard lens and then do a quick double-tap to switch straight to 2X and see what else I can get. And knowing just how good the digital zoom is, I don't hesitate to move that slider a bit more to get a 3X or 4X shot. Obviously, I know that moving closer to the subject is always a better choice than digitally zooming beyond 2X, but sometimes that's not possible — and in those situations, I can still rely on getting a really good shot from the Pixel 4. Now, if only this great zooming was also complemented by an ultrawide camera ... that would be truly fantastic.
Google Pixel 4 XL
This is easily Google's best-ever phone. The hardware is sleek and efficient, and Android 10 runs brilliantly. Google's additions to the software set it apart, face unlock works incredibly well, and this is the best Android camera available. But the battery life is frustratingly bad, and it's hard not to feel short-changed paying this much for weak RAM and storage.
Andrew was an Executive Editor, U.S. at Android Central between 2012 and 2020.
Wow. An article where someone is actually saying something decent about the Pixel 4.

I came here just to say that exact thing. Just like that everyone stopped trashing the Pixel 4, and started praising it.

I came here just to say the Pixel 4 sucks. J/K lol

Cool. Does the Pixel 4 have the December security patch?

And of course it's written by someone who was just excoriated for apparently being biased against the Pixel. Go figure.

Pretty much par for the course for Pixels - they are relentlessly released in much rougher form than pretty much any other smartphones and (for their then-present form) bashed deservedly. And 1-2 months later, when most of the quirks are resolved and people start to become accustomed to the variety of QOL improvements and niche features (primarily software-driven), rightfully given more of their due. The Pixels will likely always remain a phone that is not for everyone, and certainly not for those who are so focused on the trees that they miss the forest, but they are in every year a generally good phone lacking in some comparisons but truly excelling in others.

Andrew - You were just being honest, and people were offended because the Pixel is often placed on a pedestal... immune from reality checks ;)

I've had it since launch and it's an amazing piece of hardware. It's hard to pin down exactly what makes it a such a great experience to use, because it's just better as a whole in every way. Best Android phone I've ever owned. And my battery lasts 15+ hrs a day.

I like a good zoom since I often do architectural photography, and I don't always have my Nikon and a big lens with me when an opportunity. In digital photography, some of the image will always fall on the grids between the pixel elements on the sensor. Utilizing a slight movement to change the relative grid position and taking the best from multiple frames is brilliant for getting around this. Zoom on the Note 10 + has been disappointing. I kinda want to get the Pixel 4 and try it out for myself, though I don't think it will hold up to my usage patterns.

Andrew, is it possible to get links to the full resolution images? I already have most of the top flagships, but the Pixel 4 is not among them, and I'd like to do some side by sides with similar distances.
If you don't want to make them public, then Ara has my email.
And if you don't want to do that, I understand. I took several building shots yesterday from about a quarter mile away, and I'm curious how they stack up.

If the 4XL drops to $500, then I'll consider getting a $100 lens.
Android Central Newsletter
Get the best of Android Central in in your inbox, every day!
Thank you for signing up to Android Central. You will receive a verification email shortly.
There was a problem. Please refresh the page and try again.