Is the Pixel 2 still worth buying in 2019?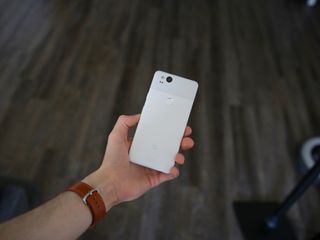 The Pixel hype train is in full force right now. Even though the still excellent Pixel 3 and 3 XL are still relatively fresh in our minds, Google's early promotion of the new Pixel 4 has us eager to see what the company has in store for us this year.
However, let's take a second to stop looking forward and instead go back to 2017's Pixel 2. The Pixel 2 may not have been the flashiest phone during its time, but its next-level camera and clean software allowed it to stand out as one of the best Android phones of that time.
In 2019, however, is it still worth it? Here's what some of our AC forum members think.
What do you think? Is the Pixel 2 still worth buying in 2019?
Joe Maring was a Senior Editor for Android Central between 2017 and 2021. You can reach him on Twitter at @JoeMaring1.
Still loving my 2 XL. I'll probably move to the 4 when it comes out.

It's still a great phone. 16:9 flat screen, notification LED, no notch or glory hole and it is still as fast as the new Pixel 3a. I wouldn't buy one today as support will be ending sooner than I would be willing to accept when buying a new phone but there are very few phones now days that meet my requirements (flat display, no notch/hole, notification light).

"flat display, no notch/hole, notification light"
All those are on my preferences list as well. Last time I bought a curved screen was the S7 Edge, and that was tossed in the drawer long before it was paid for. I still have a few iPhones (though they are not daily drivers), and it annoys me to have to pick up the phone to see anything, even charge status.

Great phone, terrible screen, especially outdoors. Had to get rid of mine.

I love mine overall (2XL). Only really bad thing about it is no headphone jack which can make life difficult (will never buy another phone without one). Other than that it's a great phone.

3a is a better choice if you don't need a power house.

I used to be a pixel hater. But after my 3aXL, I'm a pixel peep.

My Pixel 2 is on the latest Beta. Battery life averages 23 hours, it's faster than it was when it was new and the camera keeps getting better. I have no reason to upgrade and I'll keep saving money for the next thing until I do.
Android Central Newsletter
Get the best of Android Central in in your inbox, every day!
Thank you for signing up to Android Central. You will receive a verification email shortly.
There was a problem. Please refresh the page and try again.