Pink Samsung Galaxy S II arriving the UK for Valentine's Day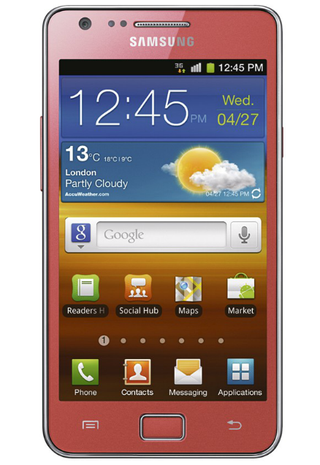 Stuck on what to get that special someone for Valentines this year? Enter Samsung to lend a helping hand as this pink version of the massively popular Galaxy S II is due to be launched on Feb.13. Make no mistake, this is a regular Galaxy S II, just they painted it pink.
While having been announced in South Korea back in November, all went quiet regarding global availability. Phones 4 U have announced that they will be offering the device from Feb.13 on a two- year contract starting from a very reasonable £21.50 a month.
Not looking for a contract to go with that shiny new pink phone, then online retailer Very (opens in new tab) are set to offer the device SIM free for a whopping £499.99. Whichever way you look at it, that's Galaxy Nexus pricing. While listed as in stock, they are in fact awaiting their supply which they claim to be within 7 days. Get them while they're hot ladies--and guys if pinks your thing.
Source: Somobile
Looks more like "salmon" to me.

If you girlfriend/boyfriend/husband/wife/partner/whatever gives you the pink Galaxy SII as a Valentine's Day present.... do you throw the phone away when you guys break up or get divorced? Or will it serve as a painful reminder of your dead relationship? :D I still have a **** ring(for men only) that my former ex-girlfriend gave me 10+ years ago. I couldn't sell it.Giving it away is difficult because of the nature of the device. The only solution is probably to melt it down and sell the gold? (at today's prices, roughly $350?)
Android Central Newsletter
Thank you for signing up to Android Central. You will receive a verification email shortly.
There was a problem. Please refresh the page and try again.