Phone sales declined in 2019, though Huawei increased sales by 50%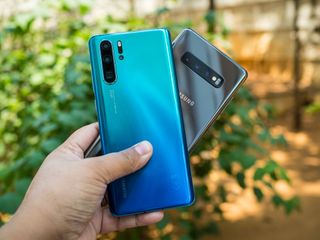 The numbers for smartphone sales are out for Q1 of 2019, and they show that everyone is struggling. Well, everyone but Huawei. According to IDC, phone sales declined for the sixth straight quarter with shipments totaling 310.8 million units marking a 6.6% drop year over year.
While the majority of phone makers saw a decrease in sales during the first quarter, Huawei saw an increase in shipments by 50%, moving a total of 59.1 million units and securing 19% of the overall market. Huawei's diverse portfolio of phones helped it here, as its low-end and midtier offerings sold the most volume. Despite the impressive numbers, that still puts Huawei in second place behind market leader Samsung.
Even with an 8.1% drop in the first quarter of 2019, Samsung shipped 71.9 million total units and still reigns king with a 23.1% market share. Regardless of the decline compared to last year, Samsung says the recent sales of its Galaxy S10 (opens in new tab) are doing well this quarter. This comes after Samsung's latest earnings report that showed it earned a profit of 6.2 trillion won ($5.3 billion) in the first quarter which is 14% less than last year at this time.
Most of that was due to Samsung's chip business though, not from the mobile sector. Samsung expects even stronger sales in the second quarter and half of the year with the release of the Galaxy S10 5G and its delayed foldable phone, the Galaxy Fold. The Galaxy S10 5G is currently available in its home country of South Korea and will arrive in the U.S. soon with pre-orders already available on Verizon (opens in new tab).
Apple secured the third slot with 11.7% of the market share by shipping 36.4 million units in the first quarter with a massive 30.2% decline compared to Q1 in 2018. In spite of price cuts and trade deals in China, it wasn't enough to stop declining sales of the iPhone. Apple's year could get even worse with the competition already shipping 5G enabled phones and experimenting with foldables.
While Google doesn't even crack the top five in phone manufacturers, it has also had clear signs of struggles in the first quarter. Sales for the Pixel 3 series have dropped from 2018 and the CEO of Google Ruth Porat says it is due to "some of the recent pressures in the premium smartphone market." It is no surprise then why we'll soon be seeing Google release its very first midrange phones to the Pixel lineup with the Pixel 3a and Pixel 3a XL.
The continuing decline in sales goes to show, it's tough out there for phone makers when you only focus on the premium market. At the high-end, it has become more and more difficult for manufacturers to make phones that stand out. Combined with rising prices year after year, it adds up to consumers who are looking to hold onto their phones instead of upgrading.
The one segment of the market which has escaped the lull in smartphone sales is the low-end to midrange section that offers a lot of bang for your buck. This is where Huawei has been able to make up the loss in sales that other brands are seeing. It is also why we are now seeing Samsung and Google put more focus on this area of the market with its Galaxy A series and the upcoming Pixel 3a models.
2019 Flagship
(opens in new tab)
One of Samsung's best
The Samsung Galaxy S10 marks the first change in the S-series design since the Galaxy S8 was released. It has all the best that Samsung has to offer and is a formidable flagship for 2019 with three cameras on the back, an in-display fingerprint sensor, and the speedy Snapdragon 855.
Get the Android Central Newsletter
Instant access to breaking news, the hottest reviews, great deals and helpful tips.
Is hilarious Samsung makes +70m phones, when a lot of them are going to go unsold. I have no doubt, however, that 25m people will buy a Xiaomi Mi Mix 3...