Philips Hue Lux bulbs now up for pre-order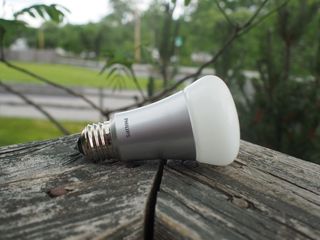 A short while ago Philips announced its first white light only bulbs in its Hue range, the Lux. Now at least things have progressed far enough that we can pre-order the Lux bulbs for shipping in late September. They lose out on some of the razzle dazzle of the regular Hue bulbs in losing the colors but in doing so the price has come down quite a bit.
The individual bulbs can be had for $29.95 while the starter kit of two Lux bulbs and the Bridge will cost you $99.95. With these prices being quite a bit lower than the regular Hue bulbs and respective starter kit it's also a lower cost way of easing yourself into the system. Pre-orders are available at both Amazon and the Apple Store at the links below.
More: Getting started with Philips Hue, The best smart lights for your home
Nah, keeping my coloured Hue LED bulbs.

same. I actually really enjoy the different colors. I will never complain about more options though.

Agreed! Btw, I love the new LightStrip - really really cool and does a shit load of colors

I like the idea of the light strips, but they are so bulky. It would be better if they had a smaller power cord/brick....anything but the giant brick it comes with now.

Absolutely. And it's a lower cost way of people being able to try out the Hue system, too.

I still think the best thing they have done for the Hue lights is add the Hue tap!

Been using my Hue lights with Tasker, AutoHue, and AutoVoice lately. Nothing quite like saying "Ok Google, Lights off" from any screen and having it work. :)

Do you need all 3 of those apps to be able to do that?

AutoHue and AutoVoice require Tasker to function (they are Tasker plugins). You might be able to get it to work with just Tasker, but it wouldn't be nearly as easy.

Been using a new version of hue companion on my BlackBerry Z30 to turn lights on and off via nfc tags on my antiquated light switches.

Same here, I love that functionality of Tasker, AutoHue/Voice. I also use 'Ok Google, game on' to turn on my game pc and Hue lights on my computer desk :)

Pre-ordering a lightbulb? My, oh my.

Pretty cool, but I need the exercise so I will use my pre-wired switches for now. Posted via Android Central App

oddly enough, I use the Hue Taps 90% of the time unless I forget to turn them off.

I'm cool with my normal bulbs. No way I'd pay $30 for ONE, no matter how "smart" it may be. I can flick a switch.

You know, with the whole internet of things coming on, I am taking a wait and see attitude. I don't pretend to be sophisticated enough to know the risks, and tend to abide by this rule of thumb when it comes to new technology: Greater convenience? Beware of greater vulnerability.
Android Central Newsletter
Get the best of Android Central in in your inbox, every day!
Thank you for signing up to Android Central. You will receive a verification email shortly.
There was a problem. Please refresh the page and try again.