Pearl Black Galaxy S7 edge with 128GB storage debuting in Korea [Update: Now official!]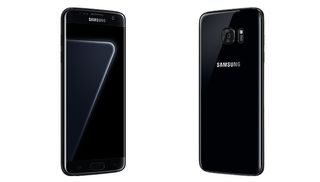 Update: Samsung has officially announced (opens in new tab) the Pearl Black variant of the Galaxy S7 edge. The phone will be available with 128GB storage, and will debut in "select markets" on December 9.
Samsung is looking to introduce new color options to boost sales of the Galaxy S7 edge for the holiday season. We've already seen the Blue Coral variant break cover last month, and Samsung is now getting ready to launch the Pearl Black color option in South Korea on December 9. Notably, the new color variant is expected to come with 128GB of storage.
The information comes by way of SamMobile, which posted live photos of the device last month. From the images, the Pearl Black color option looks like a glossier version of the Note 7's Black Onyx variant.
Samsung is expected to officially launch the Pearl Black color option shortly, and as of now there's no information to suggest it will make its way to global markets. We'll let you know if we hear otherwise. What do you guys make of the new color variant?
Get the Android Central Newsletter
Instant access to breaking news, the hottest reviews, great deals and helpful tips.
Harish Jonnalagadda is a Senior Editor overseeing Asia at Android Central. He leads the site's coverage of Chinese phone brands, contributing to reviews, features, and buying guides. He also writes about storage servers, audio products, and the semiconductor industry. Contact him on Twitter at @chunkynerd.
It would be cool if it goes global even though everyone in the comments here will complain that they only have 32GB of storage.

States! States! States! States!

Wish they'd had 128gb to start with. Oh well, still love my 32gb version

Actually digging the lack of branding in the front. Looks real clean.

I've already got an Edge S7, but I'd buy another if they released a similar green variant to the one the S6 sported.

On the edge of releasing the Galaxy S8, you have to be mad to pay 1000 bucks for this. It is nice, no doubt about it.

Why does it always take me to the top of the page every time I up-vote someones comment? Arggg!

Can someone please find that wallpaper? 😃

Yes please share that wall paper!

It's looks pretty dope and love the 128GB but y not have that amount of storage at the jump

This is Samsung milking the S7 Edge to make up for lost ground with the Note 7. Take the Jet Black from the iPhone 7
Take the 128 GB from the Pixel and Pixel XL Not that Apple owns jet black, or Google is the only one to offer 128GB of storage, but its Samsung seeing what its competition is offering and matching that.

Ya but samsung has sd card slot soo u can add 256gb card and there space to fill a world in it...i was going to buy axon 7 128gb version buts thats still 400 $..soo will have s7 edge and axon 7

Pretty sure it is the black note 7 that it's copying.

So many streaming services allow users to take their content offline. Combine that with the obvious push for VR content and even higher definition videos being made available and manufacturers will be forced to abandon 32GB of on board. 32gb is the new 16gb and moving at this pace, I wouldn't be surprised if 32gb would become as obsolete as 8gb in another year. Adoptable storage can be a hassle for some, and it is not as seamless as I thought it would be. There are limitations and nuances of managing apps and where they can store files. However, I still find value in keeping media files on an SD card.

It doesn't look any glossier. They simply changed the colour of the aluminium.

I like the clean look on the front of the device (no samsung logo). And also the black aluminum trim around the phone.

There is a big Samsung logo under the speaker.

Who gives a rip about the black? Give me the 128gb of storage. Heck, I'd have been ok with 64gb. I'm not an "app-crazy" guy, and I sit at 30gb used most of the time on my S7 edge without any major, storage-sucking games installed. While I do still want the option for pics/vids, modern Android's handling of SD storage is basically useless for apps.

Can someone please tell Samsung they need not copy everything apple does. They will sell more with the cool alternative colors that are not available on other devices. I love the green, blue, brown, etc that Samsung released in the edge/s6 line.

Sorry, what are they copying here??

JET BLACK. Why release that now.....they have so many other cool color options, but JET BLACK.....Come on. I am not a Samsung hater or anything like that. I just think that they did release this color JUST BECAUSE apple did. The coral blue is MUCH more Samsung than JET BLACK.

7 months too late. Sincerely,
AT&T S7 Edge user tired of running out of storage.

Not that I need 128gb (haven't even come close to filling the 32gb), but it would have been nice to have this option here in the states. Also, it seems a bit odd to me that they are releasing new colors and a bigger storage option (even if it is only in Korea at this time) when the S8 is supposedly not far off. Can't help but think maybe they S8 is farther off than we think so they are just trying to get as much life out of the S7 as they can.

Can't believe you haven't came close to 32GB. I sneeze and I'm 31. something GB

Yeah me and my wife 32gb is nearly full...s7 edge should have launched with min 64gb option

Looks nice but definitely not a panty dropper like the piano black iPhone. Partly because the design isn't new to my eyes.

Samsung has really run out of ideas, looks great performs bad.

Lol what? There's no issues here my man

Nothing new. Samsung was releasing new colors of the S6 right up to the release of the S7.

Remember when black phones is all you could find

I guess will be likes OP3T with processor upgrade. Oh, it's just my imagine. Wake me up.